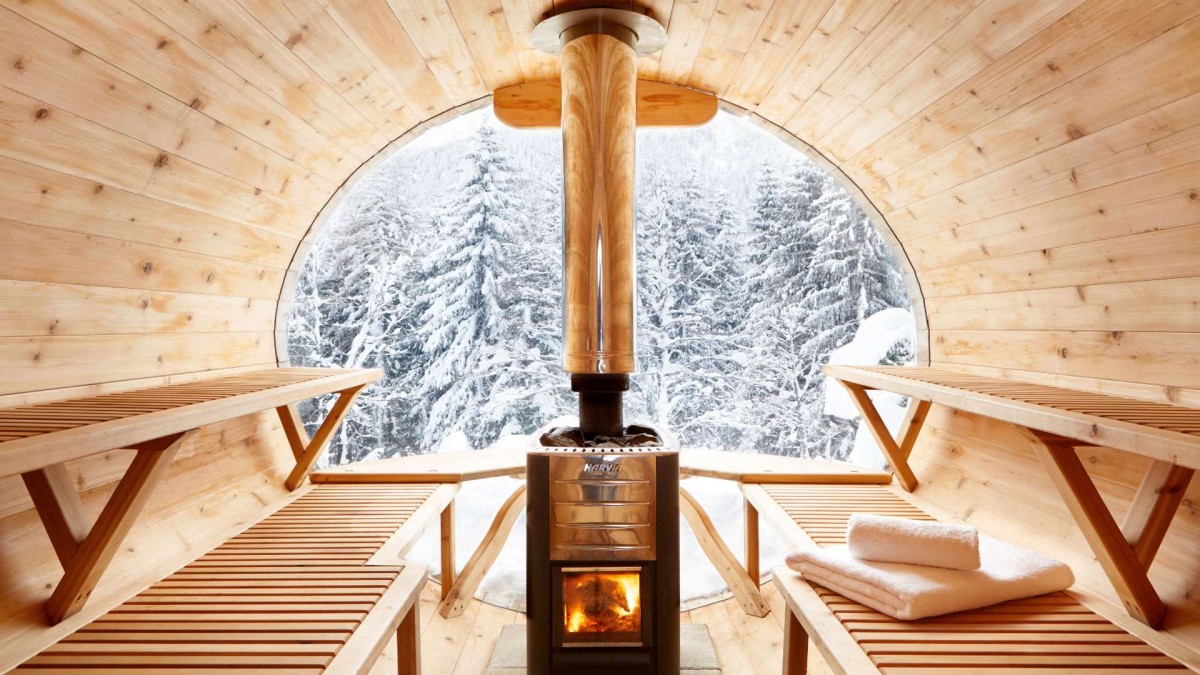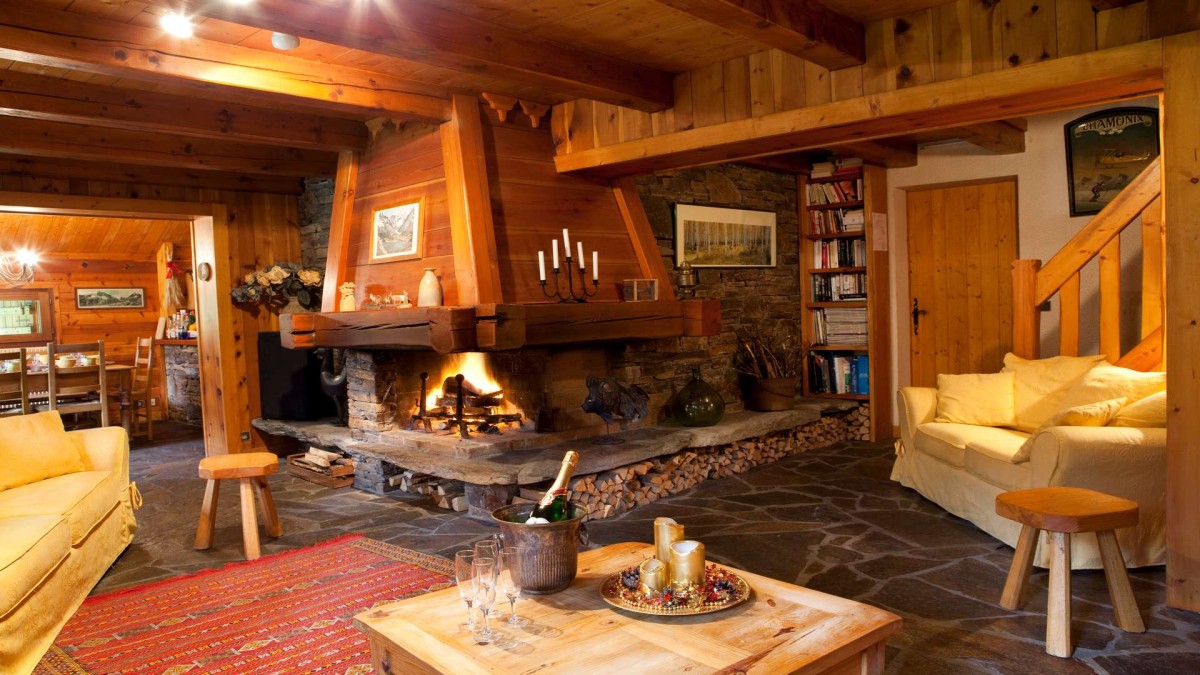 Mountain Retreat
/
Chamonix
From 8,000 EUR to 16,000 EUR/week
Bedrooms:
4
Bathrooms:
3
Sleeps:
8

Ski in/out

Sauna

Hot tub

Fireplace
Catered
---
Description
Catered Chalet with driver service
The Mountan Retreat in Chamonix-Argentière is the perfect luxury chalet for families with children. It offers 4 bedrooms for 8 guests. Ski in/Ski out option to the Grand Montets skiing areal. With its outdoor hot tub and the scenic wood fired exterior sauna it has everything you can expect to relax after a day on the slopes. The location of this chalet is very unique and very special.
Located in National Park Land, the chalet gives the ambience of being tucked away deep in the mountains. However, less than 5 minutes on foot takes you into the village centre of Argentière or to the base of the world famous ski area of Les Grands Montets. The large and private chalet grounds provide endless opportunities for children to go exploring, build snowman/snow caves or go tobogganing. The living room is cosy with open fireplace. There is a entertainment room to watch the latest movies after dinner - prepared by your private chef.
The chalet is located approximately 800 metres from the Grands Montets home trail. 3-5 minutes on foot takes you through the beautiful 18th century village lanes and to the lively bars and restaurants of Argentière. Set slightly back from the village centre in the vibrant national park, we invite you to come and experience the special ambience and the relaxing peace and tranquillity of the magical Marmotte Mountain Retreat.

Ski in/Ski out access to the Les Grand Montets ski resort is possible via la Moraine cross country ski track, located one minute from the chalets front door.
---
Features
Sleeps 8
Ski in/Ski out option to Les Grand Montets ski resort
Fully qualified and experienced chef
4 Bedrooms of which are 2 en-suite
3 Bathrooms
Stunning private location in the forest
Luxury outdoor hot tub
Scenic wood fired exterior sauna
Large open fireplace
WiFi Internet Connection
Record player with vintage record collection
TV/DVD/Apple entertainmnet room
---
Prices & Service
| Dates | Nights | Catered |
| --- | --- | --- |
| 15 Dec 23 | 7 | Booked |
| 22 Dec 23 | 8 | Booked |
| 30 Dec 23 | 8 | Booked |
| 07 Jan 24 | 7 | Booked |
| 14 Jan 24 | 7 | EUR 11,200 |
| 21 Jan 24 | 7 | Booked |
| 28 Jan 24 | 4 | Booked |
| 01 Feb 24 | 3 | EUR 6,600 |
| 04 Feb 24 | 7 | EUR 11,600 |
| 11 Feb 24 | 7 | Booked |
| 18 Feb 24 | 7 | Booked |
| 25 Feb 24 | 7 | EUR 11,600 |
| 03 Mar 24 | 7 | EUR 11,600 |
| 10 Mar 24 | 7 | EUR 11,200 |
| 17 Mar 24 | 7 | EUR 11,200 |
| 24 Mar 24 | 7 | Booked |
| 31 Mar 24 | 7 | Booked |
| 07 Apr 24 | 7 | EUR 8,000 |
| 14 Apr 24 | 7 | EUR 8,000 |
N/A = Not available
|
POA = Price on application
All prices are subject to change and will be confirmed at time of the booking.
What's included
Catered
Exclusive use of the chalet
Concierge Service
4-course fine dining dinner on 5 nights out of 7 nights
Well-selected house wine
Breakfast of your choice served daily
Afternoon tea with homemade cakes, served daily
Welcome Champagne on arrival
In-resort transfers
Daily housekeeping
L'Occitane Toiletries
Fresh fruit and flowers

Additional service (extra charges apply)
Airport transfers
Lift passes
Ski equipment hire
Childcare
In-chalet massage and hairdressing
Private ski guides, heli-skiing and ski lessons
Non-skiing activities
Pre-arrival shopping service
Helicopter transfer
Party planning
Corporate event planning

Please enquire about any other specific service requests.
This service is based on a week-long stay and services may be tailored to your exact requirements during the booking process. Exact services included with each booking will be listed on the Booking Confirmation.
N/A = Not available
|
POA = Price on application
All prices are subject to change and will be confirmed at time of the booking.
---
Location
Access to ski areas in the Chamonix Valley with transport. Les Grands Montets - 2-3 min. Le Tour - 5 min. La Flegere - 10 min. Le Brevent/Aiguille du Midi - 15 min. Les Houches - 25 min. Courmayeur (Italy) - 45 min.
Distances to airports
Geneva (GVA): 95km
Chambéry (CMF): 145km
---
Infos/Activities
Our exclusive and luxury ski chalets in Chamonix are available fully catered and self-catered, many offer a swimming pool, hot tub, sauna and gym, for the best luxury ski holidays in the Chamonix Valley. The valley is consistently rated as one of the top ten ski areas in the world and a must by all ski enthusiasts.
LUXURY SKI HOLIDAYS IN CHAMONIX
Majestic Mont Blanc, one of the world's natural wonders dominates the area. Chamonix is an ancient mountain town with a stylish atmosphere and a blend of French charm, varied skiing and modern facilities that few other Alpine resorts can match. People return time after time and always discover something new.
The ski resort Chamonix with its pedestrianized cobbled streets and squares, beautiful buildings and fast running river has an excellent choice of quality shops, boutiques, cafes, bars, restaurants, clubs, casino and a Saturday market that should not be missed. Chamonix offers a wide range of outdoor activities; from skiing and snowboarding to hiking and biking, and much more.
Chamonix is also a mecca for mountaineering and climbing. The skiing resort has an attractive, bustling old town centre, and the smaller, quieter ski villages of Argentière, Les Houches and Vallorcine offer a different style of resort life.
Around 5pm, the Après-Ski starts with many options, such as the Chambre Neuf Bar, the Jekyll and Hyde pub, Bar du Moulin, La Cantina and the bar d'UP. Very popular bars are Folie Douce, Elevation 1904 where you can have cocktails, you also will find a huge selection of beers. From a culinary point of view, Chamonix is not a blank slate either. Enjoy a menu at the Atmosphere restaurant in the city centre (traditional Savoyard cuisine) or be seduced by the Italian delicacies of the Tuscan chef Auro Bucci at the L'Impossible restaurant.
The undisputed best restaurant in Chamonix is the Michelin-starred restaurant Albert 1er. We also recommend dining at restaurant Le Sérac (1 Michelin star) in Saint-Gervais-les-Bains, only 13 kilometres distance to Chamonix.
SKIING IN CHAMONIX
The legendary skiing caters for every taste and ability. Some 90% of the ski area is above 2,000 metres with an excellent snow record and a long season from December to May. It is home of the 24 kilometres Vallée Blanche and the famous Kandahar World Cup downhill runs. The lift pass - which covers 750 kilometres of pisted skiing - includes the elegant Italian ski resort of Courmayeur that is a short hop through the Mont Blanc tunnel.
The Chamonix Valley is approximately 20 kilometers long, from Les Houches to Le Tour, with the Aiguilles Rouges mountain range on the north side, and the Mont Blanc mountain range on the south side, which includes Mont Blanc itself, the highest peak in the Alps at 4,810 metres.The highest lift in the valley is the Aiguille De Midi cable car which brings you to an incredible 3,842 metres elevation. The top station of the Aiguille De Midi cable car has a spectacular panorama of Chamonix, the Mont Blanc, the Mer De Glace glacier, the surrounding area, and is the access point to high elevation skiing and climbing routes in the Mont Blanc mountain range, including the legendary, world famous Vallée Blanche.
The ski area has beginner slopes, off-piste and long downhill runs for experienced skiers as well as deep powder snow in difficult terrain. The slopes from Grands Montets to Brévent are unique. You can explore 10 ski areas with the Mont Blanc Unlimited ski pass. The "Chamonix Le Pass" is ideal for the areas of Les Grands Montets, Brévent-Flégère and the Col de Balme.
CHAMONIX RESORT INFO
Altitude: 1,035m | Ski Elevation: 1,035-3,842m
CHAMONIX-MONT-BLANC INFO
Summit: 3,842m | Height difference: 2,807m | Highest ski slopes: 3,842m | Slopes: 155km | Green: 16% | Blue: 36% | Red: 32% | Black: 16% | Lifts: 49 | Chairlifts: 16 | Draglifts: 19 | Gondolas/Cabin lifts: 14 | Cross-country skiing: 42km