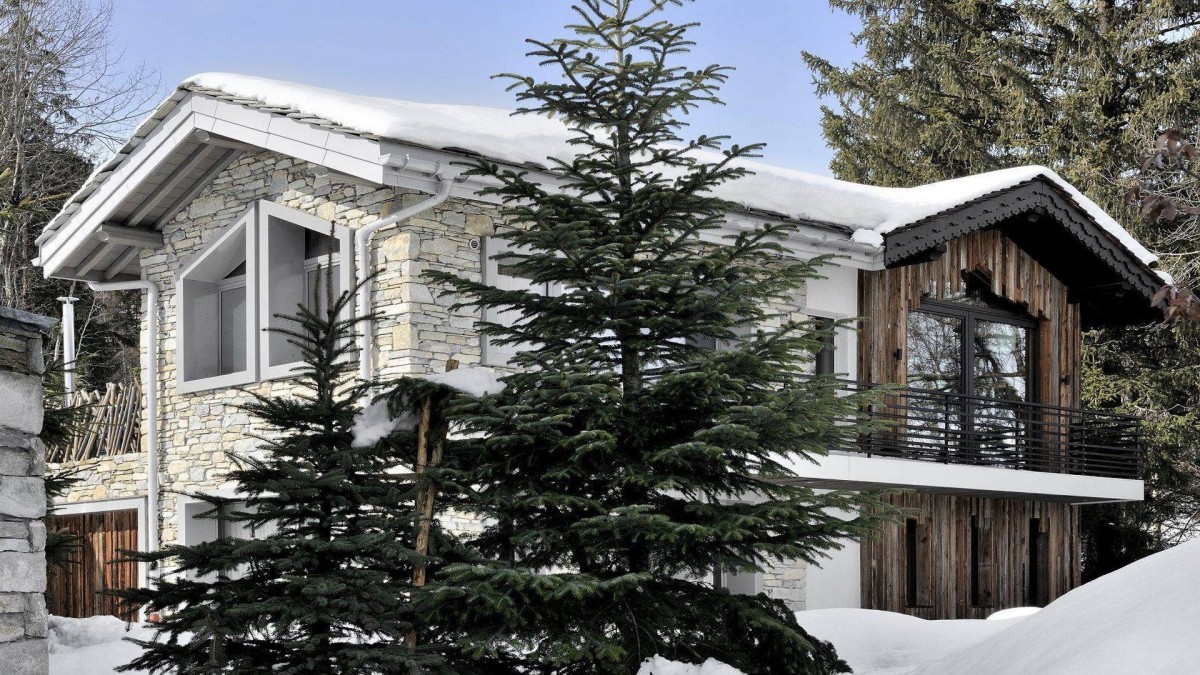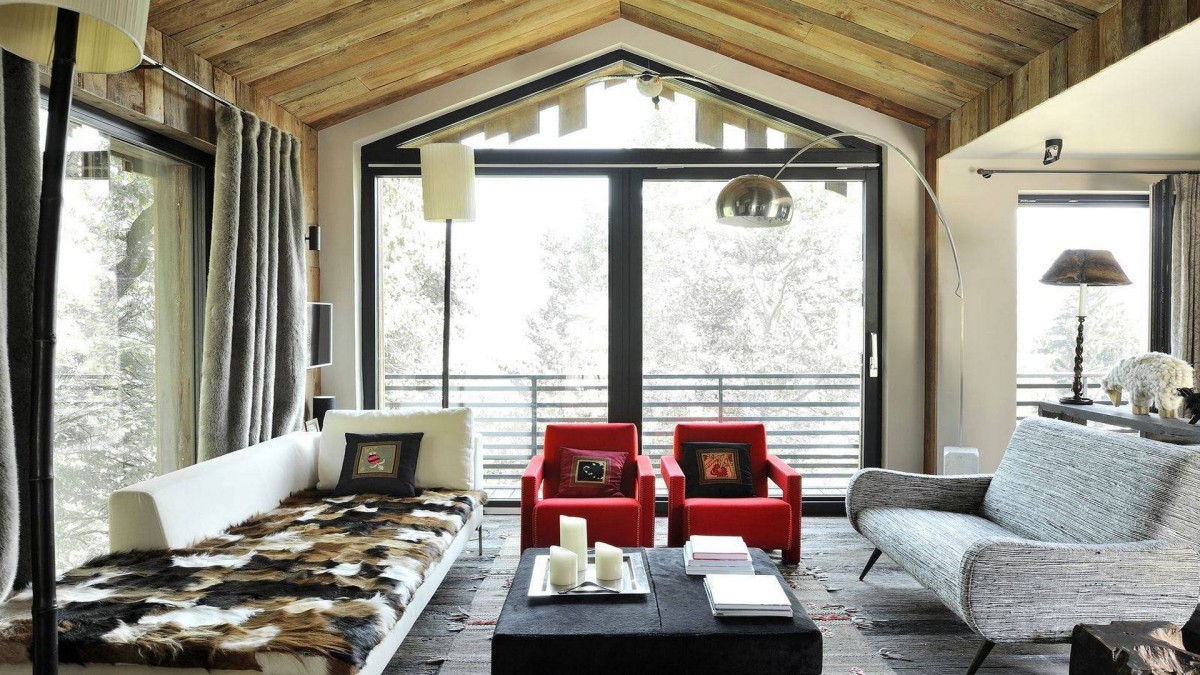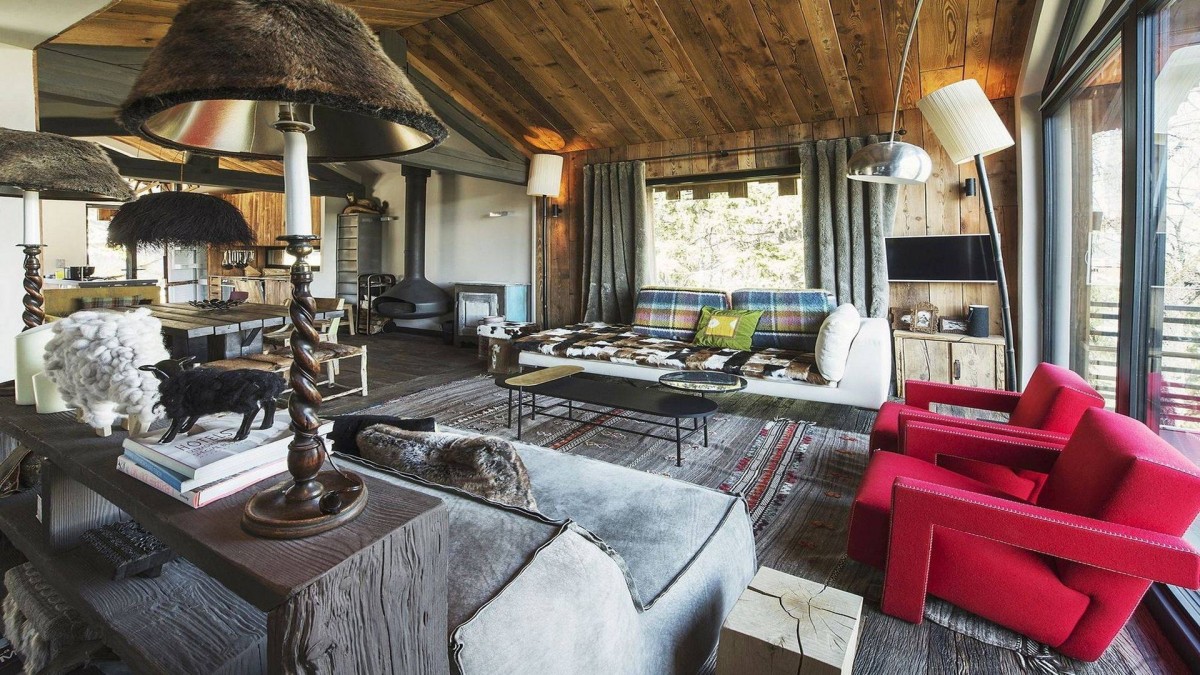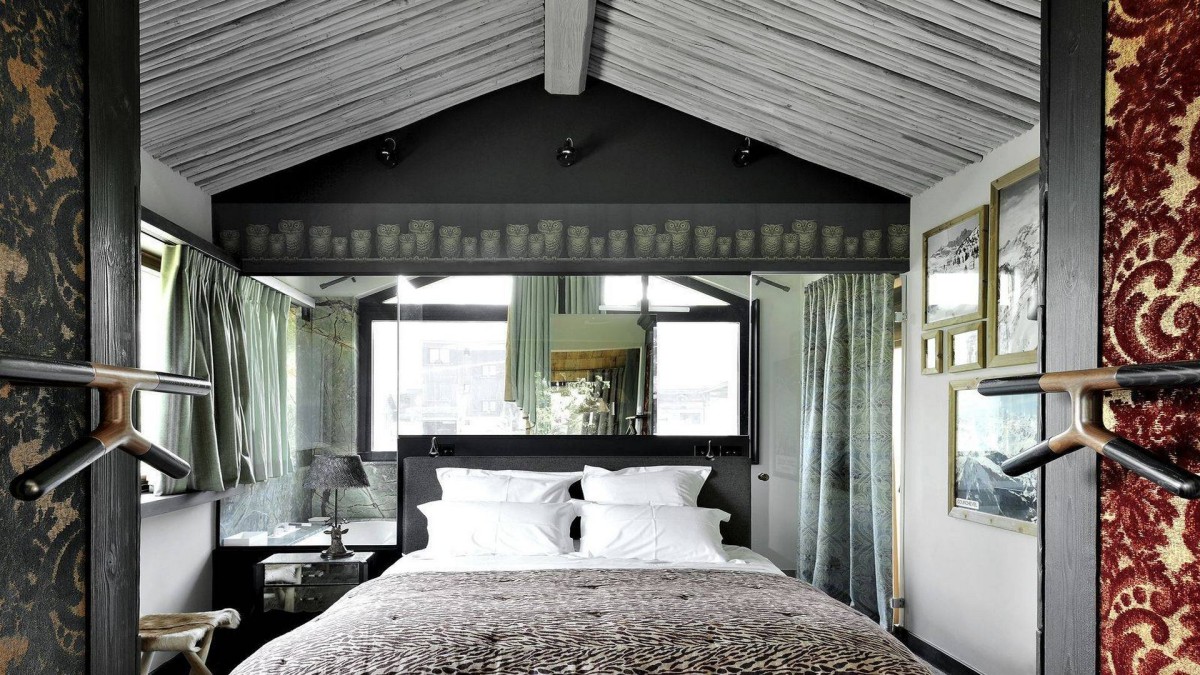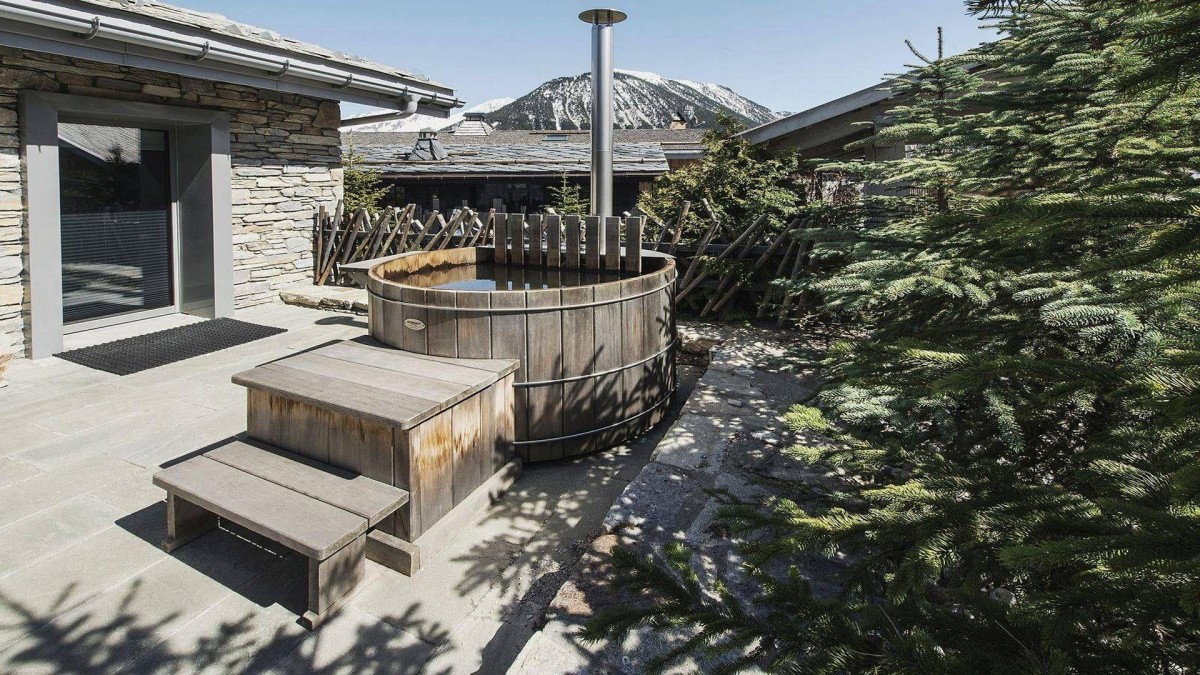 Chalet Ilulissat
/
Courchevel 1550
From 9,260 EUR to 18,660 EUR/week
Bedrooms:
3
Bathrooms:
3
Sleeps:
6 + 2
Pool:
1
Living Area:
150 m2

Pool

Hot tub

Cinema

Fireplace
B & B
---
Description
Bed & Breakfast Chalet
Chalet Ilulissat in Courchevel Village offers stunning views of the mountain range. The luxurious holiday chalet Ilulissat is tastefully decorated. Being one of only three chalets in the Marcandou hamlet, ski chalet Ilulissat offers 3 en-suite bedrooms and a convertible TV lounge and sleeps 6 adults and 2 children. Ilulissat, only 400m from both the centre and the Grangettes gondola, is a family chalet that will delight its guests.
With a footprint of 150sqm - spread across two levels - Chalet Ilulissat, firstborn in the private and peaceful hamlet of Marcandou, is a cozy home away from home in the Three Valleys. Each room of this inimitable chalet reveals a strong personality. The materials are precious, the objects often staggered. Rich textures and raw finishes are always in perfect harmony with the magic of an exceptional setting.
Extraordinary decorated, Ilulissat chalet diverts the clichés in a warm atmosphere. The open-plan living and dining space on the upper floor combines modernity, vintage touches and unusual details with finesse. At the centre of the living room - with access to a balcony at one end - is a modern fireplace. A selection of sumptuous sofas and armchairs offer a ideal and comfortable setting to relax on whilst admiring the mountains framed by floor-to-ceiling windows.
The charming dining area with a large wooden table and bench-style seating on one side is opposite the fully equipped kitchen. All of the three bedrooms are spacious, each with private bathrooms. One of the two bedrooms on the ground floor leads to a terrace. And the master suite bedroom on the upper floor even has a Jacuzzi bathtub.
After a adventurous day of various winter sports activities, guests can unwind in the 3-person Nordic Bath on the chalets ground floor terrace. On top, holidayers in Chalet Ilulissat also have shared access to an outdoor swimming pool beyond the two south-facing terraces. There is also a ski room and parking space.
Due to the originality of its decoration - the daring forest theme cannot be overseen - wood and stone chalet Ilulissat is often named "The most cozy chalet in Courchevel 1550."
Bedrooms
Level 0
1 Double/Twin bedroom with en-suite bathroom with hammam shower and terrace access
1 Double/Twin bedroom with en-suite bathroom
1 TV lounge with single beds (sleeps 2 children), separate toilet, PlayStation, Games
Level 1
1 Master Double bedroom with en-suite bathroom with whirlpool bathtub and terrace access
---
Features
Sleeps 6 + 2
Shared access to an outdoor swimming pool
150 Square metres
3 Bedrooms
3 Bathrooms
Wood-burning fireplace
Fully equipped open-plan kitchen
TV lounge with PlayStation and board games
WiFi
Outdoor Nordic Bath for 3 people
South-facing balconies/terrace areas
Ski room with boots and gloves heater
1 Separate WC
Laundry room
Parking space
---
Prices & Service
| Dates | Nights | Bed & Breakfast |
| --- | --- | --- |
| 02 Dec 23 | 7 | EUR 9,260 |
| 09 Dec 23 | 7 | EUR 9,260 |
| 16 Dec 23 | 7 | EUR 9,260 |
| 23 Dec 23 | 7 | EUR 14,560 |
| 30 Dec 23 | 7 | EUR 18,660 |
| 06 Jan 24 | 7 | EUR 14,560 |
| 13 Jan 24 | 7 | EUR 11,260 |
| 20 Jan 24 | 7 | EUR 11,260 |
| 27 Jan 24 | 7 | EUR 11,260 |
| 03 Feb 24 | 7 | EUR 11,260 |
| 10 Feb 24 | 7 | Booked |
| 17 Feb 24 | 7 | EUR 14,560 |
| 24 Feb 24 | 7 | Booked |
| 02 Mar 24 | 7 | EUR 14,560 |
| 09 Mar 24 | 7 | EUR 11,260 |
| 16 Mar 24 | 7 | EUR 11,260 |
| 23 Mar 24 | 7 | EUR 11,260 |
| 30 Mar 24 | 7 | EUR 9,260 |
| 06 Apr 24 | 7 | EUR 9,260 |
| 13 Apr 24 | 7 | EUR 9,260 |
N/A = Not available
|
POA = Price on application
All prices are subject to change and will be confirmed at time of the booking.
What's included
Bed & Breakfast
Exclusive use of the chalet and its facilities
7 Nights luxury accommodation on your chosen dates
Concierge service
Welcome at the chalet
Champagne on arrival (in winter only)
Gourmet welcome basket with regional products
Daily breakfast
Daily housekeeping (2h/day)
Beds made on arrival
Bed linen & towels
Mid-week towel change
Bathrobes & slippers
Toiletries
Firewood
Private shuttle to access the ski lifts in Courchevel Village (9am-10am and from 4pm)
End of stay cleaning (except the kitchen)
Additional service (extra charges apply)
Airport transfers
Helicopter, cars & taxi rental
Ski passes delivery
Ski equipment rental
Private ski instructors, sports coach, mountain guides
Groceries delivery
Massages & body treatments
Pressing & dry cleaning
Babysitting/Childcare
Non-skiing activities (Yoga, paragliding, hot-air-balloon, parachute dive etc.)
Holiday tax to be paid on site
Please enquire about any other specific service requests.
This service is based on a week-long stay and services may be tailored to your exact requirements during the booking process. Exact services included with each booking will be listed on the Booking Confirmation.
N/A = Not available
|
POA = Price on application
All prices are subject to change and will be confirmed at time of the booking.
---
Location
Grangettes gondola - 400m. Front de Neige/Snow Front ski slopes - 400m. Ski school - 400m. Courchevel Village centre - 400m
Distances to airport
Chambéry (CMF): 110km
Grenoble (GNB): 130km
Geneva (GVA): 190km
Lyon (LYS): 190km
---
Infos/Activities
Courchevel Village is situated at 1550m and is one of the four Courchevel ski resorts. It is a peaceful village, perfect for families.
Skiers can access the upper slopes of the resort by taking the 6 person high-speed gondola up to the hub of La Croisette (Courchevel 1850), or choose to take one of two other lifts leading up to the ridge separating the resort from Méribel.
All the villages in the Courchevel Valley are linked by a free shuttle bus and those staying in Courchevel 1550 have the added bonus of the gondola up to 1850, which stays open until 7.30pm in the evening.
Courchevel Village is home to friendly bars and restaurants, with a peaceful the atmosphere and good value for money. The ski resort in Les Trois Vallees is also a popular destination for various outdoor activities on offer throughout the valley in summer.
There are several walking routes. In the main part of Courchevel 1850 there are a few lifts open giving mountain bikers and walkers a-like access to several different trails on the mountain. There is a 9-hole golf course too, Other activities - to name but a few - are horse riding, canyoning excursions and kayaking. In winter activities to try include snow-shoeing, snowmobiling, ice-climbing, swimming and ice-skating.
Après-ski
Le Caterail with Live music, DJ Parties, Guiness & cocktails.
Skiing:
Courchevel alone has 65 lifts and 102 runs, with a top vertical descent of more than 4,700 feet. Highest ski pistes: 3250m
Kilometres of Pistes: 600km
Slopes:
17% Beginner, 73% Intermediate, 12% Advanced