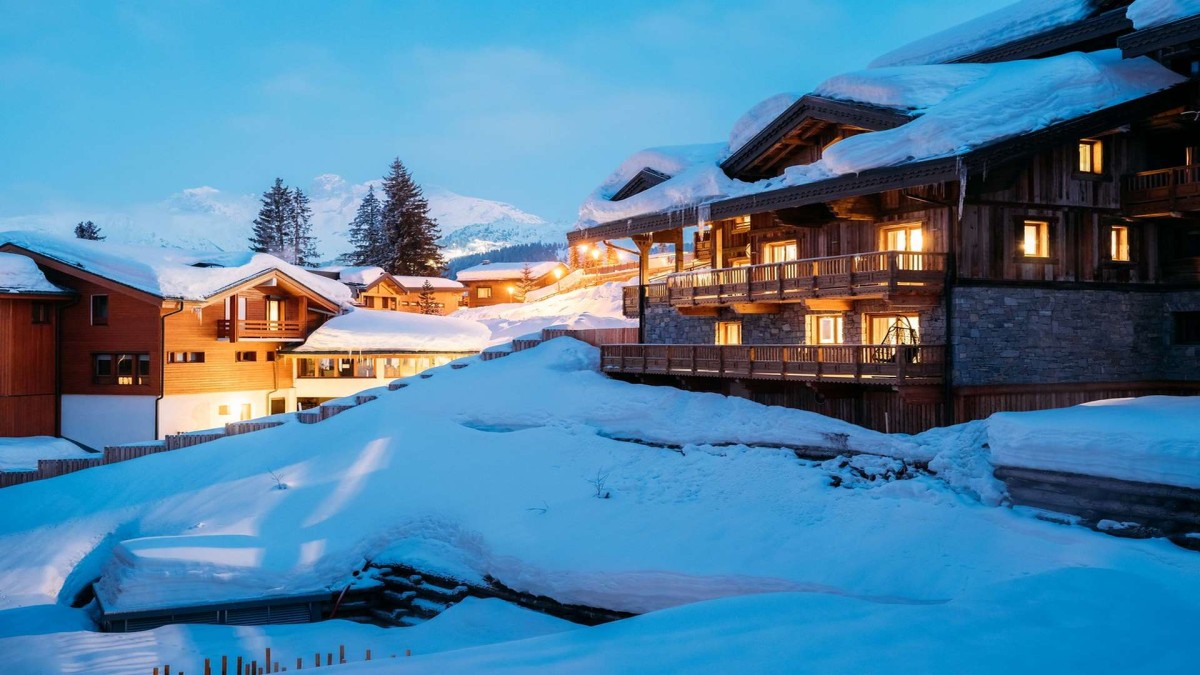 The Lodge
/
Courchevel 1850
From 40,000 EUR to 140,000 EUR/week
Bedrooms:
5
Bathrooms:
5
Sleeps:
10
Pool:
1
Living Area:
426 m2

Pool

Sauna

Hot tub

Spa

Hammam

Cinema

Fireplace
Catered
---
Description
Catered Chalet
The Lodge in Courchevel 1850 is a brand new holiday home for luxury ski holidays in one of the chicest resorts in the French Alps. Set in the heart of the exclusive village. The interior of The Lodge is a wealth of warmth, texture and earthiness. Every detail has been individually selected by international luxury design house Morpheus London, who have chosen unique bespoke pieces and the finest finishes including bronzed and smoked glass, veneer oak, contemporary concrete, leather, rich faux fur and Italian two-tone marble.

Spread over three spacious floors with an internal lift, this exclusive 426 square metres family chalet is situated within the 'beyond-stars' resort of Six Senses Residences Courchevel. Together with their own private chalet, guests will benefit from round the clock service, through a dedicated 24-hour concierge, together with access to the Six Senses world class leisure facilities.

The Lodge itself is fitted with a cinema and spacious private spa including Jacuzzi, sauna, steam room and multi-purpose treatment room - the perfect respite from a day on Courchevel's famous slopes. Other features include open-plan living & dining, providing the perfect space for entertaining with a generous seating area, complemented by a selection of mirrored coffee tables and a wintry crystal chandelier.
A bespoke wine cellar with LED lighting and glass doors, is the perfect addition and leads on to the glorious open plan dining area. Generous terrace areas provide the ideal location for outdoor dining or simply taking in the phenomenal and untouched alpine views of the surrounding mountains.
The Lodge boasts 5 beautiful en-suite bedrooms which are soft, warm havens filled with rich brown chocolate and timber tones. The luxuriously thick duvets are adorned with rugged throws, faux fur cushions and feathered pillows, with the rooms warmed creatively by integrated lighting and generous dressing areas. Each bedroom comes with a private bathroom, all fitted with modern, state-of-the-art appliances.
The Master bedroom features a pop-up TV system extending from the foot of the bed for lazy mornings trading skis for slippers. Strong timber beams frame a magnificent triangular window, opening onto breath-taking views of the Alps. The elegant bespoke headboard and bespoke bedside tables are complemented by panelling, contrasted with marquetry leather panels, doors, wardrobes and tied together with carefully selected accessories to enhance comfort and luxury in every way.
---
Features
Sleeps 10
426 Square metres
5 Bedrooms en-suite
Bespoke kitchen & breakfast bar
Fireplace
Indoor Jacuzzi
Sauna
Steam room/Hammam
Massage room
Fitness room
Cinema room
Wine cellar
Music system
Television & WiFi
Balconies/terrace (with the option to dine outside in warmer temperatures)
Internal lift
Access to the facilities of the Six Senses complex
Outdoor jacuzzi (shared)
Swimming pool (shared)
Steam room/Hammam (shared)
Fitness room (shared)
Parking
---
Prices & Service
| Dates | Nights | Catered |
| --- | --- | --- |
| 09 Dec 23 | 7 | EUR 40,000 |
| 16 Dec 23 | 7 | EUR 40,000 |
| 23 Dec 23 | 7 | Booked |
| 30 Dec 23 | 8 | Booked |
| 07 Jan 24 | 7 | Booked |
| 14 Jan 24 | 7 | Booked |
| 21 Jan 24 | 7 | Booked |
| 28 Jan 24 | 7 | EUR 45,000 |
| 04 Feb 24 | 7 | EUR 50,000 |
| 11 Feb 24 | 7 | EUR 65,000 |
| 18 Feb 24 | 7 | EUR 65,000 |
| 25 Feb 24 | 7 | Booked |
| 03 Mar 24 | 7 | Booked |
| 10 Mar 24 | 7 | Booked |
| 17 Mar 24 | 7 | EUR 50,000 |
| 24 Mar 24 | 7 | Booked |
| 31 Mar 24 | 7 | Booked |
| 07 Apr 24 | 7 | EUR 55,000 |
N/A = Not available
|
POA = Price on application
All prices are subject to change and will be confirmed at time of the booking.
What's included
Catered
Exclusive use of the chalet and its facilities
7 Nights luxury accommodation on your chosen dates
Welcome greeting and introduction to the chalet
Champagne reception
Chalet Manager
Host/Chef
Service and waiting staff
Daily housekeeping
Daily breakfast and afternoon tea (Food and drinks at extra cost)
Dinner on 6 nights out of 7 (Food and drinks at extra cost)
Evening turndown to bedroom suites
Tea, coffee and soft drinks
Wood for the fireplace
Access to the Six Sense fitness centre, pool and spa
In-resort driving service provided by Six Senses
Additional service (extra charges apply)
Private transfers to and from airports or out of resort
Flights or helicopters
Lift passes
Ski instructors, ski equipment rental
Extra ski/ snowboard tuition costs
Visiting chefs (request in advance)
Personal laundry and dry cleaning
Babysitting/Childcare
Holiday travel insurance
Please enquire about any other specific service requests.
This service is based on a week-long stay and services may be tailored to your exact requirements during the booking process. Exact services included with each booking will be listed on the Booking Confirmation.
N/A = Not available
|
POA = Price on application
All prices are subject to change and will be confirmed at time of the booking.
---
Location
Nearest ski lift/slopes - 150-200m
Courchevel 1850 centre - 150-200m
Distances to airports
Courchevel Altiport (CVF): 4km
Chambéry (CMF): 110km
Grenoble (GNB): 130km
Geneva (GVA): 185km
Lyon (LYS): 206km
---
Infos/Activities
We offer fantastic luxury ski chalets in Courchevel 1850. Many are ski in/ski out with indoor swimming pool, private spa facilities, sauna, hammam, hot tub, gym, cinema and much more. Available for rentals. Fully catered and self-catered luxury ski accommodation.
LUXURY SKI HOLIDAYS IN COURCHEVEL 1850
Courchevel 1850 is a high quality ski resort located in the Tarentaise Valley, part of the Savoie region of the French Alps. It forms part of Les Trois Vallées, the largest linked ski area in the world - popular and highly recommended by the rich and famous. Luxury ski resort Courchevel 1850, which is the undisputed Number one winter sports destination within the Three Valleys, boasts outstanding terrain for skiing, a very reliable snow record and a wide range of luxury catered ski chalets, luxurious apartments and 5-star hotels.
The Courchevel Valley has four Ski in/Ski out-villages all named after their altitudes: Courchevel 1300, Courchevel 1550, Courchevel 1650 and Courchevel 1850. Courchevel 1850 is the largest and most popular village where the majority of luxury properties, designer shops, restaurants and bars are located.
All of the Courchevel villages have gourmet restaurants serving traditional local French Savoyard cuisine, Italian, Chinese and Spanish cuisine. There are numerous Michelin-star restaurants. Courchevel 1850 is without any doubt among the most glamorous holiday resorts in France. It also has its own Altiport. Finest Holidays offer luxury chalets in top locations such as La Croisette, Cospillot and Nogentil in Courchevel 1850.
SKIING IN COURCHEVEL
Offering 600 kilometres of endless marked trails plus unlimited off piste you could ski or snowboard the Les 3 Vallées terrain for weeks and not cover it all. "Zen Zones", located in 1850, 1650 and Le Praz, were specifically designed for beginners and nervous skiers. The lifts are easy to access and the slopes are very well groomed and uncrowded. There are seven ski and snowboard schools in the Courchevel Valley with more than 650 instructors speaking 25 different languages. Lessons and packages are available for all ages and ability levels.

COURCHEVEL 1850 SKI RESORT INFO
Altitude: 1,850m | Ski Elevation: 1,260-3,230m | Pistes: 150km | Vertical Descent: 1,400m | Lifts: 58
LES 3 VALLÉES INFO
Pistes: 600km | Highest ski pistes: 3,250m | Green: 48 | Blue: 135 | Red: 119 | Black: 33 | Longest Run: 4,6km | Lifts: 183 | Highest Lift: 3,230m | Cross Country: 118km | Snowparks: 11
THINGS TO DO
Family Park, The Fun Park, The Western Skipark, The Stop Zone (you can learn about speed and stopping distance), Snake Park, Avalanch'Camp, Wood Park, BMW XDrive
In 2018 Courchevel launches the "Slalom Park", a permanent competition-level stadium which can be used by everyone