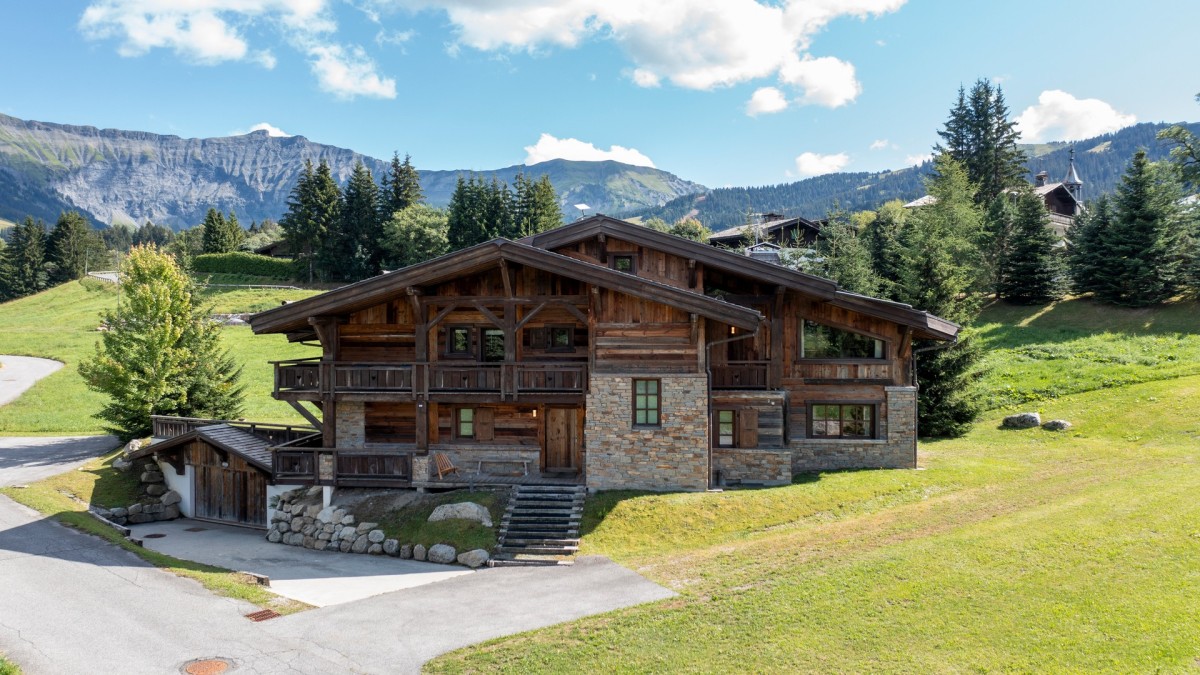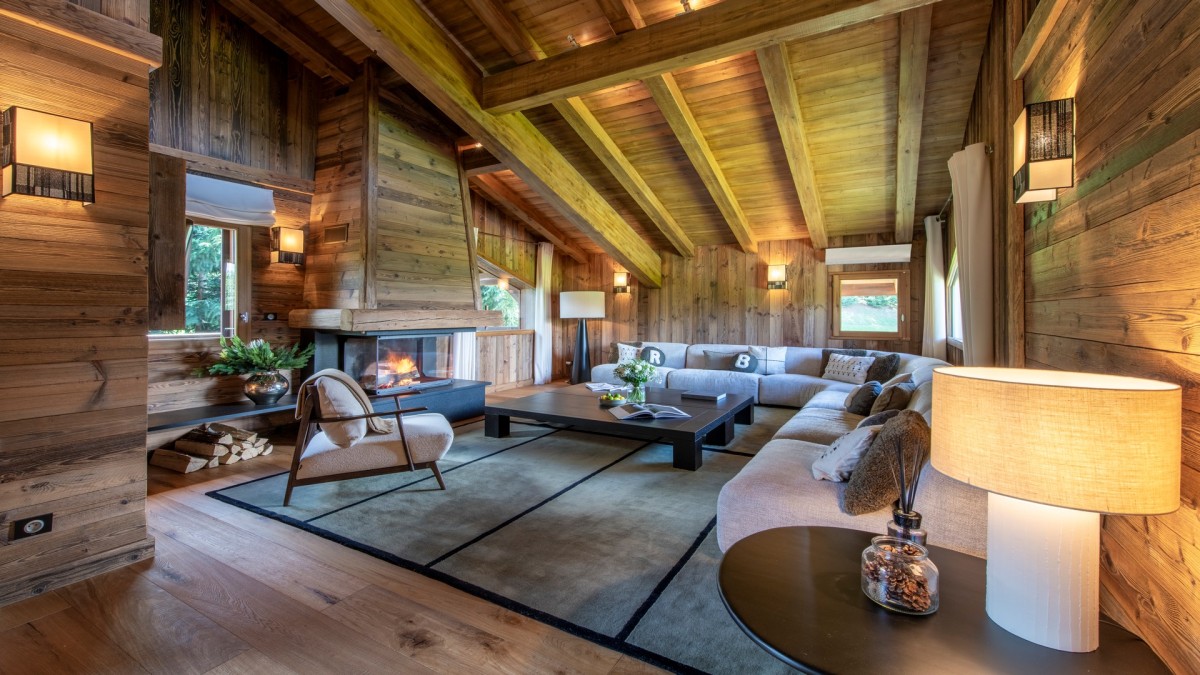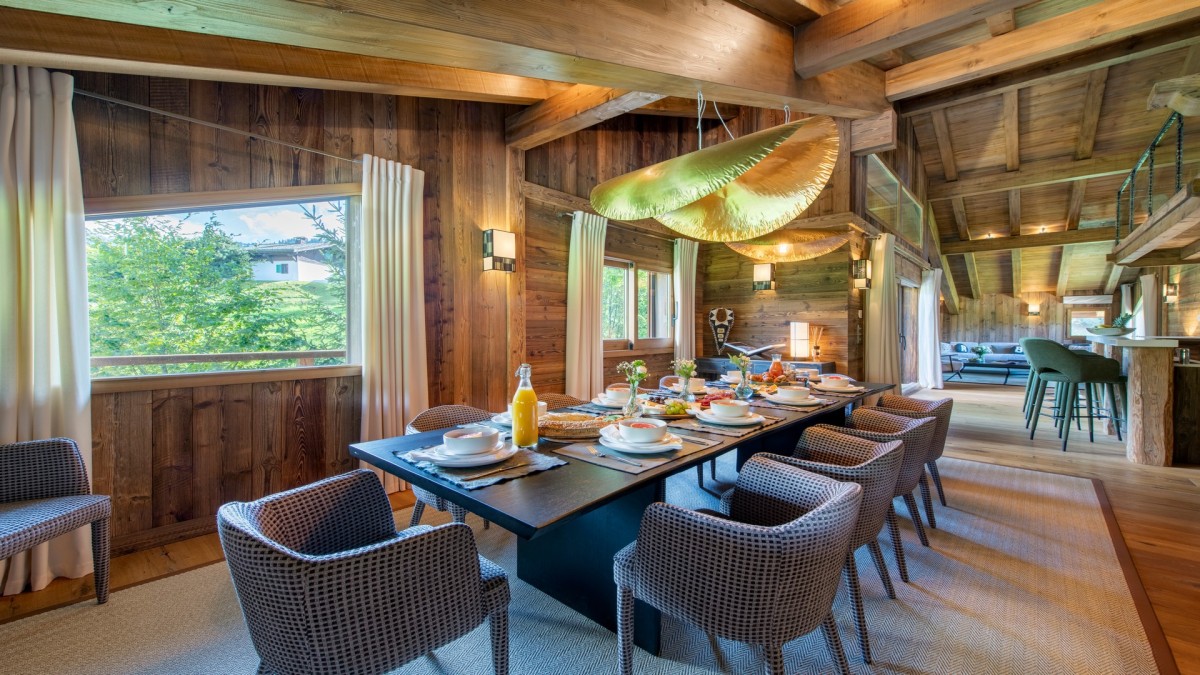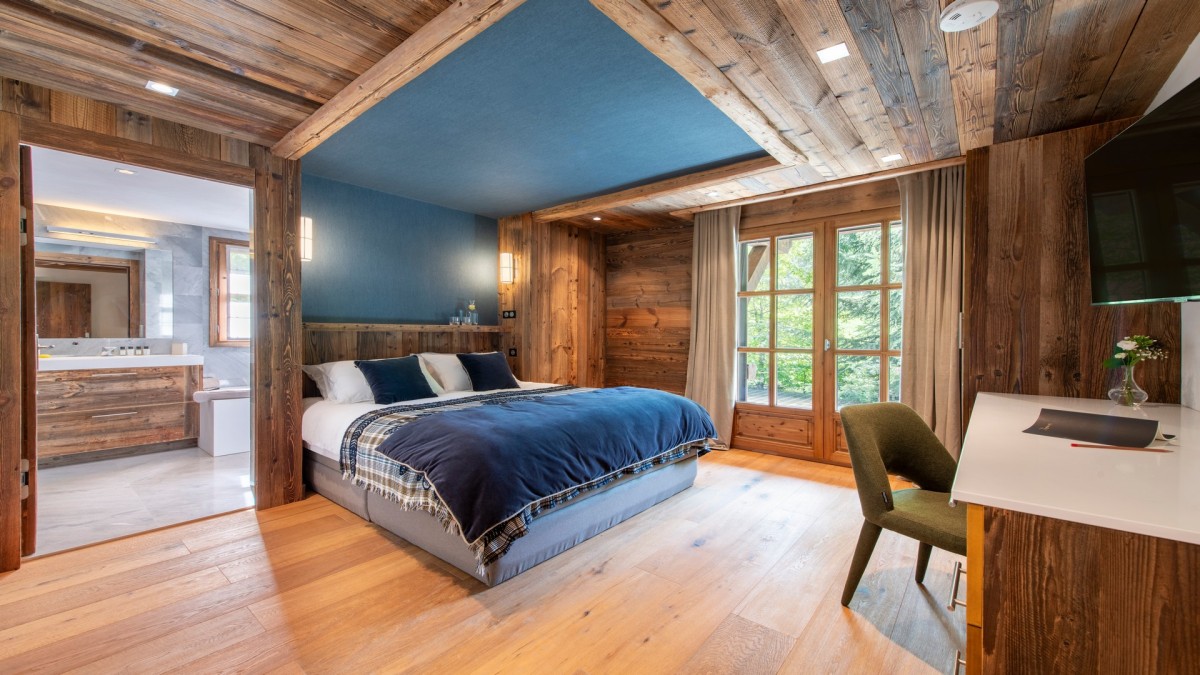 Chalet Le Rocher
/
Megève
From 22,280 EUR to 43,470 EUR/week
Bedrooms:
4
Bathrooms:
4
Sleeps:
8
Living Area:
280 m2

Cinema

Fireplace
Self-Catered
---
Description
Self-Catered Chalet
Family chalet Le Rocher is only a 5 minute drive from the nearest Mont d'Arbois ski lift and a 10-minute drive from the centre of Megève. With its traditional architecture and modern furnishings, it is the ideal winter holiday spot for families up to 8 people as this luxury ski boasts a friendly ambience on its own plot. Four chic double bedrooms are located on the entrance level. Each room has its own en-suite shower room or bathroom.
The master bedroom has a spacious dressing room and a bathroom with hammam shower. Three of the rooms have a TV, two have a desk and all have access to the terrace. The living room with wonderfully large windows that flood the room with light is on the next higher floor. A sofa landscape around the fireplace invites to spend cosy hours in the evening, here you can also watch movies on a large television. Step out to the spacious semi-covered balcony with a table to spend time outside and soak up the winter sun. There is also a guest WC on this floor.
Those who prefer to read a book undisturbed, can do so on the mezzanine above the living room. A fully equipped kitchen with high-end appliances and a dining area with large table for 10 people to gather around complete the overall picture of the chalet. Olive green velvet chairs line the sleek bar that connects the living area to the dining area. Huge golden lamps hang above the table, giving the room a warm atmosphere.
A separate TV room with sofa and a big flat screen is located on the ground floor. Also on this floor is the ski room and laundry room, plus a large garage where up to 4 cars can park. There is one further external parking space outdoors.
Bedrooms
Ground Floor
1 Master Double bedroom with TV, dressing room, desk, en-suite shower room with hamman, terrace access
1 Double bedroom with TV, en-suite shower room, terrace access
1 Double bedroom with TV, desk, en-suite bathroom with separate shower, terrace access
1 Double bedroom with en-suite shower room, terrace access
---
Features
Sleeps 8
280 Square metres
4 Bedrooms en-suite
Hammam shower
8 Living area seats
Wood-burning fireplace
10 Dining area seats
Bar
Snug reading nook
Well-equipped kitchen
TV room
Smart TV, WiFi
Semi-covered furnished balcony
Terrace
1 Additional WC
Ski room
Laundry facilities
Indoor parking (4 cars)
Outdoor parking (1 car)
---
Prices & Service
| Dates | Nights | Self-Catered |
| --- | --- | --- |
| 02 Dec 23 | 7 | EUR 14,760 |
| 09 Dec 23 | 7 | EUR 14,760 |
| 16 Dec 23 | 7 | EUR 23,110 |
| 23 Dec 23 | 7 | EUR 40,140 |
| 30 Dec 23 | 7 | EUR 43,470 |
| 06 Jan 24 | 8 | EUR 32,370 |
| 14 Jan 24 | 7 | EUR 23,110 |
| 21 Jan 24 | 7 | EUR 23,110 |
| 28 Jan 24 | 7 | EUR 23,110 |
| 04 Feb 24 | 7 | EUR 23,110 |
| 11 Feb 24 | 7 | EUR 39,800 |
| 18 Feb 24 | 7 | EUR 39,800 |
| 25 Feb 24 | 7 | EUR 31,460 |
| 03 Mar 24 | 7 | EUR 26,450 |
| 10 Mar 24 | 7 | EUR 23,110 |
| 17 Mar 24 | 7 | EUR 23,110 |
| 24 Mar 24 | 7 | EUR 23,110 |
| 31 Mar 24 | 7 | EUR 23,110 |
| 07 Apr 24 | 7 | EUR 23,110 |
| 14 Apr 24 | 7 | POA |
| 21 Apr 24 | 7 | POA |
| 28 Apr 24 | 7 | POA |
N/A = Not available
|
POA = Price on application
All prices are subject to change and will be confirmed at time of the booking.
What's included
Self-Catered
Exclusive use of the chalet and its facilities
7 Nights luxury accommodation on your chosen dates
Concierge service prior to arrival and for the duration of your stay
Daily housekeeping
Bed linen & towels
Mid-week towel change
Bathrobes & slippers
Toiletries
Hairdryers in every bathroom
In-chalet ski and boot fitting service

Additional service (extra charges apply)
Airport transfers
Helicopter transfers
Lift pass delivery
Ski equipment hire
Private ski guides, heli-skiing and ski lessons
Pre-arrival shopping service
In-chalet massage and hairdressing
Babysitting/Childcare
Non-skiing activities
Party planning
Corporate event planning

Please enquire about any other specific service requests.
This service is based on a week-long stay and services may be tailored to your exact requirements during the booking process. Exact services included with each booking will be listed on the Booking Confirmation.
N/A = Not available
|
POA = Price on application
All prices are subject to change and will be confirmed at time of the booking.
---
Location
Standalone ski chalet situated in its own peaceful grounds. Ski lift Mont d'Arbois 5 min. drive. Megève village centre 10 min. drive
Distances to airports
Annecy (NCY): 85km
Geneva (GVA): 90km
Chambéry (CMF): 95km
Lyon (LYS): 170km
---
Infos/Activities
The Megève mountain resort is situated at 1,115m above sea level. The charming Alpine town is part of the Évasion Mont Blanc region with stunning luxury chalets for rent, catered and self-catered. Many have a swimming pool, hot tub, sauna and gym, for the very best luxury ski holidays.
With its traditional rustic atmosphere and authentic medieval architecture, it seems that Megève has always existed up there, just like the fascinating mountain scenery of smooth pastures, mystery-green forests and stunning heights all around. Megève is like a fairytale picture of old times. Narrow streets and old buildings form its enchanting medieval centre; the pedestrian zone with the horse-drawn sleighs and carriages passing only add a magical touch, almost imaginable serenity of a trip into history.
But still, the town offers infinite range of entertainment, so tourists can enjoy after returning from back-in-time. Megève at night is an experience you should not miss. 9 discos and plenty of clubs and bars create the special lively atmosphere of the nocturne town. There is a casino for those who feel "lucky tonight" and a prefect selection of various restaurants for those who prefer nice food and fine wines! In fact, Megève is known as one of the most valuable gastronomic stops of the Alps and a famous French culinary spot. During the day you could enjoy the majestic mountain landscapes from the terrace of a café, or take a traditional lunch in a cosy bistro in the medieval heart of the town.
skiing in megève
Megève gives access to a vast skiing area of slopes suitable for all levels of skiers. Most of the runs are best for intermediates and beginners, but there are still 23% advanced and expert skiing pistes and excellent off-piste opportunities. A modern system of 84 lifts has been established in the resort. Additional skiing opportunities are available in the neighbor resorts of Combloux and Saint-Gervais-les-Bains. 75km of picturesque trails are at the disposition of cross-country skiers. The snow season here continues from mid-December to Mid-April with sufficient amount of snow during that time.
MEGÈVE RESORT INFO
Ski runs: 325km | Green: 17% | Blue: 30% | Red: 40% | Black: 13% | Lifts: 84 | Longest downhill run: 9km | Cross-country: 75km | Snow parks: 2
THINGS TO DO IN MEGÈVE
Snow parks | Off-piste skiing | Heliskiing | Ice climbing | Paragliding | Ice skating | Hockey | Curling
ÉVASION MONT BLANC INFO
Minimum altitude: 850m | Maximum altitude: 2,353m | Height difference: 1,503m | Ski runs: 445km | Pistes: 235 | Green: 45 | Blue: 65 Red: 91 | Black: 34 | Lifts: 135 | Drag lifts: 62 | Chair lifts: 45 | Gondolas: 12 | Cable cars: 2 | Carpet lifts: 8 | Tow ropes: 6 | Cross-Country: 75km | Snowshoe trails: 37km | Ski touring trails: 12,5km | Halfpipes: 2 | Snowparks: 7 | Toboggan runs: 2 | Culminating point: Mont-Blanc summit at 4,807m | Mountain restaurants: 28