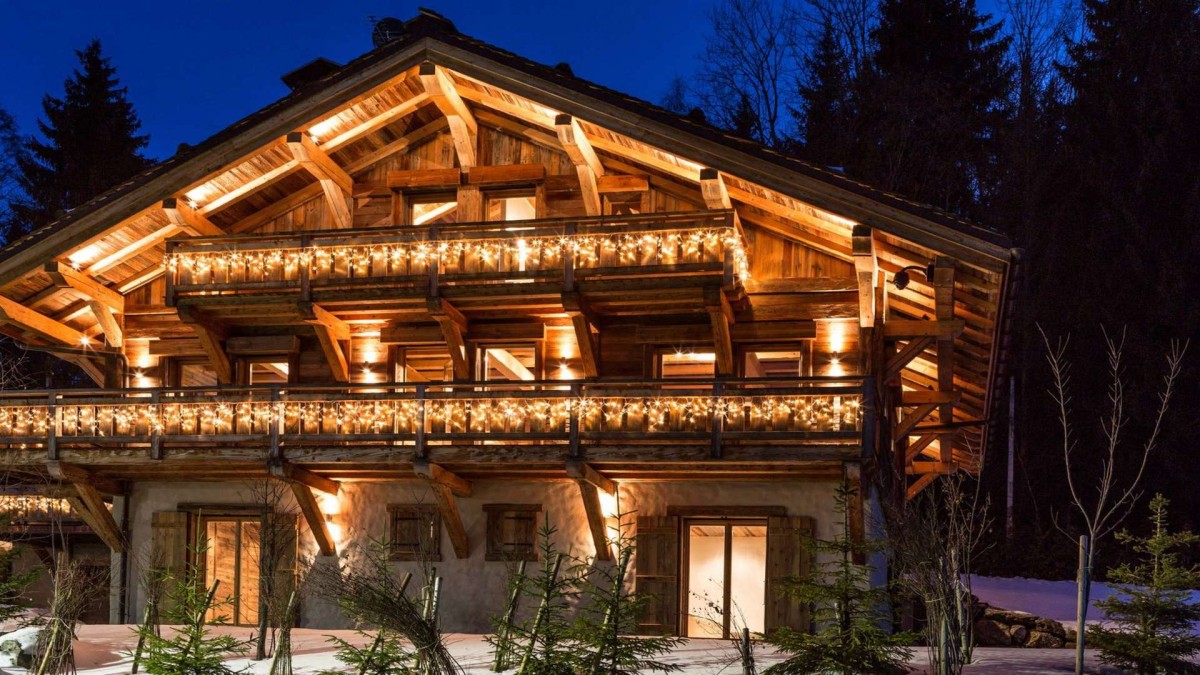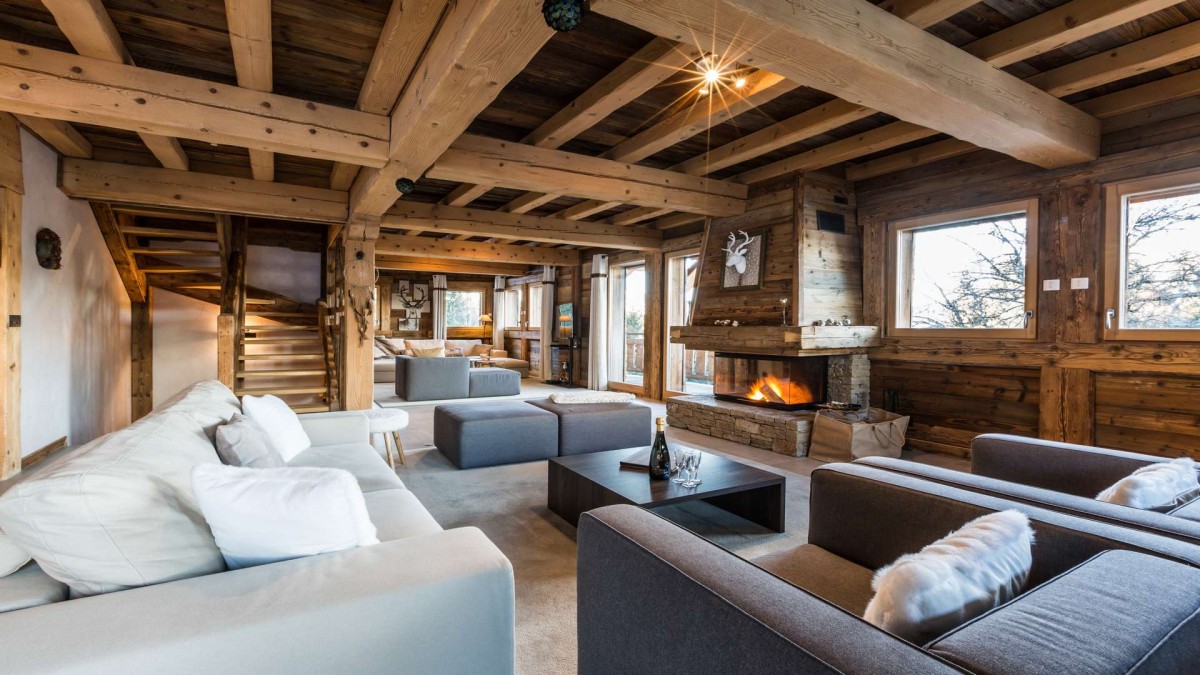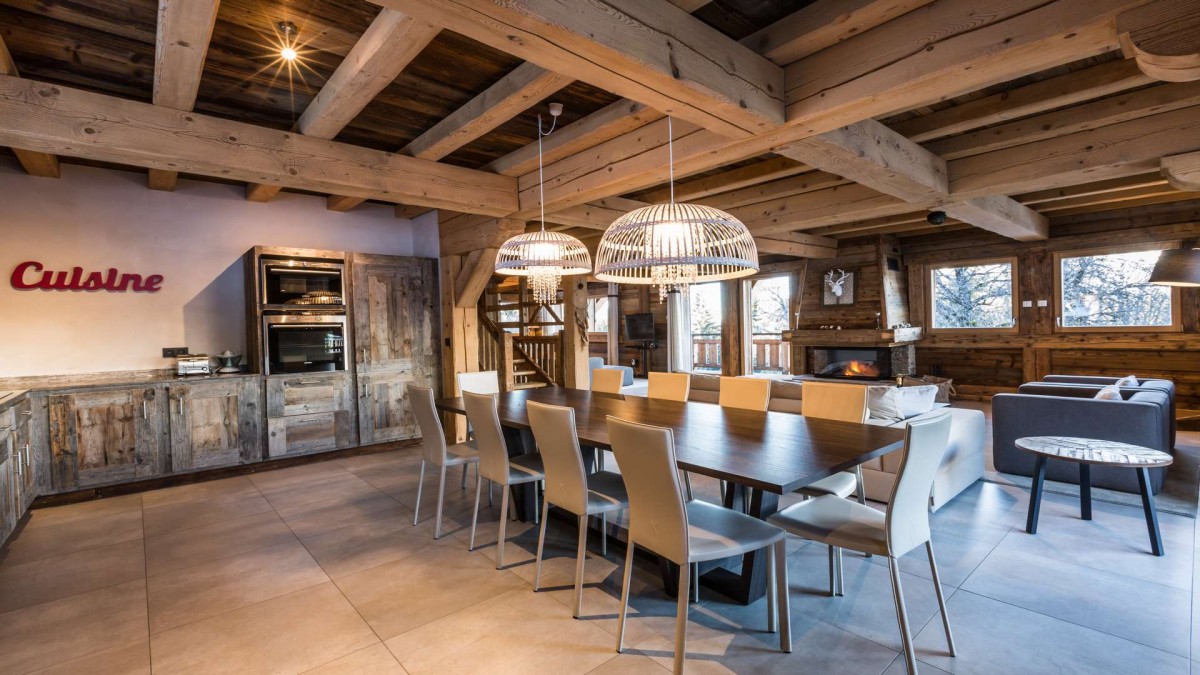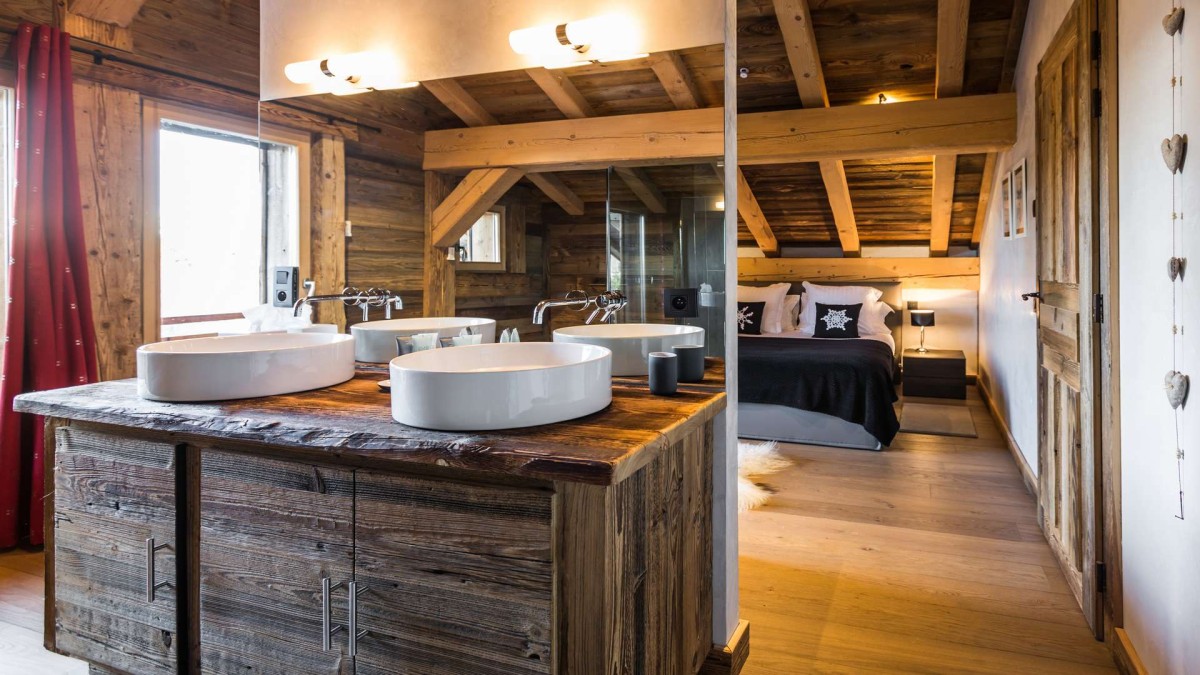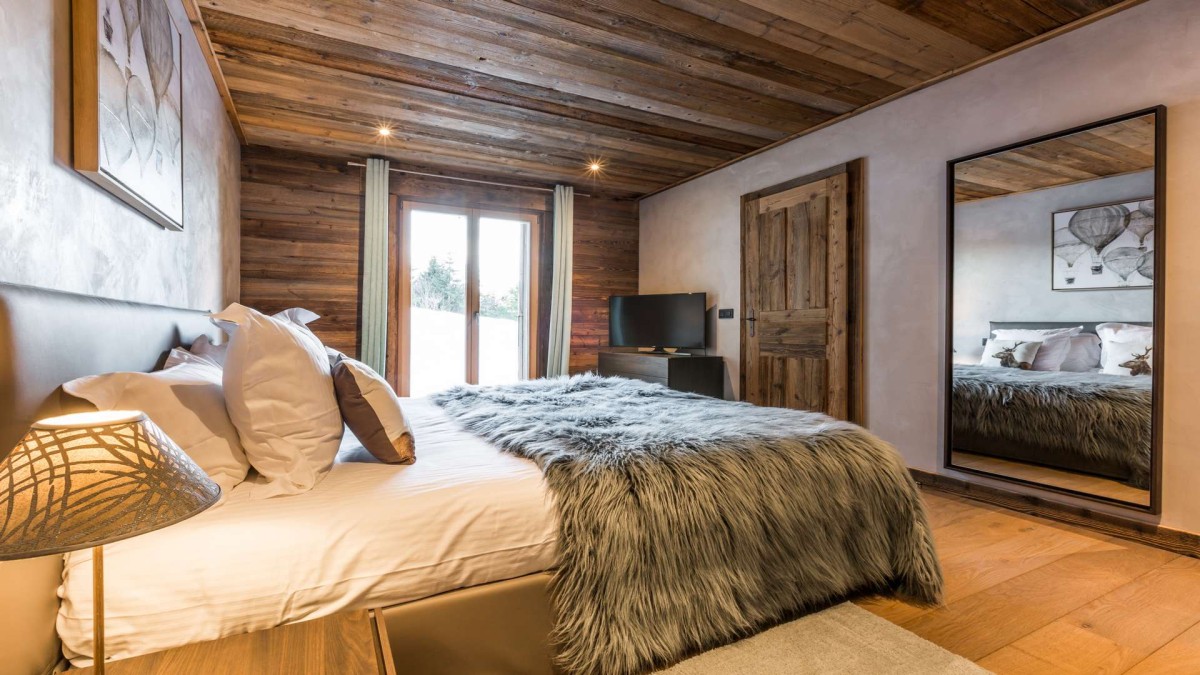 Chalet White Fox
/
St Gervais
From 9,600 EUR to 23,940 EUR/week
Bedrooms:
5
Bathrooms:
5
Sleeps:
10
Living Area:
363 m2
/
Plot size:
1445 m2

Hot tub

Spa

Hammam

Fireplace
Self-Catered
---
Description
Self-Catered Chalet
The luxury Chalet White Fox is the largest chalet in the hamlet, with remarkable views from the terrace. The Hameau du Renard Blanc - with its outstanding chalets - is located high up at an altitude of 1300 metres between Saint-Gervais-les-Bains and Megève offering an ultimate experience amid the glorious mountain scenery of the Alps as well as easy access to the Saint-Gervais Mont-Blanc skiing terrain where you can ski over to Megève.
This is the ideal spot for enjoying yourself and relaxing with friends and family. Chalet White Fox is spread over three floors, connected with two stairs. Across a footprint of 363sqm 10 holidayers can sleep comfortably in five bedrooms.
One bedroom features a small living area. The chalet has been recently renovated to accommodate guests seeking to spend unforgettable moments together - in timeless surroundings and far from the hustle and bustle. The hammam, ski room and double garage are situated on the ground floor. The bright living room with cosy fireplace, kitchen and dining room can be found on the first floor.
The four chalets are set within an enclosed, wooded area, within easy reach of the many attractions offered by the vast winter sports region. Hameau du Renard Blanc leaves its indelible mark on all who stay in it. The chalet is located in the French ski resort of Saint-Gervais-les-Bains, towards the lifts at Le Bettex.
For larger families or groups of friends who prefer to stay close to each other Chalet White Fox can be rented along with Chalet Silver Fox, Chalet Red Fox and Chalet Grey Fox to easily accommodate up to 34 holidayers.
Bedrooms
Ground Floor
Double bedroom with en-suite shower room, separate living area and garden access
Double bedrooms with en-suite shower room and garden access
First Floor
Double bedroom with en-suite bathroom and dressing room
Second Floor
2 Double bedrooms with en-suite shower rooms, each with private balcony
---
Features
Sleeps 10
363 Square metres
5 Bedrooms en-suite
Fireplace
Fully equipped kitchen
Outdoor Jacuzzi
Hammam
Massage room
Flatscreen TV
WiFi
Balconies & Terrace area
Ski room with boot warmers
Laundry facilities
Garage for 2 cars
1445 Square metres of surrounding wooded land
---
Prices & Service
| Dates | Nights | Self-Catered |
| --- | --- | --- |
| 09 Dec 23 | 7 | EUR 9,600 |
| 16 Dec 23 | 7 | EUR 10,100 |
| 23 Dec 23 | 7 | EUR 16,100 |
| 30 Dec 23 | 7 | EUR 23,940 |
| 06 Jan 24 | 7 | EUR 16,100 |
| 13 Jan 24 | 7 | EUR 10,600 |
| 20 Jan 24 | 7 | EUR 10,600 |
| 27 Jan 24 | 7 | Booked |
| 03 Feb 24 | 7 | EUR 10,600 |
| 10 Feb 24 | 7 | Booked |
| 17 Feb 24 | 10 | EUR 16,100 |
| 27 Feb 24 | 4 | POA |
| 02 Mar 24 | 7 | EUR 12,600 |
| 09 Mar 24 | 7 | Booked |
| 16 Mar 24 | 7 | Booked |
| 23 Mar 24 | 7 | Booked |
| 30 Mar 24 | 7 | Booked |
| 06 Apr 24 | 7 | Booked |
| 13 Apr 24 | 7 | Booked |
N/A = Not available
|
POA = Price on application
All prices are subject to change and will be confirmed at time of the booking.
What's included
Self-Catered
Exclusive use of the chalet and its facilities
7 Nights luxury accommodation on your chosen dates
Concierge services
Personalised welcome to the chalet
Daily housekeeping
Bed linen & towels
Weekly linen change
Bathrobes & Slippers
Pure Altitude toiletries
Wood for the fireplace
End of stay cleaning
Daily transfer to the slopes for all the guests and 1 daily transfer to the village centre (according to availability)
Snow cleaning from chalet accesses

Additional service (extra charges apply)
Airport transfers
Private chef for breakfast, lunch, dinner
Private driver
Delivery of lift and ski passes
Ski and mountain bike equipment hire
Private ski lessons, ski and mountain guides
Food delivery
Wide selection of wines
Restaurant reservations
Facial and body beauty treatments
In-chalet massages and hairdressing
Stretching and yoga lessons
Non-skiing activities (Rafting & canyoning, mountain biking, climbing, hiking, paragliding, freefall jumping, golf, tennis etc,)
Helicopter flight over the Mont Blanc

Please enquire about any other specific service requests.
This service is based on a week-long stay and services may be tailored to your exact requirements during the booking process. Exact services included with each booking will be listed on the Booking Confirmation.
N/A = Not available
|
POA = Price on application
All prices are subject to change and will be confirmed at time of the booking.
---
Location
Monts Rosset slopes and chair lift - 600m or 3-minute drive. Le Bettex and its slopes - 7-minute drive or 5-minute walk. Saint-Gervais Mont-Blanc - 15-minute drive. Megève - 20-minute drive. Chamonix Mont-Blanc slopes - 40-minute drive
Distances to airports
Annecy (NCY): 85km
Geneva (GVA): 90km
Chambéry (CMF): 125km
Lyon (LYS): 205km


---
Infos/Activities
More than a ski resort, Saint-Gervais-les-Bains in France, embodies the art of Alpine living. Finest Holidays has a selection of luxury ski chalets to rent in Saint-Gervais-les-Bains - available are luxury catered chalets and self-catered chalets.
The territory to explore is vast. Also known as Saint-Gervais Mont-Blanc the holiday ski resort is the heart of four villages: Le Fayet at 590m altitude, Saint Gervais at 850m, Saint-Nicolas de Véroce at 1,150m and Le Bettex, which lies at an altitude of 1,400m above sea level. The difference in altitude in the district of Saint Gervais, from 590m (Le Fayet) to 4,807m (summit of Mont-Blanc) is unique among the communities within France.
The quaint 19th century spa town of St Gervais is linked by gondola to the 110-lift skiing terrain of its better known neighbour Megève, sharing 325km of pistes. In addition, when changing mountainsides, St Gervais is directly connected to the ski area of Les Houches in the Vallée de Chamonix via the legendary Tramway du Mont-Blanc (TMB). France's highest cog railway - located on the historical mountaineering route to the summit of Mont-Blanc - takes holidaymakers up to the Nid d'Aigle (Eagle's Nest) at 2,372m.
All of the four villages benefit of access to two ski areas: the huge ski area of Évasion Mont-Blanc, the third largest skiing area in France with around 445km of slopes and a variety of ski touring routes, snowshoeing paths and cross-country ski trails. The second is the Les Houches/Saint-Gervais skiing terrain, accessible via the Bellevue cable car or the Prarion cable car from the village of Les Houches or the TMB from Saint-Gervais, offering 55km of pistes. Highly popular due to its well-oriented ski area and extremely good quality snow, the pleasant slopes of Les Houches-Saint Gervais are appreciated by skiers of every level of skill - the area is a true paradise for family skiing surrounded by nature.
LES HOUCHES-SAINT-GERVAIS INFO
Altitude: 950-1,900m | Vertical Drop: 950m | Ski Runs: 55km | Pistes: 27 | Green: 2 | Blue: 8 | Red: 13 | Black: 4 | Lifts: 17 | Drag lifts: 5 | Chair lifts: 8 | Cable cars: 2 | Carpet lifts: 1 | Tow ropes: 1 | Snowparks: 1 | Snowtubing tracks: 2 | Toboggan runs: 1 | Ice Rink: 1 (at 1,007m)
ÉVASION MONT-BLANC INFO
Altitude: 850-2,353m | Height difference: 1,503m | Ski runs: 445km | Pistes: 235 | Green: 45 | Blue: 65 | Red: 91 | Black: 34 | Lifts: 135 | Drag lifts: 62 | Chair lifts: 45 | Gondolas: 12 | Cable cars: 2 | Carpet lifts: 8 | Tow ropes: 6 | Cross-country skiing: 75km | Snowshoe trails: 37km | Ski touring trails: 12,5km | Halfpipes: 2 | Snowparks: 7 | Toboggan runs: 2 | Culminating point: Mont-Blanc summit at 4,807m | Mountain restaurants: 28