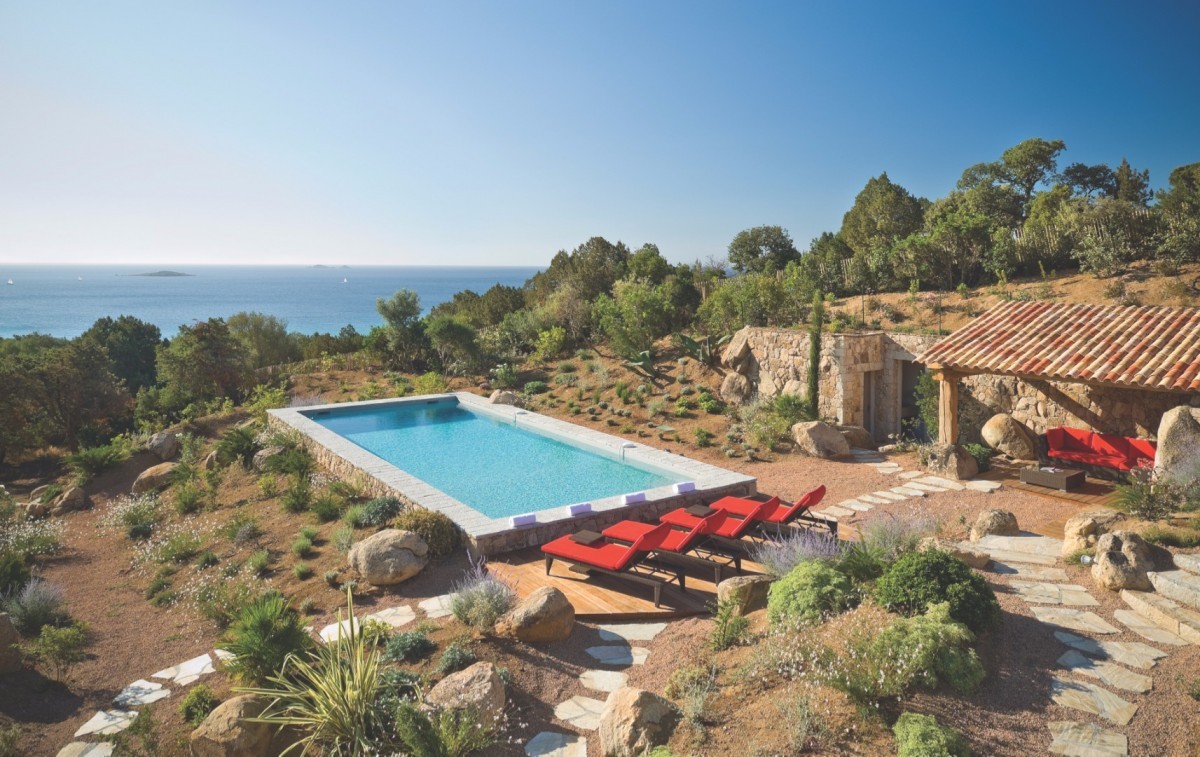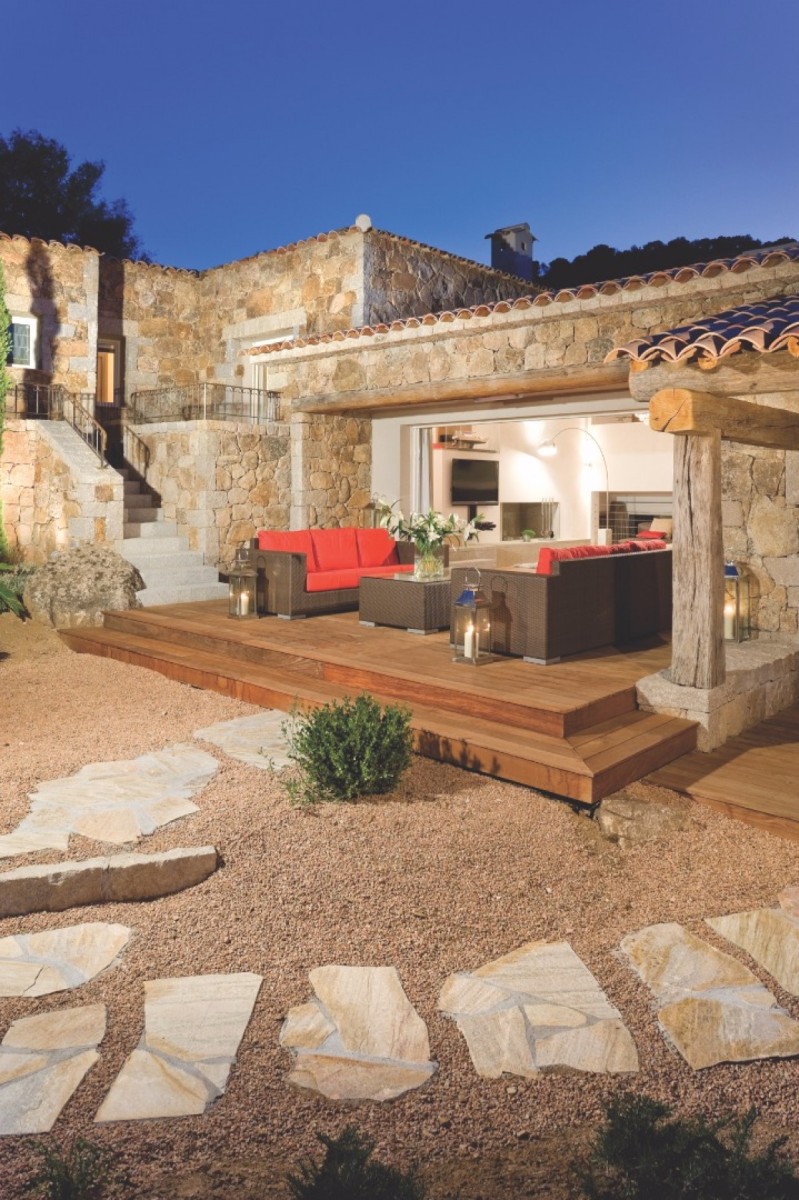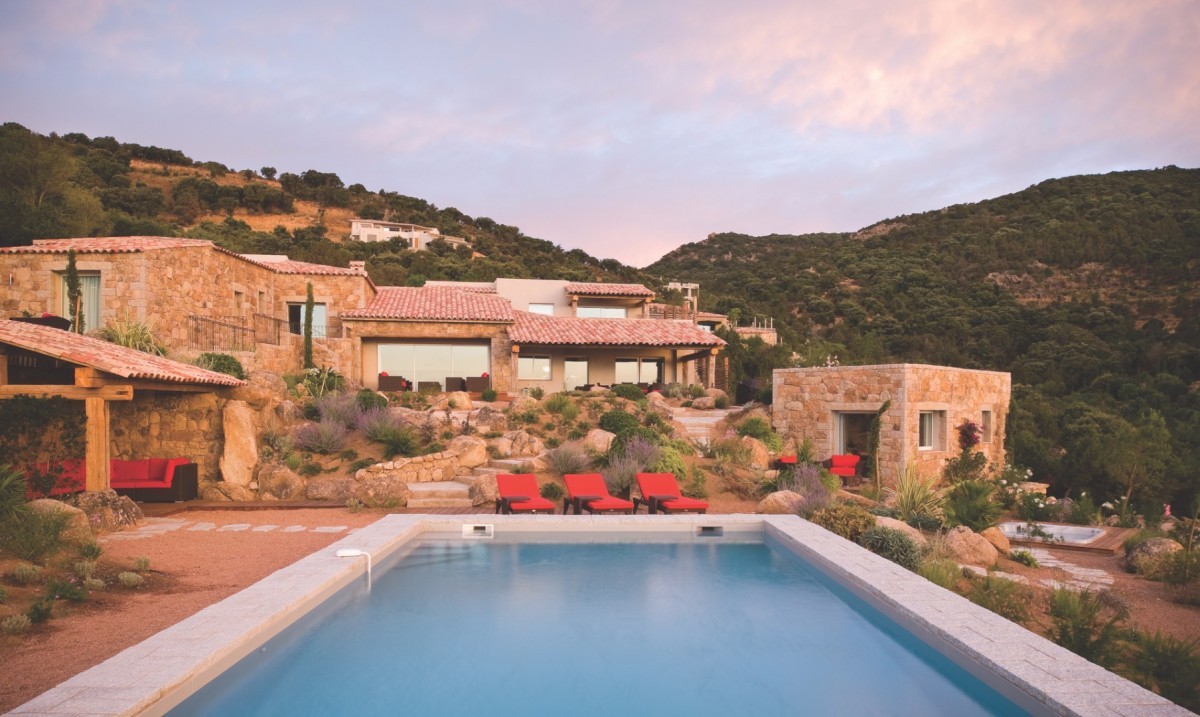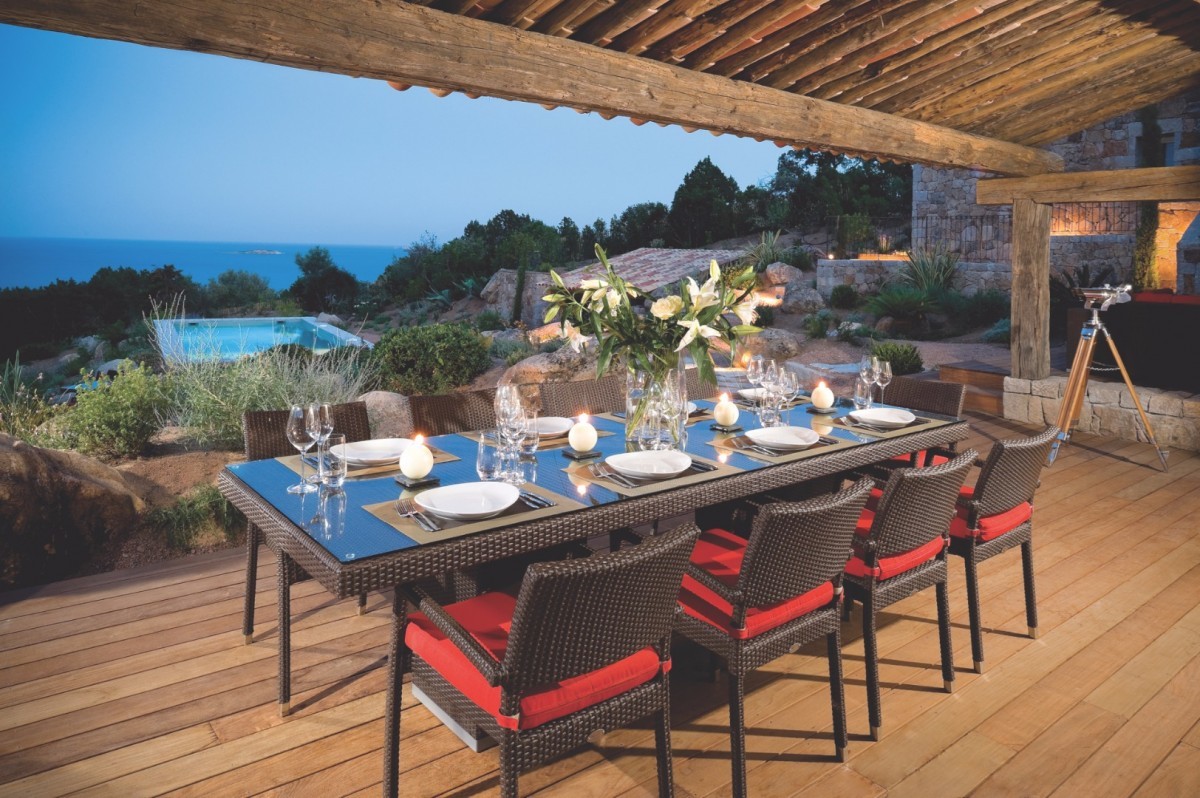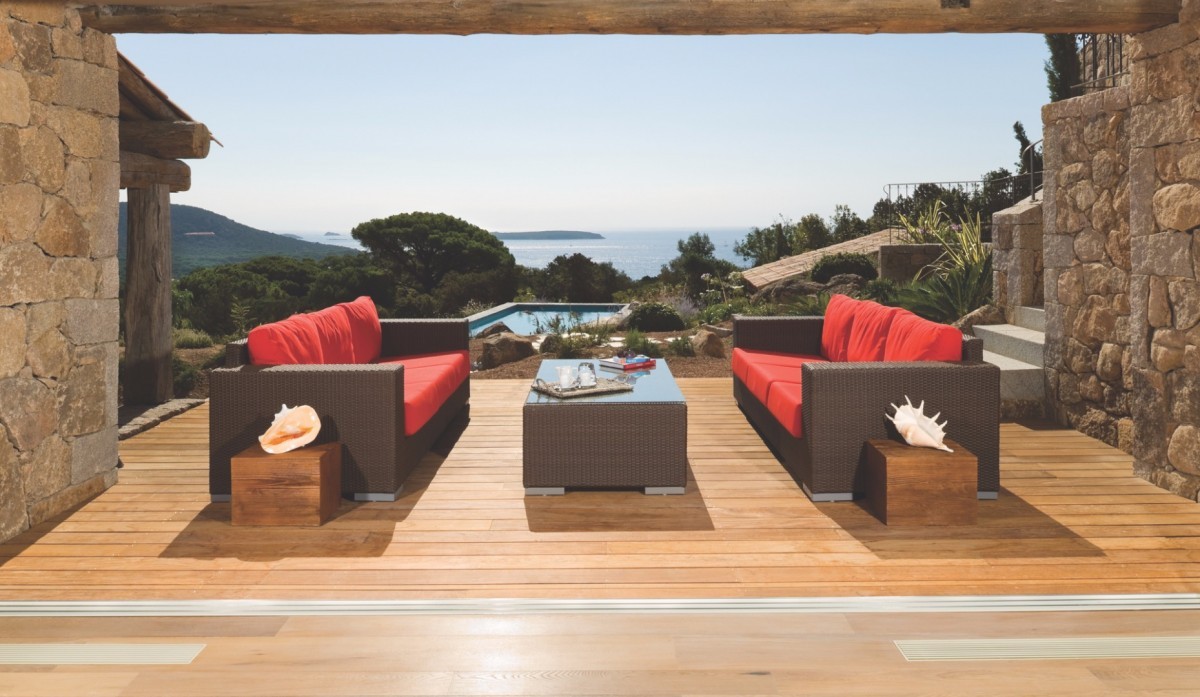 Villa Luna
/
Porto Vecchio
From 18,000 EUR to 29,500 EUR/week
Bedrooms:
5
Bathrooms:
5
Sleeps:
10
Pool:
1

Pool

Hot tub

Gym

Cinema
---
Description
The magnificent luxury villa Luna sits on a quiet hillside, surrounded by stunning scenery and unrivalled sea views. It sleeps up to ten guests in five en-suite bedrooms, finished to the highest of standards and offers facilities including heated outdoor swimming pool, modern gymnasium and hot tubs. Each bedroom is equipped with plasma television, DVD player and ipod docking station. The Garden Suite and first floor suite both benefit from private exterior hot tubs for ultimate decadence.
Finishing touches to the bedrooms include luxurious crisp white linens, fluffy towels, bathrobes and L'Occitane bath products. The spacious living spaces are refreshingly modern and offer a comfortable lounge with full entertainment system, fully equipped modern kitchen and dining area, perfect for family and friends to gather. If staying in shape is important to you whilst away, then enjoy a work out in the villa's fully air-conditioned gymnasium or for a less strenuous way to while away the time, watch a movie in the cinema room complete with DVD library.
The large outdoor pool, with stunning views create a real wow factor. Carefully designed to work within the natural surroundings, the pool complete with comfortable loungers may be as far as you wish to ever travel from the villa! However, should a day soaking up the endless Corsican sunshine at the beach be what you are looking for, just a short walk from the villa is one of Europe's most secluded and stunning beaches 'Palombaggia'.
Recently named by The Sunday Times as one of the Top 20 beaches in Europe, the beach is praised for clear turquoise waters making it a stunning alternative to further flung destinations. Why not combine a week in the villa with the opportunity to explore the stunning Corsican coastline on board our 77ft sailing yacht 'Swallows and Amazons'.
The island of Corsica is one of Europe's hidden gems. It has a character all of its own, offering culture, history and a completely unspoilt coastline, with exquisite beaches that rival the Caribbean. The villa is situated in the south of the island, a short drive from the cosmopolitan town of Porto Vecchio, with its vast array of restaurants, bars and boutiques and bustling port complete with stunning super yachts. Corsica offers something for everyone, whether that's a relaxed family holiday, exhilarating water sports activities, walking amongst the breathtaking mountain scenery or beach and poolside relaxation
Villa Luna now features a jacuzzi in the garden terrace, as well as the luxury spa and gym facilities and heated infinity pool with amazing views over the Mediterranean.
---
Features
Sleeps 10
Sea view
Fully equipped kitchen
Entertainment system
Plasma television
DVD
Cinema room
Gym
Air-conditioning
Pool
Exterior hot tub
---
Prices & Service
From 18,000 EUR to 29,500 EUR/week
What's included
7 nights luxury accommodation over your chosen dates
Champagne on arrival
Welcome essentials
In-resort concierge service to organise local activities and excursions
Daily light housekeeping
Mid-week housekeeping and laundry change
Daily delivery of breakfast pastries and fresh fruits
Flowers and daily newspapers
Wi-Fi and Satellite television throughout

We can also arrange
In-villa catering with private chef
In-villa massage and beauty therapies
Scheduled flights
Recommendation of preferred airport car rental companies
Childcare with our partner Nanny company
Pre-arrival provisions
This service is based on a week-long stay and services may be tailored to your exact requirements during the booking process. Exact services included with each booking will be listed on the Booking Confirmation.
---
Location
The Villa is situated in the south of the island, a short drive from the cosmopolitan town of Porto Vecchio.
---
Infos/Activities
Porto Vecchio: The third largest city in Corsica with a 9-km long bay. Porto-Vecchio is situated on a hill overlooking the salt marshes. The old town attracts visitors with its charming picturesque narrow streets, its houses with high austere facades and its old ramparts with a Genoese entrance. For a romantic dinner with the sound of clinking sailboat masts, there are plenty restaurants on the harbor within walking distance of our Salina Bay Complex offering original menus. There are also many restaurants in the old town of Porto-Vecchio that offer a more traditional cuisine. With its superb Gulf, its pine forests and beaches, Porto-Vecchio is the tourists' most popular destination on the island. Each year Porto-Vecchio attracts more than a million visitors to its paradisiacal beaches. The magnificent beaches of Santa Giulia and Palombaggia are just south of Porto-Vecchio. There are numerous, well-stocked shops for your convenience. You can find everything you need in town.
Sightseeing
Algajola: An ancient fishing village, old quarter, superb beach.
Porto/Piana: The awe-inspiring pink granite rocks of Les Calanche.
Aleria: Roman ruins and Fort de Matra.
Castello: The haunted castle of the da Gentiles, and the Chappelle Notre Dame de Nieges.
Cucuruzzu: An elaborate UNESCO Archeological site.
Zoza: Piscine Naturelle de Zoza - superb rock pool and waterfall 4km north of the village, deep enough to swim most of the year.
Chera: Orii de Chera and Canni - unusual dwellings built into wind-sculpted rock formations.
Casteddu d'Araghju: The most impressive of Port Vecchio's prehistoric sites with one of the best preserved Casteddi (castles).
Spas and thermal baths: Spas of Pietrapola / Spa of Guagno-les-Bains / Spa of Urbalaconne
Beaches: There are some beautiful beaches, but the best - Loto and Saleccia - are really only accessible by sea.
Porticcio: Amazing beach and fascinating penitentiary ruins.
Calvi: The main beach in Calvi has something for everyone. It shelves very gently so it's perfect for children, and there is a wide range of watersports on offer.
Bodri: A long stretch of fairly coarse white sand and turquoise clear waters.
Ile Rousse: The sand is fine and golden, the sea clear and blue and there are watersports and fishing trips from the beach.
Lozari: A large white crescent of sand. The beach is very relaxed.
Moriani Plage: The Plage l'Alistro runs for 14km from Moriani to the lighthouse north of Campoloro.
Cappiciolo: There are lots of little coves and bigger beaches along this stretch. A nice little beach close to the marina and restaurants where you can take lunch.
Palombaggia: Perhaps the most famous beach on the island, the fine white sand offers a stark contrast to the red hue of the rocks and the turquoise blue waters.
Roccapina Beach: Perfect white sand and clear water.
Golf: The outstandingly situated Sperone Golf course, one of the most beautiful courses in France, has several times been recognised as one of Europe's best golf courses. It is the only 18-hole golf course of the French island. The course is located in a breathtaking site at the southern tip of Corsica. It is overlooking the Mediterranean, Bonifacio and the small Cavallo and Lavezzi islands.
Golf de Lezza: Porto Vecchio: Is a very beautiful 6-hole slighly undulating executive course, a joy for straight long hitters.
Golf du Reginu: Belgodère: 9-hole course with undulating greens situated amongst olive trees and "maquis' Mediterranean vegetation.
Bastia Golf Club, Borgo: 9-hole executive course with numerous out-of-bounds, bunkers and water hazards.
Tennis: Route de Marina di Fiori / Avenue du Général de Boissoudy, Porto-Vecchio
Stiletto / Ajaccio
Résidence Terra Bella / Grosseto-Prugna
PRUNELLI DI FIUMORBU
Route Tennis / Santa-Maria-Di-Lota
Chemin Carosaccia / Ajaccio
Diving: The most beautiful beautyful spots are at the foot of the reserves which are four in number in Corsica ( The Cerbicales Islands, The Lavezzi Islands,The Archipelago of the Finocchiarolo, Scandola ) and are also at the foot of the Marine Park.Under the surface, among the gorgonias and coral, big groupers, escorted by "corbs", "dentis" or by "sars tambours" await you.
Sailing: Troughout the thousand kilometres of coasts which surround Corsica, many Sailing Harbors will know how to offer the comfort to the sailor. Many companies hire out boats and put it at disposal.
Horseback riding: The ways cut across the isle through settings of dream and picturesque villages.
White Water Rafting: Rubbing shoulders with the natural elements, the activities in spring-tides developed and take place on rivers, such as the Tavignano, the Golo or the Prunelli .
Fishing in River or Sea: The vermilion mullet, the sulky-looking "scorpene", the sparkling "marbrée", the "denti" or the redoubtable moray eel but also the "arapède" or the winkle, which are small creatures resembling to baits hung on the rocks, and are the joy of the budding fisherman.
Walking: Wherever you are in Corsica there is a footpath which will take to you the mountains, to a river, to the sea, to a village. Most paths have existed for many centuries, there are now several well known trails which will take you through some of Corsica's most spectacular scenery.
Cykling: The island offers gentler routes for the family or leisure cyclist, plus challenging tracks and trails for Mountain Biking.
Walking with donkeys: Have you ever gone for a long country walk and wished you had someone to carry the picnic basket, camera, bottles of water, and other items essential for the enjoyment of a hike? Walking with donkeys is the answer. You collect the donkey complete with traditional luggage rack and leading rope, and set off on one of the many suitable walks.
Dining: Dining out is one of the main pastimes in Corsica, and something that is taken very seriously. Simple dishes with strong flavours, the herbs of the maquis and locally produced olive oil both add their unique taste to the variety of dishes on offer.