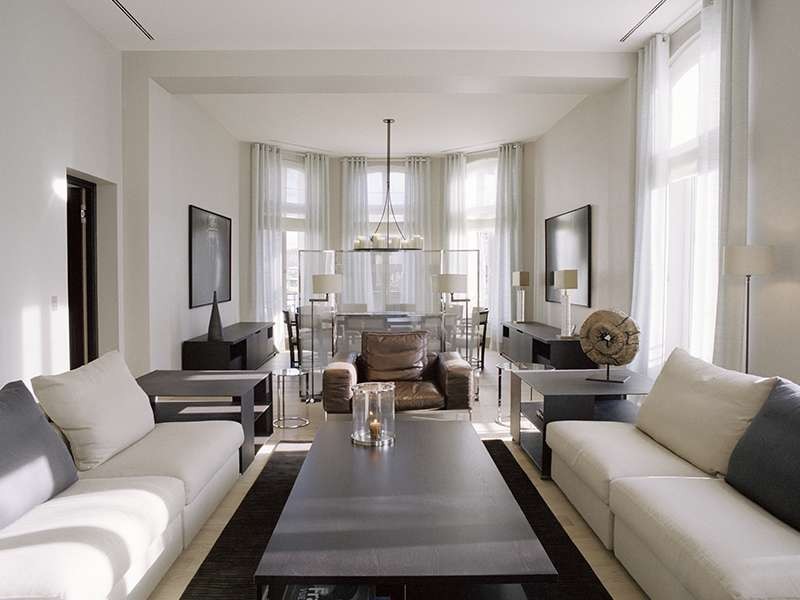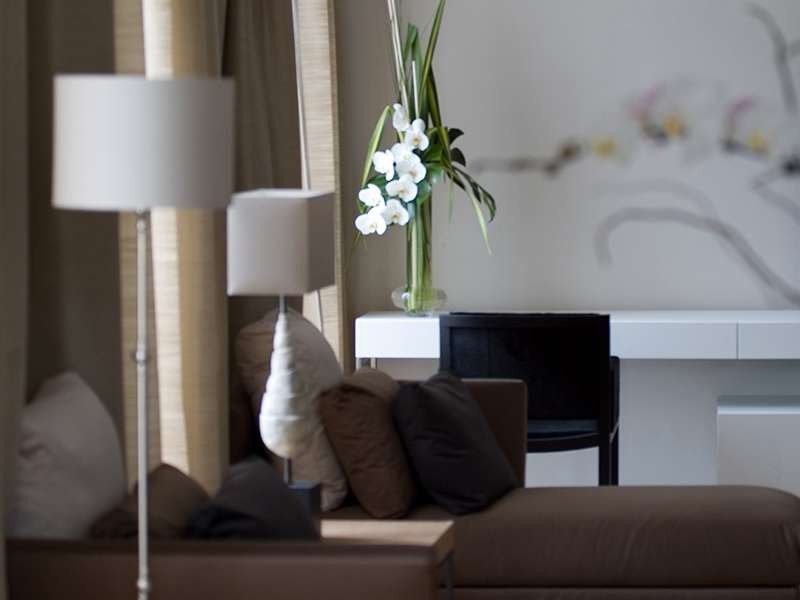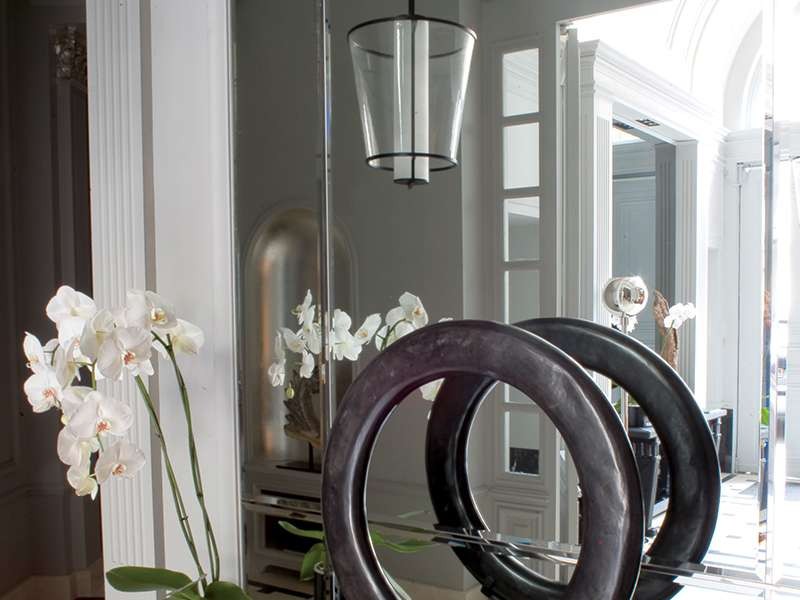 Design Apartments La Reserve
/
Paris
---
Description
At home in Paris, the Eiffel tower as a neighbor...
A secret hideaway for those who enjoy being free to experience Paris, with their families or with friends, the 10 apartments ranging from 140 to 300 sqm of La Réserve Paris - Apartments are situated at a mythical address: Place du Trocadéro in the 16e arrondissement. These apartments offer the benefit of a magnificent environment along with the inestimable ability to make guests feel entirely at home in Paris.
The Haussmann-style building reflects all the codes of 19th century Parisian classicism. This is in magnificent contrast to the interior of the apartments, which are all spacious, understated and graced with designer decoration by the talented Rémi Tessier. All the apartments offer services included to ensure peace of mind for their guests. Entirely at home, with the Eiffel Tower as a neighbor. Free from daily cares, simply feeling good.
Allowing yourself to be guided in a discovery of a privileged and intensely private side of Paris. Enjoying behind-the-scenes access to key historical and cultural sites. Organizing exclusive receptions. Spending time as a family or among friends… Your stay in a La Réserve Paris apartment can be modulated in tune with your wishes and experienced with a blend of elegance and simplicity. We will do everything in our power to personalize your stay with special touches or treats according to your tastes and desires. Feel free to communicate your preferences at the time of booking.
Staying in an apartment at La Réserve Paris is about experiencing Paris like a true Parisian. The concierges will share the most typical, unusual or secret addresses with you depending on your preferences. They will only recommend a place if they are sure that it meets your expectations – both hidden and stated! This is not about just any old recommendation, it's one that is specially chosen with you in mind!
---
Features
10 apartments (1-4 bedrooms)
A number of personal care services are available on request and can be taken in the comfort of your room. Anything from massages to hair-styling, manicures to pedicures can be requested.
Some apartments offer private gardens, a terrace and balconies from which to enjoy the Parisian life.

In each apartment guests have:
Several flat screen TVs, ranging from 26" to 50" (in every bedroom and living room)
A video-on-demand system with a selection of music included
CD-DVD player
Personal fax and printer
Secure WiFi access for each apartment
A fully equipped Varenna kitchen with Gaggenau appliances, some with wine storage
Private and secure parking is also provided for each apartment.
---
Prices & Service
Price upon request
What's included
Your stay in a La Réserve Paris - Apartment includes the following services:
Dedicated butler 24/7
Concierge service 24/7
Dedicated housekeeper to serve your breakfast and handle your daily shopping, twice-daily housekeeping, as well as laundry and ironing
Groceries, vegetable basket, tea & coffee selection, soft drinks and snacks available upon your arrival
À la carte breakfast served in your apartment
Room service 24/7
Afternoon tea served in the dining room or in your living room
Wine cellar stocked with a selection by the La Réserve wine stewards
Selection of books and music, either eclectic or according to your tastes
Rearranging the apartment as it suits you for a reception
Sports coach available for training sessions in your apartment or a Boot Camp in the Trocadéro gardens, at the foot of the Eiffel Tower
Access to the Roland Garros (site of the French Open) tennis courts
Personalized picnics and bicycles available for setting off to explore Paris, either as the fancy takes you or following the advice provided by our concierge
A car is available to shuttle you between your apartment and La Réserve Paris – Hotel and Spa located on Avenue Gabriel to make the most of:
the Spa, the fitness studio, the 16-meter pool and the steam room
the Michelin two-starred Le Gabriel restaurant
the library, bar or smoking room
Guided stroll around the typical Parisian market in Passy, with the possibility of purchasing high-quality regional produce
Availability of a personal shopper speaking your language
Valet parking service – indoor car park
Secure access to all apartments
Private access to some apartments
24/7 security guard
Safe in each apartment
WiFi
Newspapers on request
Examples of additional services available at a supplementary charge, along with a reminder that honoring your requests is an absolute priority for us:
Transfers to and from La Réserve Paris – Paris airports
Dry cleaning
Personal chef
Massages and beauty treatments, hairdresser
peedboat rental on the River Seine
For children, a daytime activity leader to take care of them and organize an age-adjusted program for discovering Paris; a babysitter in the evening
For long stays, there is also the possibility of decorating the apartment with original works of art according to your tastes, of setting up a fitness or home cinema area, of enhancing it with a personalized library…
This service is based on a week-long stay and services may be tailored to your exact requirements during the booking process. Exact services included with each booking will be listed on the Booking Confirmation.
---
Location
La Réserve Paris is situated in front of the Eiffel Tower on Place du Trocadero, near Les Champs Elysées and only 40 minutes from Charles de Gaulle Airport or Orly Airport. The "Trocadero" metro station and bus stop are only 1 minute away.
10 Llace du Trocadéro – 75116 Paris
---
Infos/Activities
Enjoy an exciting night out in Paris with dinner at the Eiffel Tower, a Seine River cruise and complete your night with one of the famous cabaret shows in Paris Moulin Rouge in Montmartre or Le Lido Paris on the Champs-Elysées. Experience the grandeur of Versailles Palace and Gardens. Paris is the city with some of the most extraordinary and diverse architecture in the world. Visit the most famous art museum in the world - the Louvre.Treat yourself to a magical time at Disneyland. Experience an authentic French evening in Paris with signature Parisian cuisine and delicious wines. No other city in the world compares to Paris in the eyes of the gourmet! Delightful pates, the most luscious cheeses in the world, succulent fruits and mouth-watering patisseries and pain! Paris the 'City of Love'. Paris the 'City of Lights'. Paris is so much more than just a city…