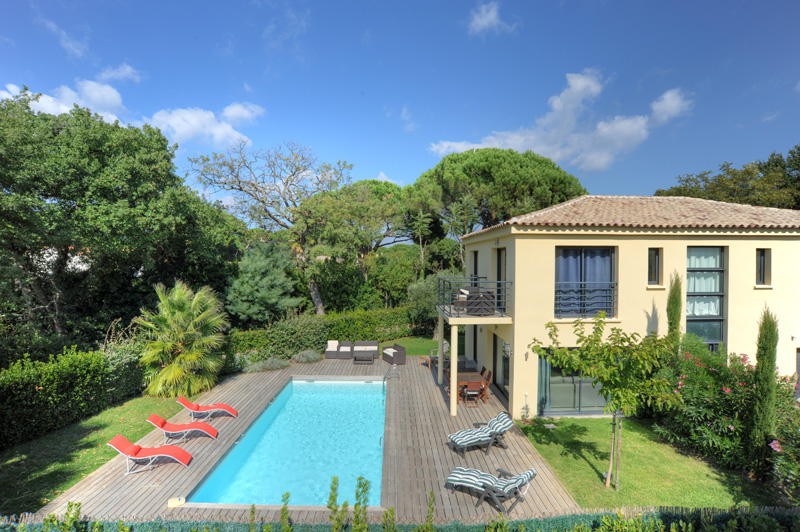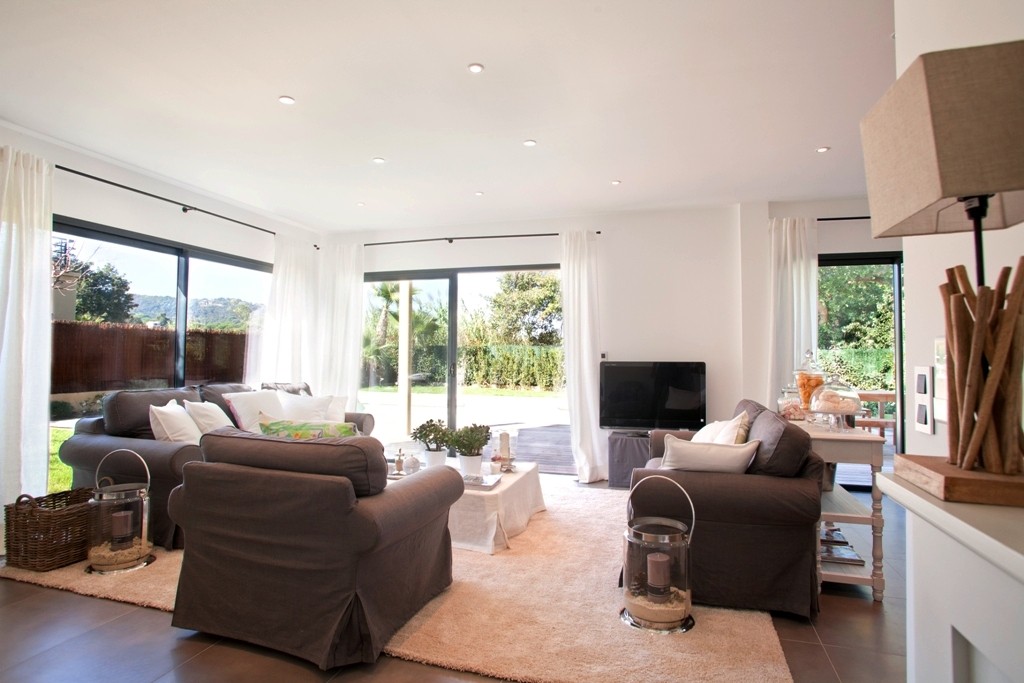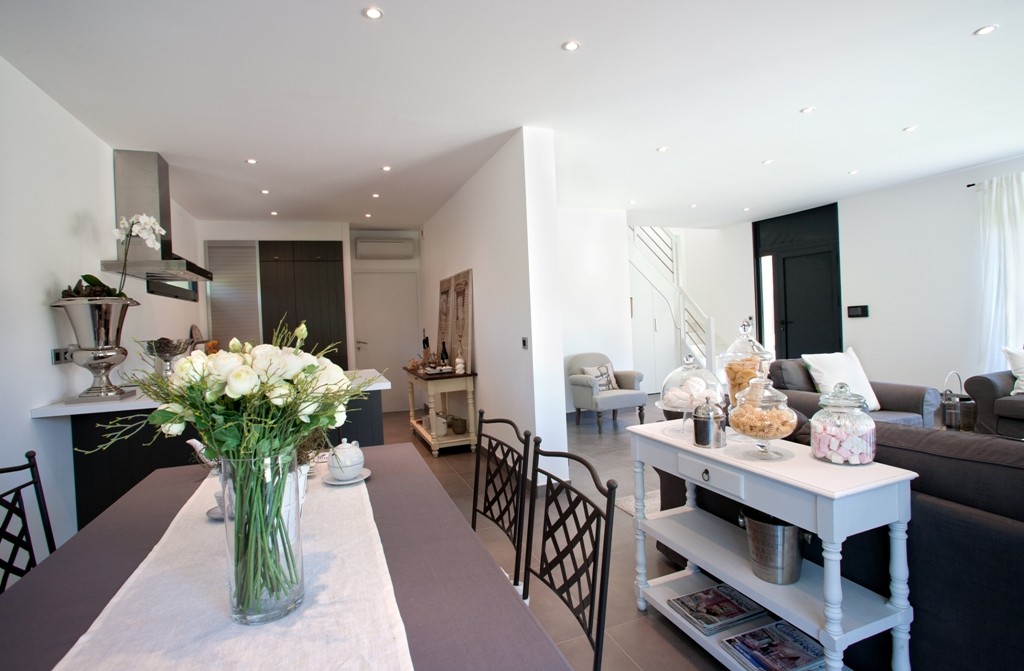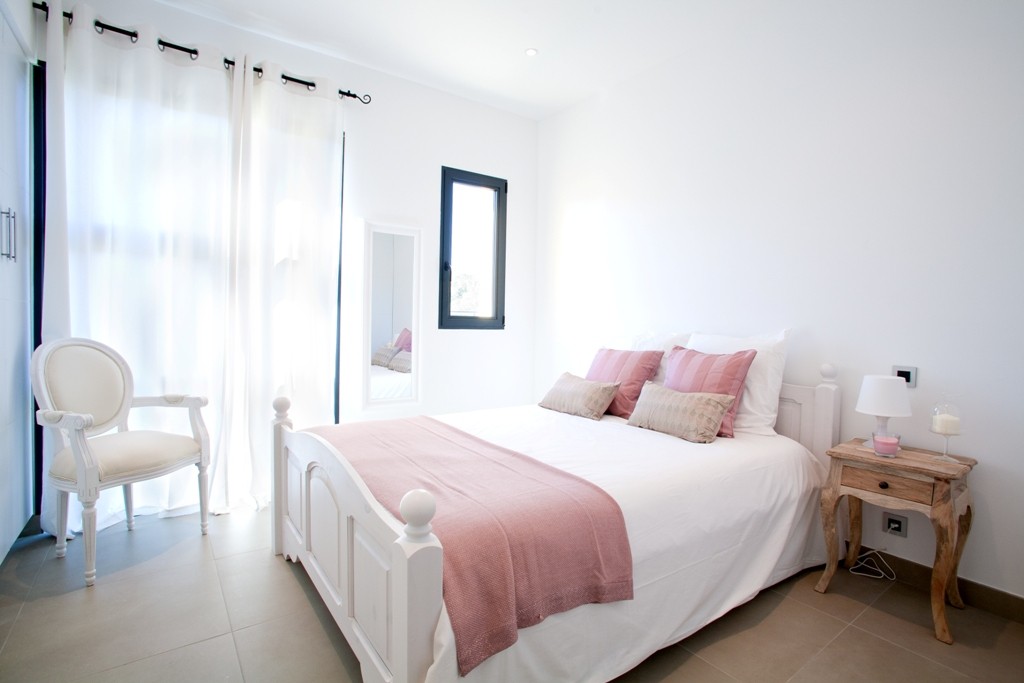 Villa Charlene
/
St. Tropez
Bedrooms:
3
Bathrooms:
2
Sleeps:
8
Pool:
1
Living Area:
137 m2
/
Plot size:
600 m2

Pool
---
Description
Villa Charlene is a contemporary style villa ideally located just 300m from the beach of Bouillabaisse in a quiet neighborhood. The city center is at 15 minutes walk.
The villa consists of an entrance hall, guest toilet, living room, dining room and fully equipped kitchen. On the first floor are three double bedrooms with bathrooms (two of them ensuite) and one of the bed rooms has a balcony.
Outside you'll find a large teak terrace with a well maintained garden and heated swimming pool (9x4m).
---
Features
Sleeps 8
Air conditioning
Wifi internet
TV with Canal + and foreign channels
Safe
Barbecue
Electric gate, garage and parking
---
Prices & Service
Price upon request
What's included
Seven nights luxury accommodation
Exclusive use of the villa and its facilities
Concierge Service
Champagne reception
Bath & Body products
Arrival gift
Housekeeping
Pre-arrival itinerary build and booking of all services: car hire, nanny, chef and more.
This service is based on a week-long stay and services may be tailored to your exact requirements during the booking process. Exact services included with each booking will be listed on the Booking Confirmation.
---
Location
Villa Charlene is ideally located just 300m from the beach of Bouillabaisse in a quiet neighborhood. The city center is at 15 minutes walk.
Distances to airports
St. Tropez/La Môle (LTT): 15km - La Môle airfield has regular flights to Geneva, Bale-Mulhouse, Munich and Nice
Toulon-Hyères (TLN): 53km
Nice (NCE): 106km
Marseille (MRS): 145km
---
Infos/Activities
We have the most beautiful luxury villas for rent in St Tropez. All our luxury holiday villas are carefully hand-picked, and regularly inspected. Rent one of our high-end luxury villas close to the centre or on one of the popular beaches, or you may wish to rent a luxury villa in the surrounding area of St Tropez. We have an extensive collection to choose from. We organise any services you may require or any kind of wish that you may have. Before you stay and during your stay in one of our stunning luxury villas.
LUXURY VILLA HOLIDAYS IN ST.TROPEZ
Saint Tropez is located on the Cote d'Azur. For centuries it remained a fishing village, attracting artists, but few tourists. This dramatically changed in 1956 when the movie "And God Created Woman" was shot here starring Brigitte Bardot, catapulting St Tropez into the international limelight.
It is now quite simply, the most famous resort on the French Riviera, and has been dubbed the "playground to jet setters, fashion models, and billionaires". To the outsider St Tropez possesses a gentle beauty. Building restrictions are stringent, and modernization and dramatic facelifts are not allowed. This ensures the resort remains quaint and authentic. However, the millionaire lifestyle is very much in evidence especially around the marina. Stroll around the many designer shops, or for top-end artwork, visit Galerie des Lices. Pampelonne beach is where the jet-set play.
LUXURY VILLA RENTALS IN SAINT TROPEZ
The seaside village Saint Tropez is still very popular with the tourists, although the jet-set and the in-crowd have long since left it behind. Set on the lovely blue water of the Bay of Saint-Tropez, this modern version of a medieval town is most popular for the line of yachts along the quai, and the facing line of terrace cafés, divided by a parade of strolling tourists and slow cruising expensive cars. We offer the best luxury villas in St.Tropez with swimming pool and walking distance to the beaches.
Behind the cafés, the small streets and old buildings are picturesque, but they're more popular for the multitude of shops and restaurants than historical significance. There are endless possibilities for buying gifts or items of proof that "you've been here". St Tropez is in the area of the Côte de Provence wines. There are several vineyards around St Tropez and nearby Gassin that offer wine tasting along with their wares.
BEACH CLUBS IN ST TROPEZ
Beach Clubs: There are a few beaches on the Baie de St. Tropez, east of town, but most are along the beautiful Baie de Pampelonne, three miles southwest of town (technically in Ramatuelle). While a few are public, you can only access the worthiest stretches by paying admission to one of the beach clubs listed here. They're fancy affairs, with facilities including restaurants, lounge chairs, changing rooms, and showers, and occasionally dance floors and open-air hot tubs. Many have live DJs (forget about peace and quiet), and each has its own personality.
Club 55
Probably the classiest and most discreet, with the choicest clientele of world politicians, Russian and Middle Eastern businessmen and, of course, Kate Moss. Sir Elton also shows up. Hugh Jackman, Michael Douglas and Catherine Zeta-Jones were amoung those spotted here in summer 2011.
The simplest possible cabin in the early 1950s, Club 55 was adopted as their canteen by the people making And God Created Woman - the Bardot movie that put St Tropez on the world stage. It has never lost its appeal among the beautiful, the powerful and the clever. To have any chance of a summer table, book ahead. Be prepared to pay extraordinary amounts of money for some pretty humble catering.
Voile Rouge
If folk in the Club 55 are talking business and maybe even signing contracts (it does happen), at the Voile Rouge they're more likely to be watching lightly-clad babes saunter the on-site catwalk - or eating shellfish from their taut, flat stomachs.
The establishment has been pretty unbridled since 1967, and shows few signs of slowing up. By day, there's a certain licence in the air. By night, it can grow distinctly frisky.
Tahiti Beach: The oldest beach club (est 1946) fronts a hotel of the same name and appeals to more mature types, in an exclusive sort of way. You can't miss it. It's right at the northern end of Pampelonne and distinguished by bright orange parasols laid out on the sands in military formation.
Les Jumeaux
A good choice for kids, not least because they have a playground with games available, and a decent children's lunch menu (from €11).
Otherwise, there's a swish of Parisian chic about the place - plus a taste for installation art right on the beach. Les Jumeaux is also one of the rare beach restaurants open for lunch all year round. Think €26 or more for dishes like chicken supreme with coriander.
La Bouillabaisse
St. Tropez
Not far from the center of town, this quiet, sandy beach club is ideal for families with children, since it overlooks the calmer, shallower waters of the bay. The stylish restaurant is a fashionable place to dawdle over grilled fish and a chilled bottle of rosé. Open daily 10 am to 7 pm.
Nikki Beach
Plage de Pampelonne
Ramatuelle
Hangout of the same supertanned, blonde-streaked, designer-clad Euro crowd who spend winter roosting at the original Nikki Beach in Miami or the St. Barths branch. Disco music thumps away all day long, and the young rich get their kicks by spraying one another with bottles of icy bubbly. Expect men in leopard-print posing cups (think Speedos, but much, much smaller) and topless women in white cowboy hats. Open daily noon to 8 pm.

Plage des Graniers
St. Tropez
A public beach located just below the citadel that overlooks the harbor, Graniers is the best bet for those without wheels or who don't want to get stuck in the traffic jams that begin and end any day at Pampelonne. It is free, and there is a restaurant on-site.
Pampelonne Beach Clubs
Tahiti Area: Tropezina, Bar du Soleil, Tahiti, Le 1051 new , Moorea
Tamaris Area: Lou Lou new, Les Palmiers new, L'Orangerie new
Pampelonne Camping Area: Toison D'Or, Neptune, Tiki Beach, Tiki Club
Boulevard Patch Area: Club 55, Cap 21, La Serenca Hotel de Paris new, Byblos Beach new
L'Epi Area: La Reserve Beach Club new, Verde new, Nikki Beach
Gros-Vallet Area : La Cabane Bambou, Indie Beach, L'Esquinade, Tropicana , Migon
Sporting Activities
Cycling: France provides wide, empty roads and flat or rolling countryside suitable for biking
Boules: this typical French game can be played nearly everywhere; many towns provide dirt, gravel, hard-packed sand squares as playing surface for boules. The famous squares in St Paul de Vence and St Tropez are particularly enjoyable places to enjoy a game of boules
Hiking: plenty of hiking paths are found throughout southern France, notably the Var region, including the Chemin des Douaniers around the St Tropez peninsula
Windsurfing: five excellent windsurfing schools with rental facilities for equipment can be found (St Tropez/Pampelonne or Theoule-sur-Mer)
Waterskiing: try waterskiing at a water sports school in St Tropez (Pampelonne Beach) or Theoule-sur-Mer
Swimming: take a swim in the sea and discover one of many beaches around St Tropez, Nice or Cannes
Golf: approximately 20 golf courses can be found in this region. The temperate climate means golf can be played all year round, perfect for an off-season break. Beauvallon, an 18 hole course, has stunning sea views
Scuba Diving: there are diving centres at St Tropez, Ramatuelle and Theoule-sur-Mer
Tennis: Tennis courts are reasonably numerous throughout the region, including those at St Tropez, l'Escalet and Theoule-sur-Mer
Sailing & Kayaking: boats may be rented from various points along the Cote d'Azur, including l'Escalet, Ramatuelle