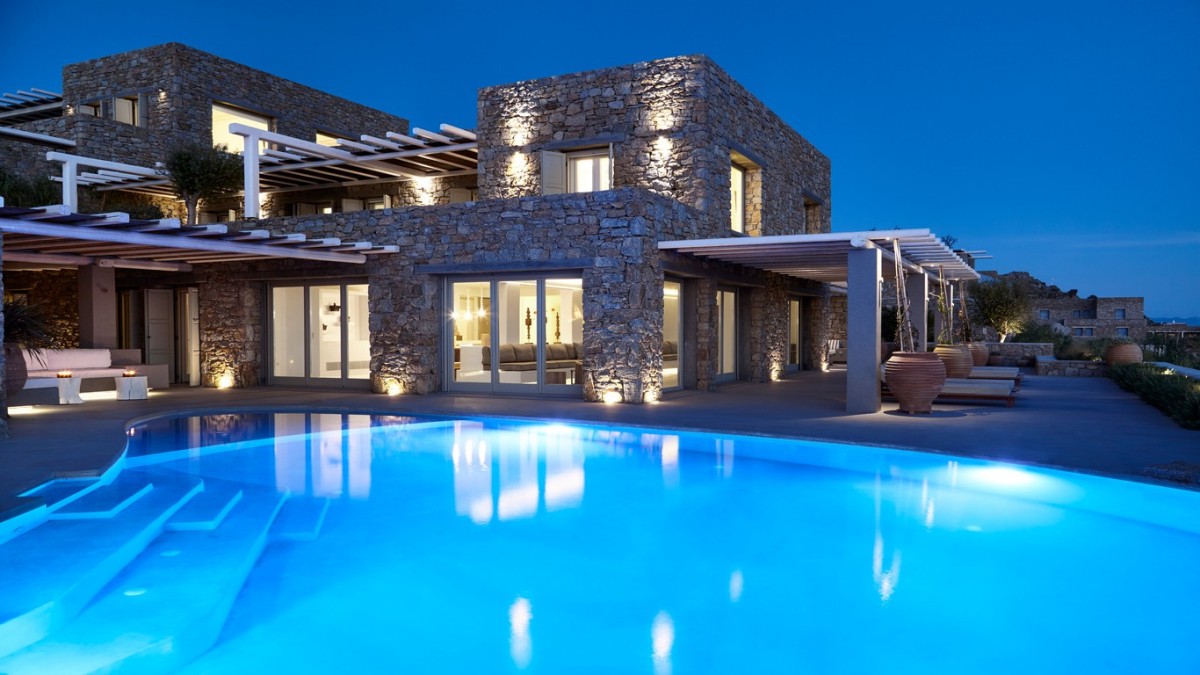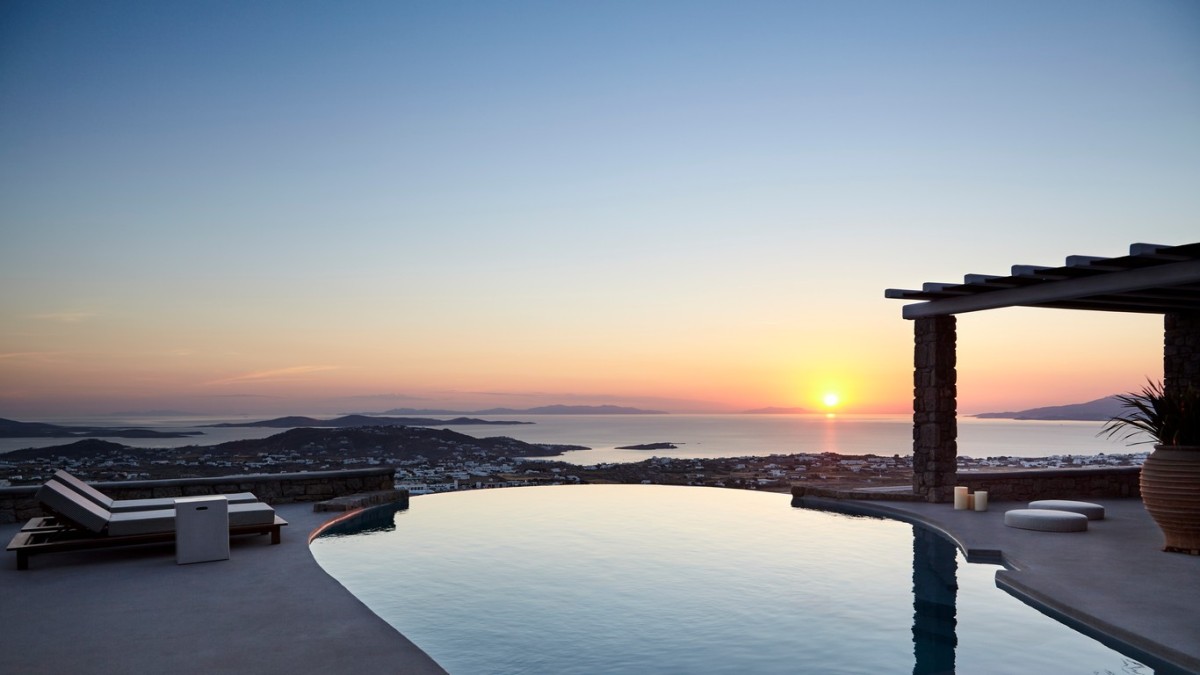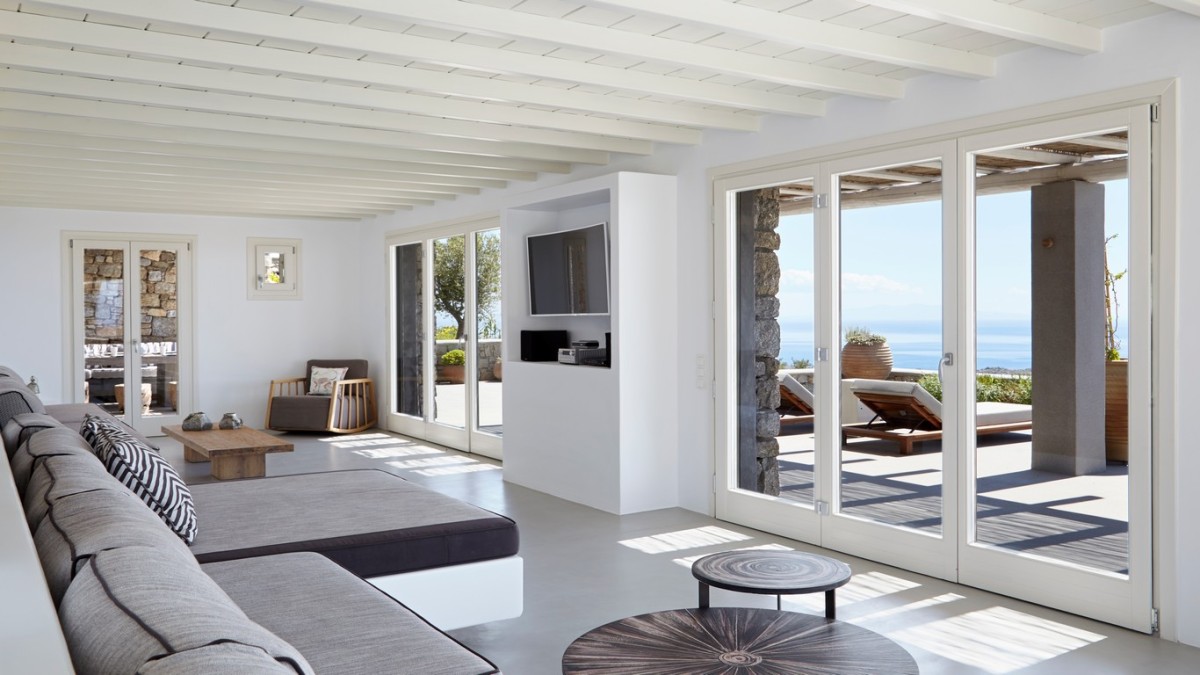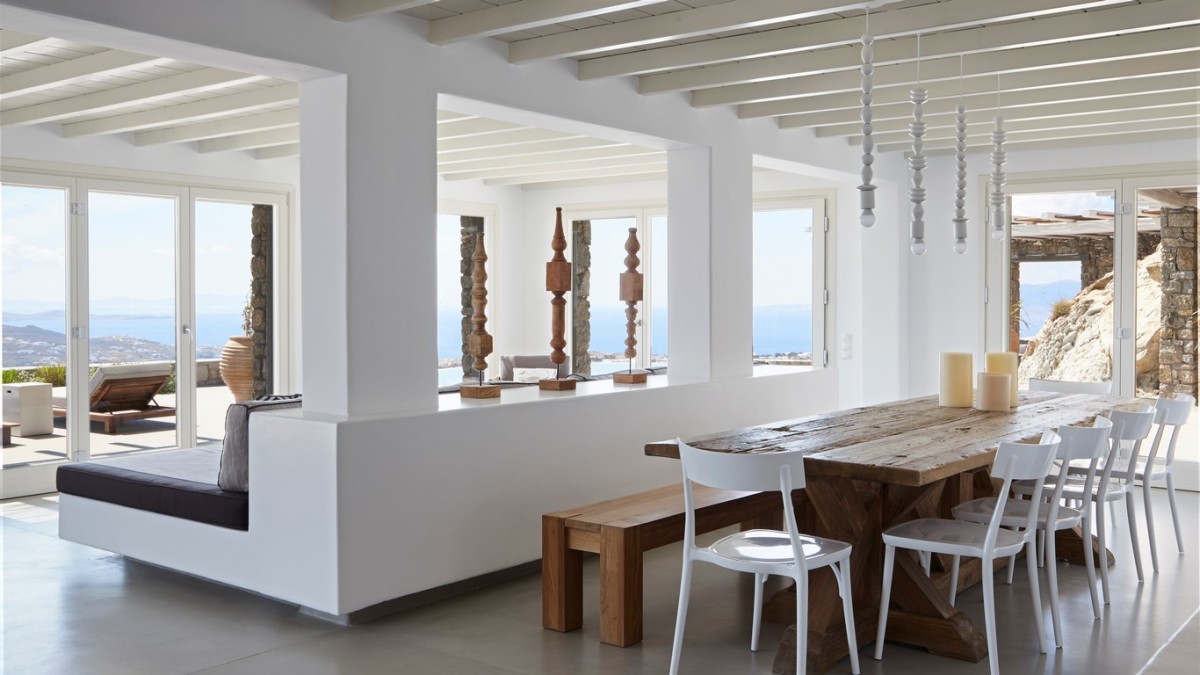 Bedrooms:
6
Bathrooms:
6
Sleeps:
12
Pool:
1

Pool
---
Description
The luxury Villa Werner in Mykonos, a dashing retreat with exquisitely styled interiors and views to remember, combines perfectly the flawless elegance of a boutique hotel with the intimate atmosphere of a private home. Styled to the detail, the 6 bedroom villa for twelve guests is part of a complex, built entirely out of stone that is left uncovered to blend the house into its ragged surroundings and create a striking antithesis between time-worn and ultra-modern. A concept that defines the house's mood inside and out. The terraces are paved with concrete and dotted with ceramic pots of local flowers. The centrepiece of the outdoor areas is the swimming pool, a free-form infinity edge stunner that offers magnificent vistas of the Aegean.
Inside the luxury holiday villa, the concept of indoor-outdoor living is taken to great new heights. The interior is pierced by so many glass doors and windows that it practically becomes a part of the terrace and yet is completely protected by the elements of nature when needed. The furnishings merely serve to complement the landscape -the true protagonist of this setting. Sleek and monochromatic save from the odd splash of colour, the décor is an ode to modernism. Taking cues from the exterior, the contemporary design is blended with raw, organic materials in the form of furniture. In the bedrooms, both the palette and ornamentation go back to the basics. Stark white surfaces and upholstery, a small object here and there, and bamboo-covered closets conjure havens of serenity and relaxation. Perfect for a large family and friends.
LAYOUT
Ground Level
Living and dining area
Fully equipped kitchen
Guest toilet
3 x Double bedrooms with bathrooms en-suite
Top Level
3 x Double bedrooms with bathrooms en-suite and planted roof tops
Outdoor Areas
Tear-drop shaped infinity pool
Jacuzzi
Shaded outdoor living and dining areas
---
Features
Sleeps 12
6 Bedrooms en-suite
Fully equipped kitchen
Infinity swimming pool with Jacuzzi and fiber optics
Shaded outdoor living and dining areas
Indoor & outdoor docking station for iPod
WiFi
Satellite TV
Fully air-conditioned


---
Prices & Service
From 8,050 EUR/week
What's included
Booking price includes
Exclusive use of the villa and its facilities
7 nights luxury accommodation on your chosen dates
Concierge Service
Daily cleaning
Change of linen twice a week
This service is based on a week-long stay and services may be tailored to your exact requirements during the booking process. Exact services included with each booking will be listed on the Booking Confirmation.
---
Location
Closest airport – Mykonos, 4 km
Closest port – Mykonos, 6 km
Closest town – Chora, 5 km
Closest beach – Super Paradise 4.5 km, Ftelia 5.5 km
---
Infos/Activities
Mykonos is a destination for all types of people. From jet setters to college students and families, Mykonos is Greece's most well-known and popular island and the people you see are from all walks of life, from every country. Everybody goes there, from Keith Richards to famous politicians, designers, newscasters, basketball players and coaches, kings, queens and commoners all make Mykonos their first choice in holiday destination. This is the Ibiza of Greece!
A beautiful island in the Cyclades, which looks just like the postcards: white little houses with flowers and blue windows and doors, hand painted streets, windmills, pigeon keepers, chimneys, lots of little churches and wonderful restaurants and cafes. The nightlife is very developed and you will see a lot of eccentrics especially at night time. It is a glamorous place for the rich and famous, which is painfully clear to whoever has a look at the prices on the menus.
Mykonos - according to mythology - was where Heracles killed the giants. The rocks around the island are supposedly their corpses!