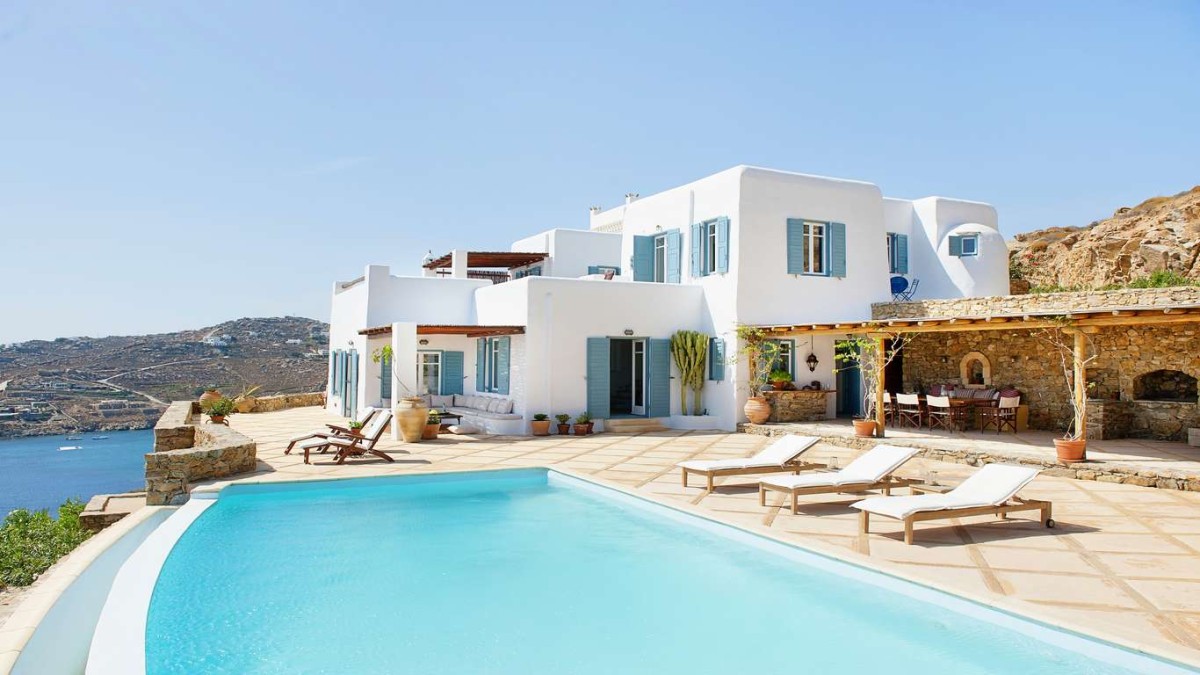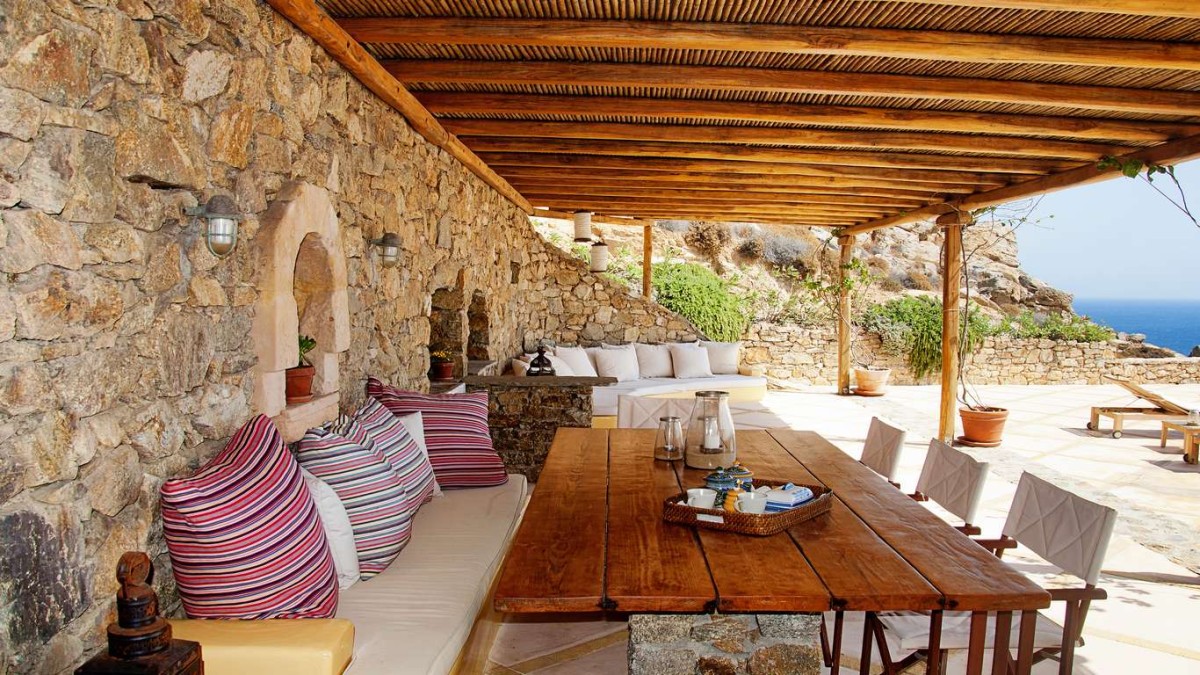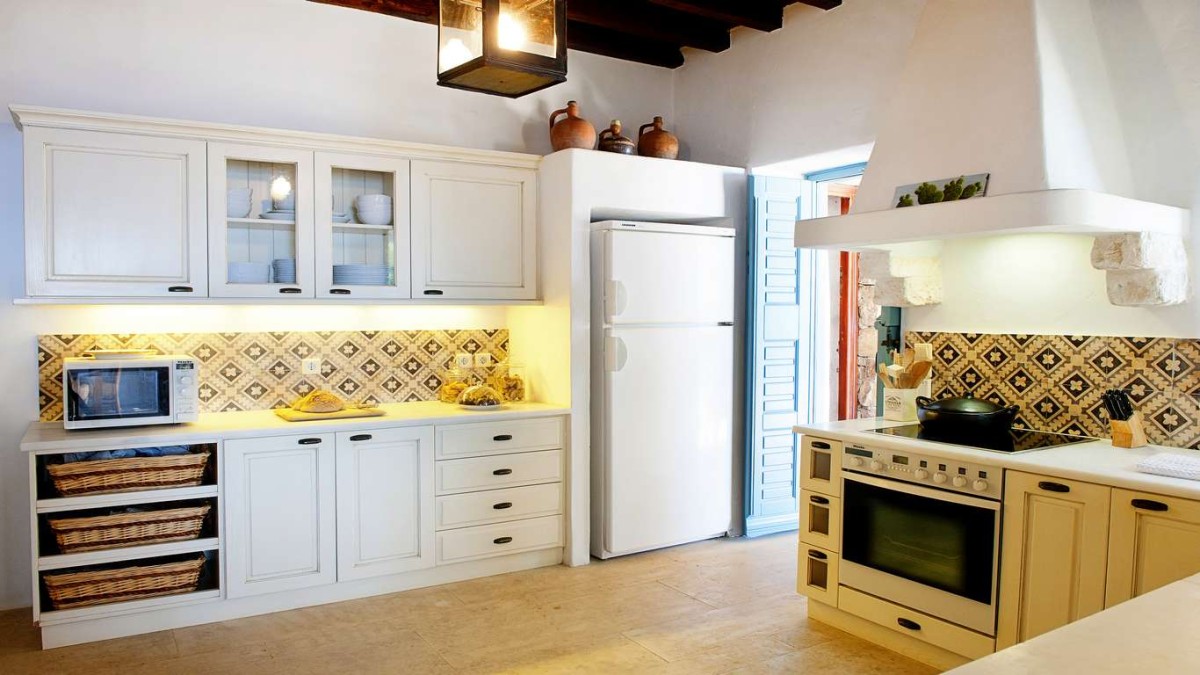 Villa Ian
/
Super Paradise
Bedrooms:
5
Bathrooms:
5
Sleeps:
10
Pool:
1

Pool

Fireplace
---
Description
Luxury Villa Ian is a wonderfully located and very traditional Greek island paradise – with all the latest luxuries - for up to 10 guests on Mykonos. The holiday villa Ian is perched, magnificently alone above the perfect blue of the Aegean Sea. It is unusual to talk about the lack of things when describing a luxury holiday villa, but Ian's splendid isolation allows guests to concentrate 100% on switching off, soaking up the sun and the unique, historic, world-class views. The sea is almost directly below Villa Ian, and stretches out into the blue beyond as you chill out in your own infinity pool, or scramble down to sample the sea water of your own private cove below. You'll want to spend a good deal of your time outside at exclusive Villa Ian, on the big courtyard and terrace of this cleverly designed properly that seems to be hewn out of the surrounding slopes. The traditional rustic seating in beautiful shade is perfect for dining as you watch the sun go down; soft, comfortable sun loungers await as you climb out of the pool. The villa itself is like something out of an imagined children's summer; a dream wished into reality.
Aged stone walls look as if they have been here since ancient times. The style too is historic: pure white and dark blue are the classic colors that dominate, providing a beautiful blank canvas for the old wood, wicker, and cast iron furniture and antique accessories. Sumptuous rugs add a touch of warmth on plain stone floors. Villa Ian's luxury and comfort is completely up to date though. The beautiful tiles on the walls in the kitchen are a backdrop to the best cooking technology. The minimalist décor of the bedrooms, doesn't detract from the comfort of the huge beds, or the luxury of private balconies, and brilliantly designed en-suite bathrooms. The sleeping accommodation is largely on the top of the villa's two floors. It is all air-conditioned, but big windows open up the views and let light and air in. The master suite has a big terrace to match its huge bed and walk-in closet. It, like all the rooms is en-suite, in this case with a shower/bathroom.
There are two other rooms on this floor, both queen-size doubles, with en-suite shower/bathrooms. One of this pair has a terrace and room for one more in a sofa bed. There's a guest house room, with terrace access, twin beds, en-suite bathroom and walk-in closet, and extra space with two sofa beds in a loft in the main building. The large living room has a fireplace, big-screen TV, and a music system that can also entertain you out in the courtyard or terrace. There is Wi-Fi access to go with the satellite TV. There is room to dine in the large, open-plan kitchen, with a table for eight. But the BBQ, and a table under the stars are sure to be a strong attraction in a Greek-island summer.
Layout
Main House
Ground level
Living area with sofas, desk, fireplace, TV and Stereo
Fully-equipped kitchen and dining table for 8 persons
Utility/Storage room and Guest WC
1 Independent Twin bedroom with en-suite bathroom and walk-in closet
All above areas open up to courtyard
Top level
1 Master bedroom with en-suite shower bathroom, walk-in closet and large terrace
1 Queen Double bedroom with en-suite shower bathroom, 1 sofa bed and large terrace
1 Queen Double bedroom with en-suite shower bathroom
Loft with two sofa-beds
Guest House
1 Double bedroom with en-suite shower bathroom
Mattress loft for one person
Living room with well-equipped kitchen
Outdoor Areas
Swimming pool with shaded outdoor living and dining areas
---
Features
Sleeps 12
Swimming pool with sweet water
Air-conditioning in all bedrooms
Wi-Fi access
Satellite TV
Indoor & Outdoor sound system
BBQ
---
Prices & Service
Price upon request
What's included
Booking price includes:
Seven nights luxury accommodation
Exclusive use of the villa and its facilities
Concierge Service
Daily cleaning
Change of linen twice a week
This service is based on a week-long stay and services may be tailored to your exact requirements during the booking process. Exact services included with each booking will be listed on the Booking Confirmation.
---
Location
Closest airport – Mykonos, 5 km
Closest port – Mykonos, 5 km
Closest town – Chora, 4 km
Closest beach – Super Paradise, 800 m
---
Infos/Activities
Mykonos is a destination for all types of people. From jet setters to college students and families, Mykonos is Greece's most well-known and popular island and the people you see are from all walks of life, from every country. Everybody goes there, from Keith Richards to famous politicians, designers, newscasters, basketball players and coaches, kings, queens and commoners all make Mykonos their first choice in holiday destination. This is the Ibiza of Greece!
A beautiful island in the Cyclades, which looks just like the postcards: white little houses with flowers and blue windows and doors, hand painted streets, windmills, pigeon keepers, chimneys, lots of little churches and wonderful restaurants and cafes. The nightlife is very developed and you will see a lot of eccentrics especially at night time. It is a glamorous place for the rich and famous, which is painfully clear to whoever has a look at the prices on the menus.
Mykonos - according to mythology - was where Heracles killed the giants. The rocks around the island are supposedly their corpses!