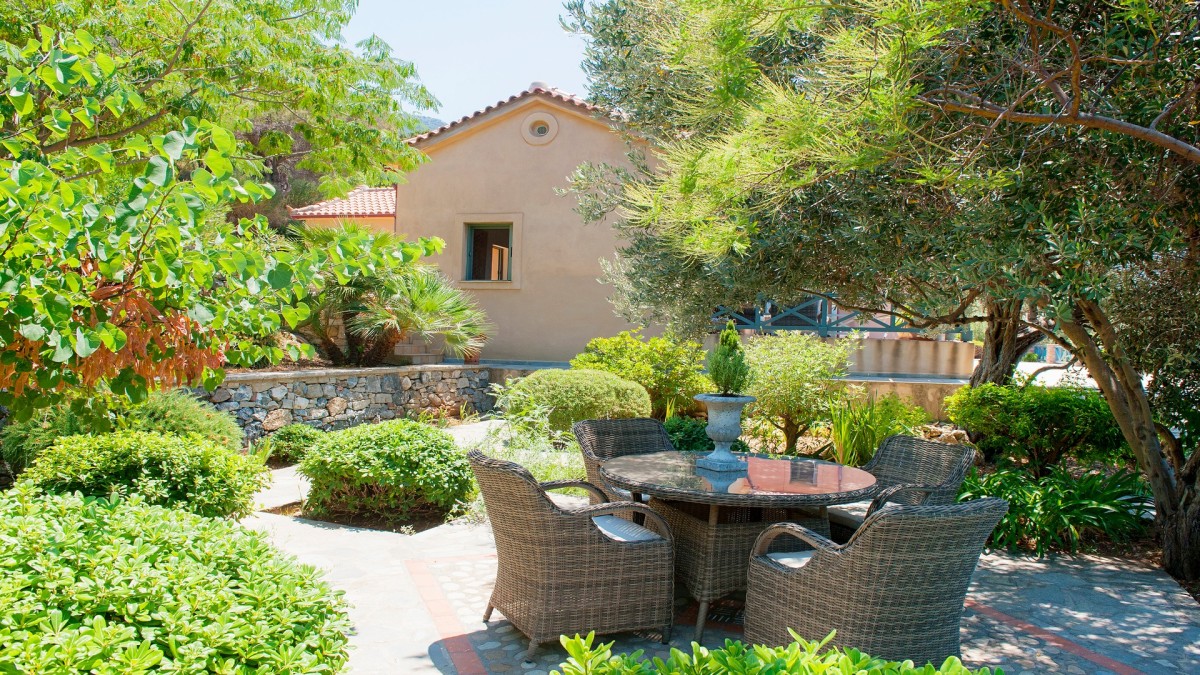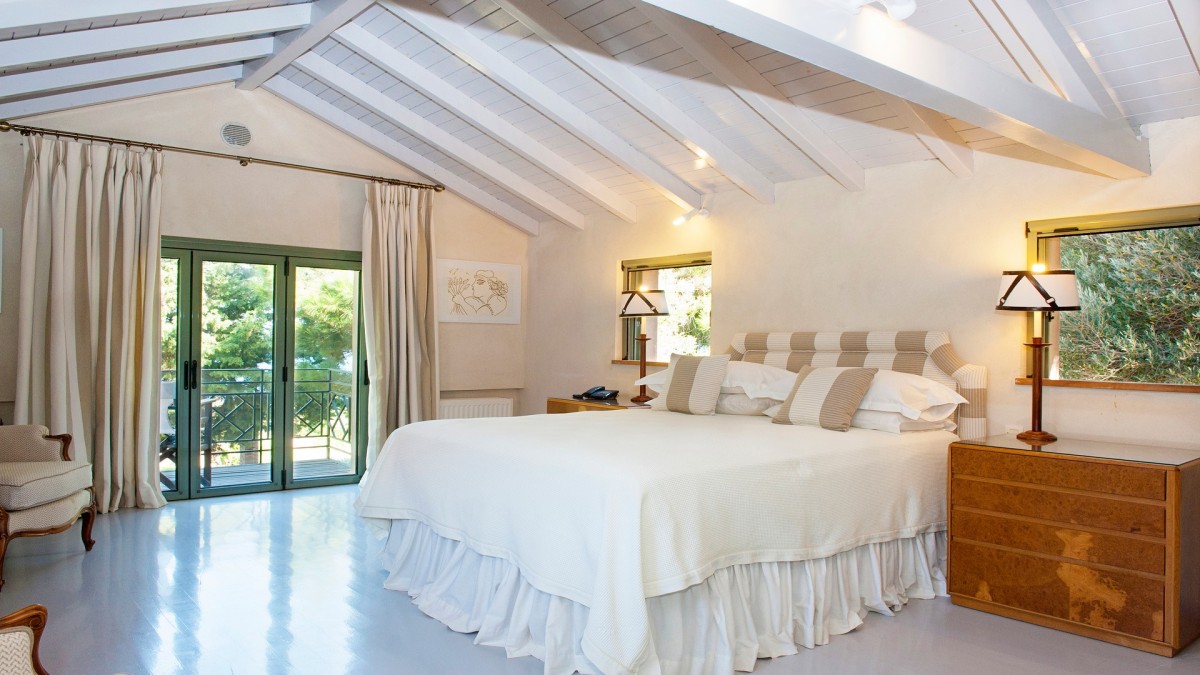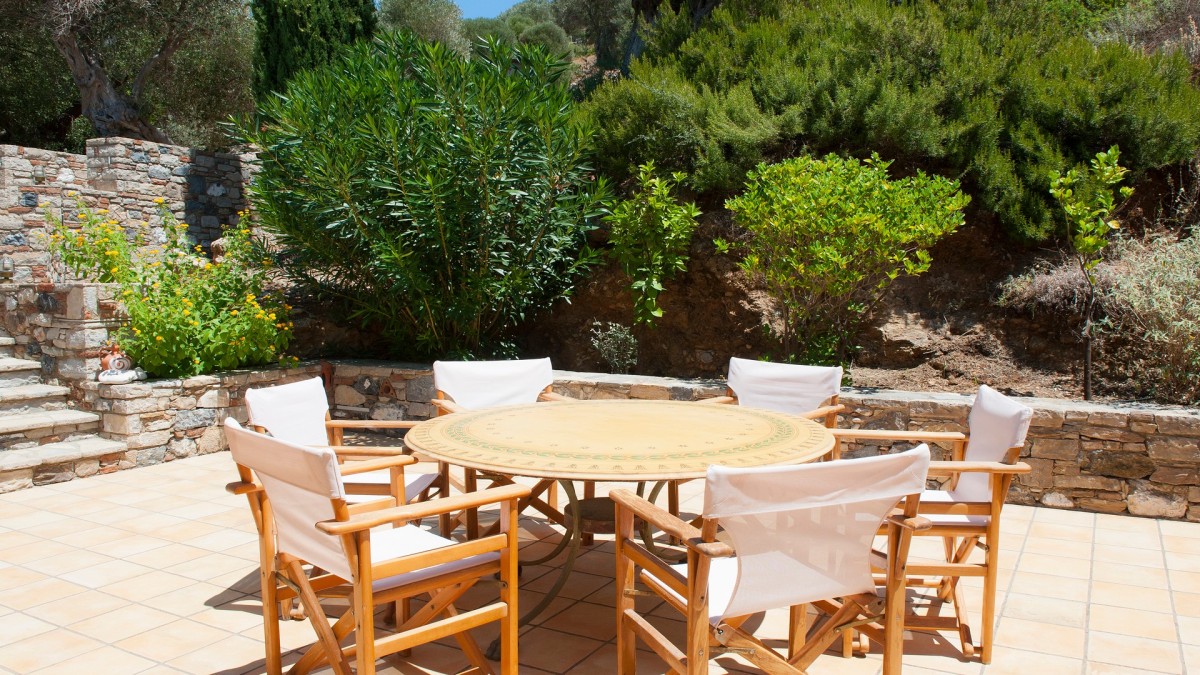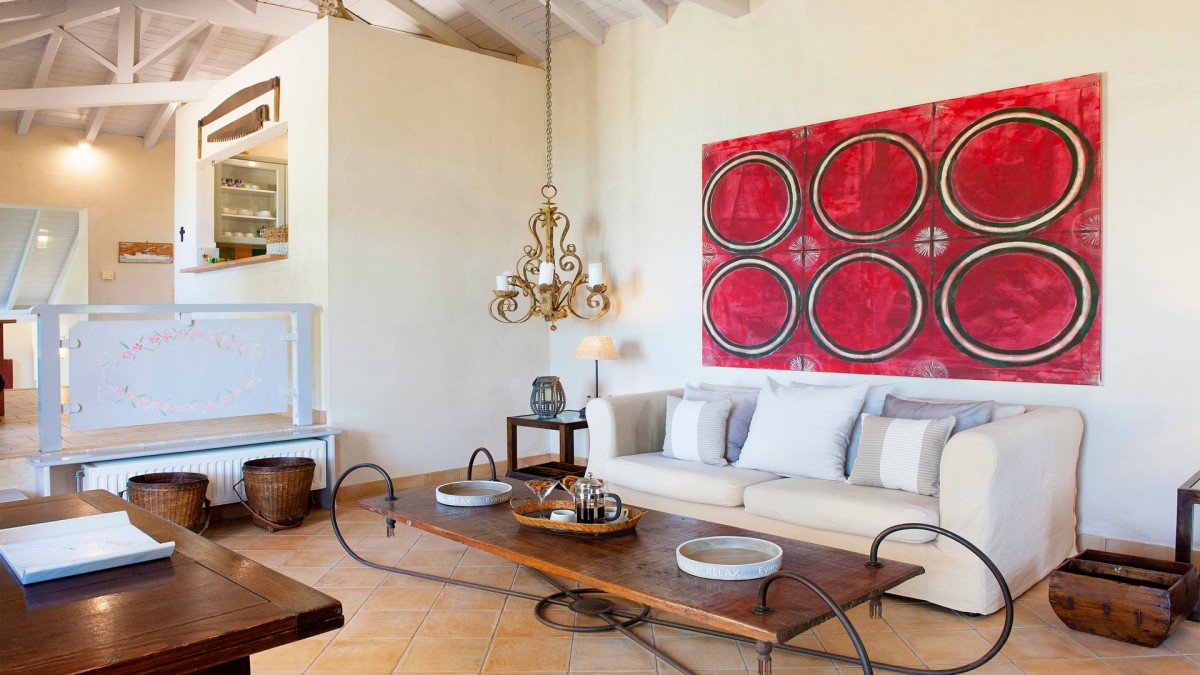 Marnei Mare-Stelios
/
Karlovassi
Bedrooms:
3
Bathrooms:
3
Sleeps:
6
Pool:
1

Pool
---
Description
Without compromising privacy, due to its unique location, Marnei Mare on Samos, creates a refuge of tranquility and wellness. From dawn, when the sun rises from behind the mountains, to dusk, when the sun slowly sinks into the sea, this organic, eco conscious environment delights with its calming atmosphere, and rejuvenating energy. The hospitality concept at Marnei Mare is a unique blend of the best elements of traditional Greek hospitality, the discreet service and attention to detail of a luxury hotel, and the intimacy of a private villa in a stunningly beautiful setting on the north western coast of the island of Samos near Karlovassi.
Luxury villa Stelios has 3 bedrooms with en-suite bathrooms. The villa comes in colours of the earth and the pebbles of the nearby beaches, while the traditional dry stone walls were built by local stone masons, creating a setting that is in perfect harmony with the natural environment. Carefully designed and equipped as would be a luxury private family vacation home. The villa is light and sunny, and thoughtfully decorated with a blend of local and European objects and fabrics, and furnished with comfortable and modern sofas and beddings.
The bedrooms are cool and spacious; offer distinctive views while maintaining privacy, and have Greek marble-finished en-suite bathrooms. The fully-equipped open-plan kitchen is separated by a counter with stools from the adjacent dining area, offering unobstructed sea views. The dining area opens into a comfortable and cosy sitting room with sliding French windows that spill out to verandas with stunning sea views. High-ceiling with exposed wood beam gables, sitting rooms feature working log-burning fireplaces for cooler early spring and late autumn evenings.
The orchard itself overlooks Megalo Seitani beach, a designated conservation area for rare fauna and flora. Apart from the villa, the orchard includes an olive grove, a vegetable garden, a vineyard with a variety of grapes, aromatic herb gardens, colourful flowers and luscious fruit trees, all grown and tended according to strict organic guidelines.

Comfortable sun beds on the coves and by the pool are ideal for lounging long past sunset. The pool bar serves juices and drinks, while hammocks set under shade trees are ideal for an afternoon siesta after lunch to the lullabies of cicadas and the sea lapping the shore. At night, stretch out anywhere for some stargazing, with the naked eye or one of the telescopes provided in each villa for guests' use: be prepared to make a wish on a shooting star.
The coast is riddled with secluded coves linking the property to Megalo Seitani, the island's most gorgeous beach and a nature reserve. Inland, hiking trails wind through a lush, herb-scented landscape, with breathtaking views over the island and the sea. Swimming can also be an adventure, either by simply snorkeling around the coves, a fun and unique experience for guests, or exploring the water caves framing the nearby sand beach—ideal for a romantic swim or a family adventure.

At Marnei Mare we will also be more than happy to help with all advance arrangements for more complex and important events such as weddings and wedding receptions, corporate retreats, family reunions, birthday celebrations etc. Many of these events can be held in the multi-function, outdoor-pillared area in the gardens which is also available for talks, meditation, and exercise. Beyond Marnei Mare, a short walk to Potami beach, a lively and tasteful beach bar/restaurant known as Hippy's, makes an ideal mingling-spot with the locals and other visitors of the island, and a famous place to try exceptional cocktails and local fusion food, from morning to lunch time, and sunset and beyond.
---
Features
Sleeps 6
Fully equipped open kitchen
Dining area
Cosy sitting room Sitting rooms
Fireplaces
Barbecue
Overflow swimming pool
Baby pool
Comfortable sun beds
Pool bar
Laundry and dry cleaning
Satellite TV Internet DVD's CD's
Telephone
Security


---
Prices & Service
Price upon request
What's included
Greek breakfast
Concierge service
Towels, beach and pool towels
Daily cleaning
ADSL internet connection
Bathroom products
Bathrobe and slippers
Hairdryer
ADSL internet connection
Welcome drink
Additional
Private chef
Airport transfers
This service is based on a week-long stay and services may be tailored to your exact requirements during the booking process. Exact services included with each booking will be listed on the Booking Confirmation.
---
Location
45 km from the Samos International airport
5 min drive from Karlovassi
5 min drive from port Short walk to Potami beach
---
Infos/Activities
Samos is the most visited island of the North-Eastern Aegean Islands, keeping nevertheless its beauty and calm places. Samos is a particularly green island which has kept a big part of its impressively green forests. It is an island with unique natural beauties which combines history and tradition with it. Samian wines have won prestigious international and domestic awards. Samos is also known for its folk art and produces beautiful pottery, ceramics, rugs, bags made of goat wool and woven fabrics with beautiful designs and colours and which are made on local looms. On the northeast side of the island of Samos is the capital. Built amphitheatrically along the perimeter of a large bay, next to the harbour, it pleasantly predisposes the visitor with its Aegean colour, its neoclassical coastal zone and the beautiful beaches that surround it.
Samos is close to Asia Minor and is only separated from Turkey by the narrow strait of Mykali. From the north coast of the island you can see Turkey opposite. Samos is one of the larger Greek islands. The island is mountainous: there are two large mountain ranges, the Kerkis (1437 metres) and the Ambelos (1150 metres). From the latter you have a good view of Agios Konstandinos and the surrounding area. The island is very bushy, especially the north coast is lush with vegetation: trees alternating with vineyards. Samos has beaches in abundance - Karlovasi, Samos, Megalo Saitani and Mikro Saitani to name but a few. They are mostly in sheltered bays, which breaks the swell and the water warms up faster in spring. In the "hinterland" of the island is perfect for hiking. The island of Samos, like almost all Greek islands, has many interesting churches, monasteries and chapels.