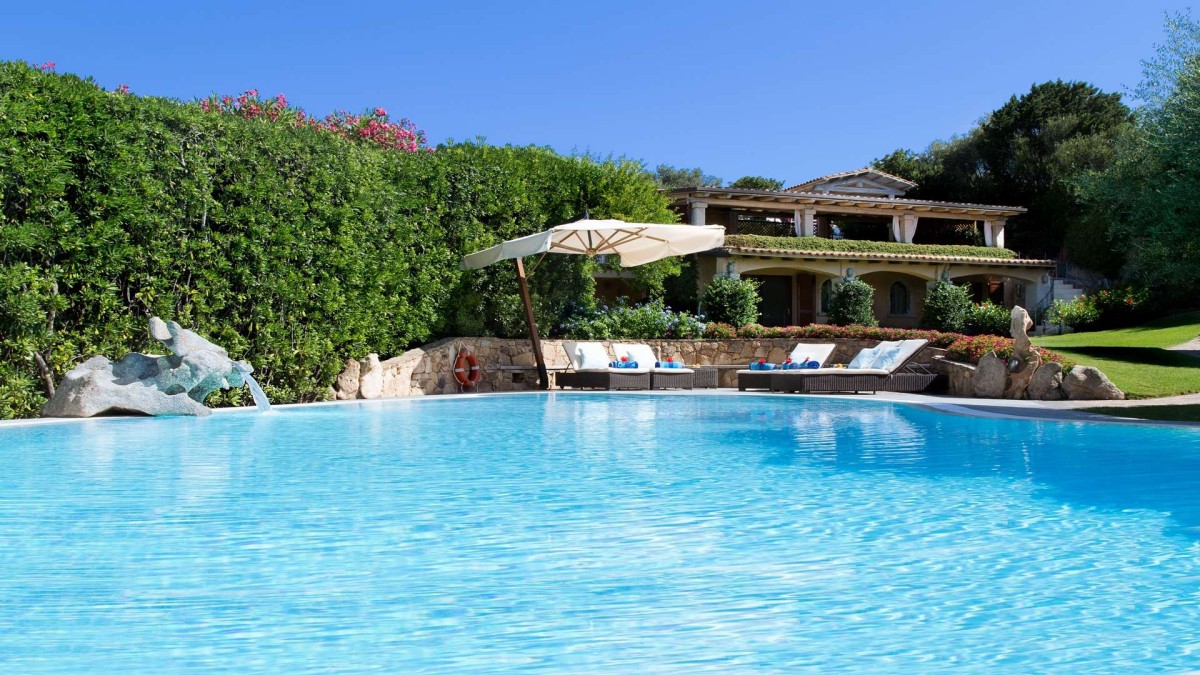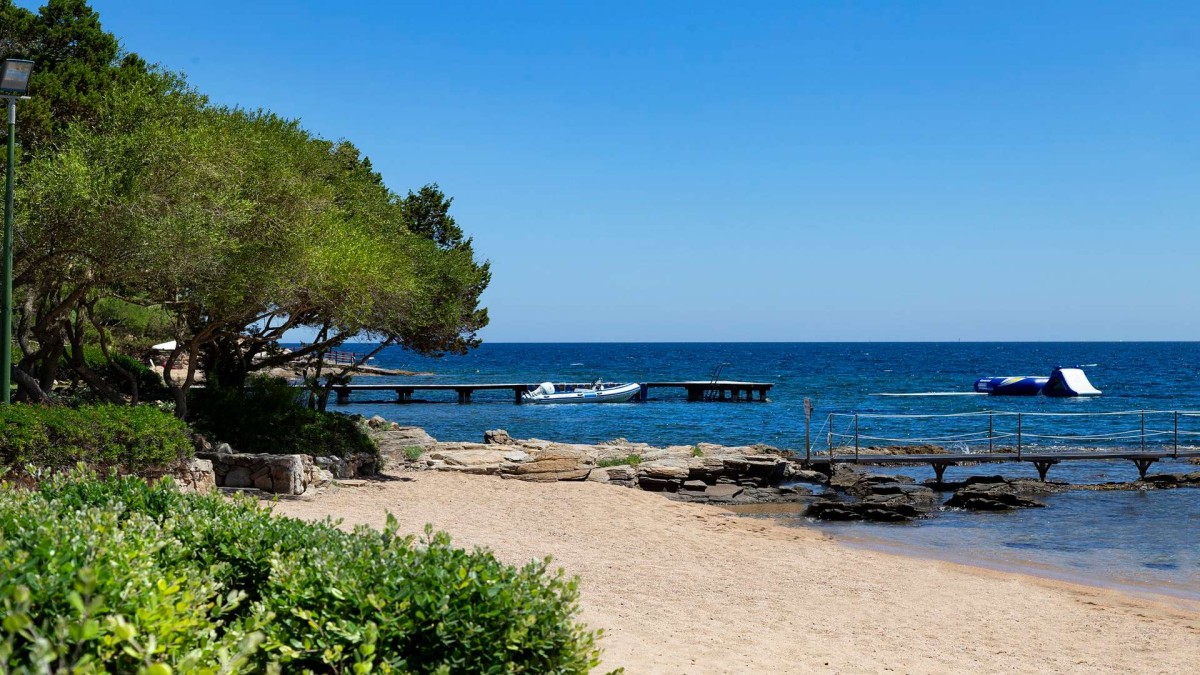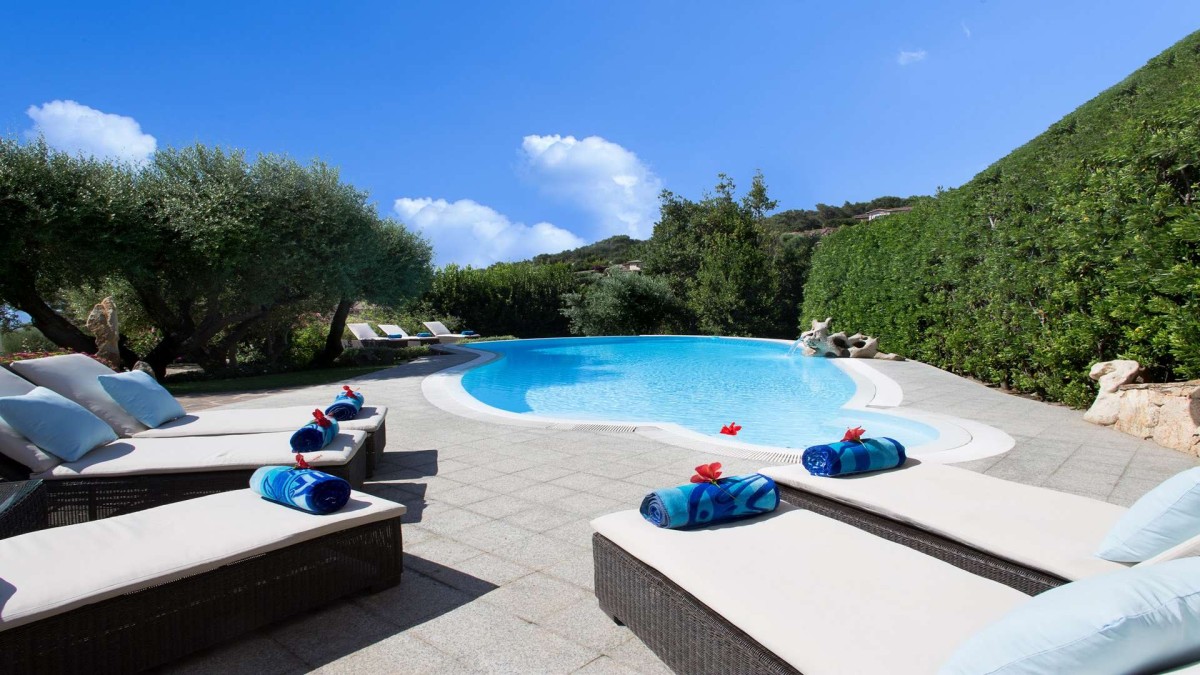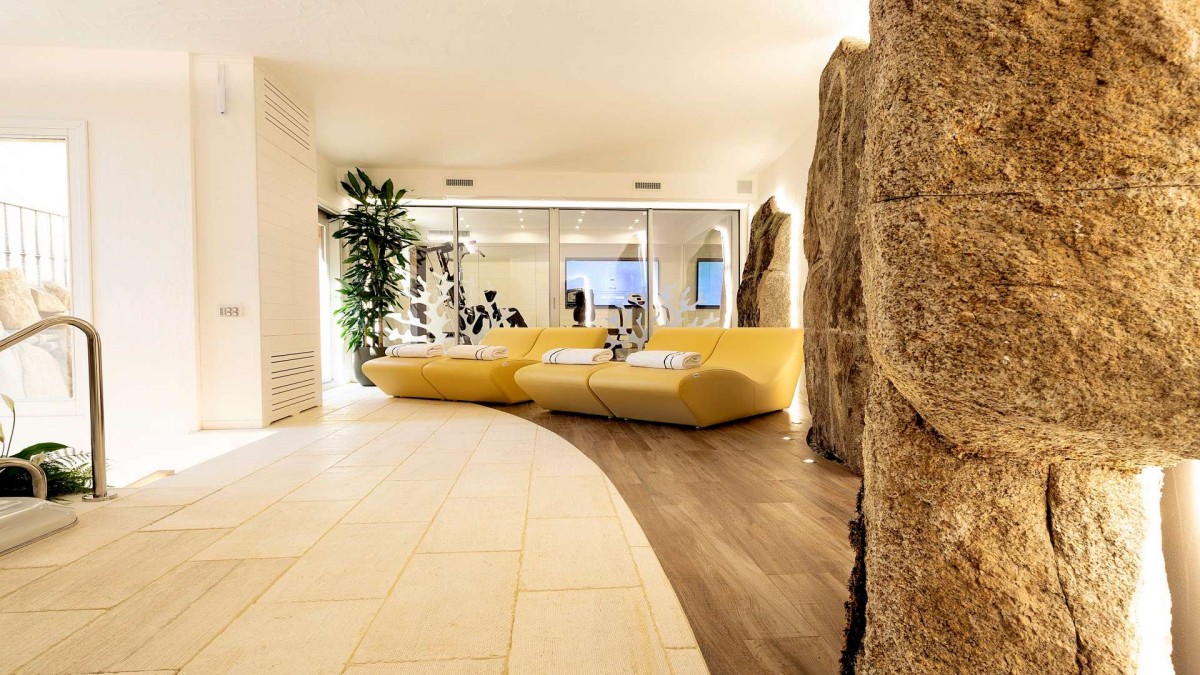 Villa Atina
/
Porto Rotondo
Bedrooms:
6
Bathrooms:
8
Sleeps:
12
Pool:
1

Pool

Sauna

Hot tub

Spa

Gym
---
Description
The luxury Villa Atina is an impressive home which offers guests a wonderful location on the Costa Smeralda. Luxury Villa Atina is is perfectly located in the exclusive Punta Lada area of Porto Rotondo. Only 1 km away from Porto Rotondo and 100m from the beach. By staying in Villa Atina you will be able to access Marina Piccola beach club with 10,000 square meters of garden, swimming pool and sun-beds.
The unique feature of this villa is a beautiful recently built luxury Spa including a Sauna, Steam Room, Hot Tub and Emotional Shower and stone waterfall. Next to the Spa is a fully equipped fitness room (Technogym) and both have a sound system throughout. From the parking area you can use either steps or a ramp to relax in a covered outdoor sitting area with furniture, sea views and table for al fresco dining.
Entering the luxury holiday home there is a sitting room with dining table for 8, sea views, smart TV and access to the outdoor area. In the garden is a large 120m3 swimming pool with infinity edge, SwimJet and underwater sound system. In addition there are many areas of decking or patio to relax in with views of the sea throughout.
Bedrooms
1 Double bedroom with hot-tub in the room, garden view and en-suite bathroom (shower)
1 Double bedroom with courtyard view and en-suite bathroom (shower)
1 Double bedroom with walk-in closet, access to the outside sitting area and an en-suite bathroom (shower)
1 Double bedroom with sofa, walk-in closet, access to the garden and an en-suite bathroom (shower)
1 Family Room composed of one small twin bedroom with garden view, best for kids and a double bedroom. These rooms share a bathroom. You need to walk through the double bedroom in order to access the twin
1 Double bedroom with access to the garden and en-suite bathroom (shower)
All double bedrooms are equipped with: Flat TV screen 42". WiFi connection. Minibar with welcome drinks. Safe
Air conditioning and Controlled Mechanical Ventilation System to replace the air and reduce energy wastage. This provides a healthier, safer and improved air quality that is beneficial to allergy and asthma suffers.
---
Features
Sleeps 12 adults and 2 children
6 Bedrooms/8 Bathrooms
Air Conditioning
Fully equipped kitchen
Sauna
Spa
Hot Tubs
Soundsystem
Electric gates
Laundry room with two washing machines and dryers
Excellent privacy
4 Mountain Bikes
Outdoor
Private Swimming Pool with underwater sound system and SwimJet
Beach and beach club just 100m away
Covered terrace
Sun-loungers and umbrella
Outdoor lounge area
Outdoor dining
Landscaped gardens
Marina Piccola Beach Club access with private gardens, beach access and communal pool
---
Prices & Service
Price upon request
1st May to 31st July
The weekly/month rates for August are on request
What's included
Included in the booking price:
Utilities (electricity, water and gas), house linen, beach towels, staff (daily cleaning service max 6 hours/day, gardener and pool maintenance), Club Marina Piccola free
entrance for 8 people (opening period 1.06-10.09), internet adsl + wifi free access.
Computer, printer, fax, satellite tv, sky channels, dvd, cd player.
Continental breakfast (8:00-10:00), minibar (double bedrooms).
Private Spa (emotional shower, bio-sauna, steam bath, mini pool) – Fitness Room
Technogym – 4 mountain bikes.
Welcome pack including welcome drink, flowers and fruit basket.

Additional:
Cook available at € 20/hour, pool heating on request (€ 700/week), luxury car rental
(special rate) with/without driver, telephone calls, extra maid hours at €15/hour (in excess
of 6h per day) and waitress, personal trainer, baby sitting, massages on request
This service is based on a week-long stay and services may be tailored to your exact requirements during the booking process. Exact services included with each booking will be listed on the Booking Confirmation.
---
Location
Porto Rotondo Harbour is just 1.2 km away from the property. In the vicinity Porto Cervo (Costa Smeralda) 15 km, Pevero Golf Club 10 km, by boat: Maddalena islands national park 45 min., Corse (France) 1h 30 min. Most italian and european cities are connected with Olbia Costa Smeralda Airport by Meridiana Flights
---
Infos/Activities
Costa Smeralda: On Sardinia's north-eastern coast, Costa Smeralda offers breathtaking views, crystal-clear water, great food and night-life. Take a walk along Porto Cervo's streets, shop in fancy boutiques or just sunbatheon one of the beautiful beaches.

Porto Cervo: A holiday resort of international renown and haunt of the rich and famous, Porto Cervo, completed in 1962, was the first village built by the Costa Smeralda Consorzio, and remains its finest achievement. Stella Marisa, the building that symbolises the Costa Smeralda, towers over the village and its Piazzetta. This is the meeting point for all of Porto Cervo's high society and the provider of plenty of ad hoc services. There is a small lagoon at the far end of the bay next to the original marina and two beautiful beaches, Cala del Faro and Liscia Rena, the latter of which is much quieter.

Beaches
Cala di Volpe, La Celvia, Liscia Ruja and long Beaches: Located along the Costa Smeralda panoramic road, after the crossroad for Cala di Volpe. These small beaches are sheltered by the green Capriccioli headland. Liscia Ruja is probably the most beautiful one. It's a 500 m white, sandy beach, surrounded by cistus and strawberry-trees. Near the shoreline, the sand turns pink in colour.
Pevero Beach: The beach is surrounded by dunes and junipers, and Costa Smeralda owes part of its fame to the beauty of this enchanting place. Located 750 m east of Small Pevero.
Baja Sardinia Beach: Located in front of Baja Sardinia village
Romazzino Beach: Romazzino, one of the most famous beaches in Costa Smeralda, is a few hundred metres further on. Located 2,1 km north-east of Cala di Volpe.
Portisco Beach: Located in front of Porto Rotondo
Poltu li Cogghi/Spiaggia del Principe beaches: Located 1,6 km east of Romazzino. It's a long, sandy beach surrounded by rocks and Mediterranean shrub. One of the most beautiful beaches in Costa Smeralda. The colour and transparency of the water depend on the granite depth. This kind of rock does not break up in pieces, therefore the water is always perfectly clear. The beach is divided in two parts by a rock on the shore, and it's very crowded in the summer.
Shopping
Square of Talk: Porto Cervo is known for its smaller shops and designer labels, and the Porto Cervo shopping atmosphere is laid back. The Square of Talk is the most popular shopping area in Porto Cervo. In this area, there are a number of labels for people to explore. Dolce & Gabbana and Gucci are just a couple of the stores in this area. There are craft stores and smaller, more inexpensive boutiques. Square of Talk is great for people who want to load up on Italian fashion and leather goods. This stop is also popular among celebrities. For people who are stargazers, this a great place to observe celebrities up close and personal.
Sotto Piazza: Located by Chiacchiere's Square, the Sottopiazza is another popular place for shoppers. This area is a collection of alleyways that contain small shops. If it exists, people will find it here at the Sotto Piazza. Another factor that makes Sotto Piazza unique is the ambiance. The area faces the ocean, and people can enjoy the water while they shopping. The stores range from private shop to international chains. It is not unusual to stop at an Armani Store, and then walk down a few stores and find a similar knock off for a quarter of the price. Another item that the Sotto Piazza stores are famous for are the unique pipes. The area is famous for creating unique designs for handmade pipes. Travelers should indulge in a gelato while walking through the Sotto Piazza.
Porto Rotondo is a first-rate vacation destination. Although it contains a wide array of beautiful beaches, art, and delicious cuisine, Porto Rotondo is extremely popular among shopping enthusiasts. Boasting brands like Gucci, DKNY, and Cesare Attolini, travelers from all over the world come to this remarkable village to satisfy their shopping urges. Some stores are more expensive than others, and for those who are in Porto Rotondo for the beaches and relaxation, window-shopping is a less expensive alternative Porto Rotondo is a picturesque Italian town that is the quintessential image of what Mediterranean life is like. The area of Porto Rotondo is certainly more tranquil and family oriented then its neighboring village Porto Cervo, which is the location of the majority of the nightclubs in the Costa Smeralda. At any given club or discothèque in Porto Cervo, one is likely to spot the omnipresent famous Italian soccer players, actors, and musicians vacationing in the trendy Costa Smeralda.
Piazza Quadra: Piazza Quadra is located at the heart of Porto Rotondo. Within it you can find the Porto Rotondo Gardens, an expensive timeshare community that is full of traditional Mediterranean villas that make Italy such a memorable vacation spot. Additionally, Piazza Quadra is a vibrant shopping center, boasting exclusive brands such as Versace, Givenchy, Miu Miu, Prada, Jimmy Choo, and Marni. No matter what your tastes are when it comes to high fashion, you will find something in Piazza Quadra.
Piazza San Marco: Shops and restaurants surround Piazza San Marco, and it is located right on the harbor, making it a wonderful place to sit and gaze out on the beautiful deep emerald waters. Piazza San Marco is a favorite destination of yacht enthusiasts, because many boaters seek shelter and relaxation in the breathtaking harbor area.
Portisco : The Portisco base is located in the beautiful Emerald Coast, between Porto Cervo and Porto Rotondo, only 10 minutes from Olbia Airport. The Portisco Marina, consists of a natural green cove, ideal for visitors, offering a variety of services in a warm and hospitable environment.
San Teodoro is a part of the coast known as Costa Smeralda. It is a pleasing small town built a few hundred metres from the coast.
Dining
Clipper: Clipper is a seafood restaurant that overlooks the Sardinian marina. People coming to the restaurant have the option of eating indoors or on the outside patio overlooking the sea. The staff recommends the terrace for visitors to get the full of effect of Sardinia. When patrons come to the restaurant they are greeted by a welcoming and hardworking staff. Meals eaten here are generally three courses, enhanced by Clipper's excellent wine list. People coming here will never forget the staff, ambiance or quality of food.
Rosmary: The Rosmary is a restaurant that serves food from the grill. The owners of the Rosmary recognized that the location is best suited for outdoor seating as the terrace has a view of the water. On clear evenings the view stretches all the way to Corsica. The staff has decorated the terrace with a garden, lanterns and candles to create a romantic and relaxed atmosphere for the diners. One of the attributes of the Rosmary is that the menu is very reasonably priced. A diner can enjoy anything from a salad to a steak or homemade pasta. A party of two can get by on a bill of $36, including wine. The owner likes to add a personal touch by meeting each patron and finding out how much they liked their meal.
Romazzino: The Romazzino restaurant first opened on Sardinia in 1979 and is famous for its innovative food. Chefs at the Romazzino do not want any label other than the best restaurant on the island. They are famous for experimenting with their cuisine. The menu is a pleasant mix up of traditional dishes and haute cuisine. The restaurant overlooks the sea and has optional indoor and outdoor seating. Customers feel like family members from the moment they enter the restaurant. The owner likes like to speak directly with people to make sure they are enjoying their evening. The Romazzino is also by a hotel so patrons indulge the wine list and not have to worry about driving back. The menu is a little pricey, the tab can go up to $60 easily for two people but the experience is worth the price.
Clubs & Nightlife
The Billionaire Club: This is definitely the most popular nightclub in Porto Cervo, mainly because world famous celebrities party there. This is the best place to be if you want to rub shoulders with some of the world's rich and famous. But you should be warned that it's very difficult to get into this club, especially if you are a man. Single women often find a way into the club. Those who plan to get in should remember that the dress code is smart and chic.
Ritual A timeless temple, a garden, two dancefloors, four cocktail bars and a terrace under the stars.
Sottovento Club: a club and restaurant holding the magic of the nights in Porto Cervo. Sottovento Club is certainly the club that made the greatest name of the Costa Smeralda and Porto Cervo. For more than 30 years the club is a meeting place for VIPs and jetsetters, for internationally renowned DJs, live music and an intriguing culinary offer, among Mediterranean flavors and oriental influences.
Phi Beach: If you are looking for a special venue in Sardinia, where you can organize an unforgettable summer private party,
you have definitely found the right place.
Lord Nelson Pub: For those who prefer quiet evenings, visiting the Lord Nelson Pub is a good idea. Located at Porto Cervo's marina, this is a completely English pub and looks like something out of the early 1980s. The place is usually empty until around 11 p.m. but fills up soon after that. Drinks here are fairly cheap compared to most clubs and restaurants in the area. The Lord Nelson Pub is especially great during the off-season, when most of the other clubs and pubs in Porto Cervo are closed.
Café Prince: Tourists who are looking for a subtle way of spending an evening should visit Café Prince which is situated on the Piazza de la Principle. Visitors can choose to either sit in the open, out on the square, or in the stylish interiors adorned with modern art. You can sit back and enjoy a few drinks, but if you want something non-alcoholic, try the original fresh lemonade. Also, try the Bellini here as it is some of the best you'll ever taste.
Sardinia yachting vacations: sailing yacht, catamaran and motoryacht in Alghero,Porto Cervo, Santa Teresa, Portisco, Carloforte, Maddalena Islands … Sardinia offer all the types of yacht charter such as bareboat charter (monohull, catamaran), crewed yacht charter (monohull, catamaran, motoryacht), luxury yacht charter and corporate yacht charter.
Golf: Is Molas Golf Club and Resort - Pula. We offer you a holiday of absolute peace and quiet. We are at Is Molas, an oasis of Mediterranean peace, lush, vital and authentic. And at the Is Molas Golf Hotel, four stars of elegance just a step from one of the most thrilling golf courses in Europe.
Is Arenas Golf Club - Narbolia. Is Arenas Golf is in the West coast of Sardinia, in an area where vast pine woods extend to a 4 kilometer sandy shoreline. The layout was designed by the famous American golf course architects Von Hagge, Smelek and Baril who sculpted the 18 holes within the natural sand dunes, creating one of the more stunning courses in Europe.
Il Ruscello Golf & County Club - San Pantaleo. Feel invigorated in this oasis, playing a round of golf or simply relaxing in the sun, pampered by impeccable and discreet service. A three hole executive course which winds on a total of 17.000 mq. An easy and fun course designed for people who wish to learn at least the basics of this sport. Kite Surf, Windsurf and Sailing at Lido di Orri - Tortoli. Ogliastra! Set on a beautiful beach "Lido di Orrì" offers relax, release sports and enjoyable vacations, all in a natural amphitheatre rich with unforgettable colours.
Diving: There are plenty of diving centers all over the island.
Airports:
Olbia (OLB)
Gagliari (CAG)