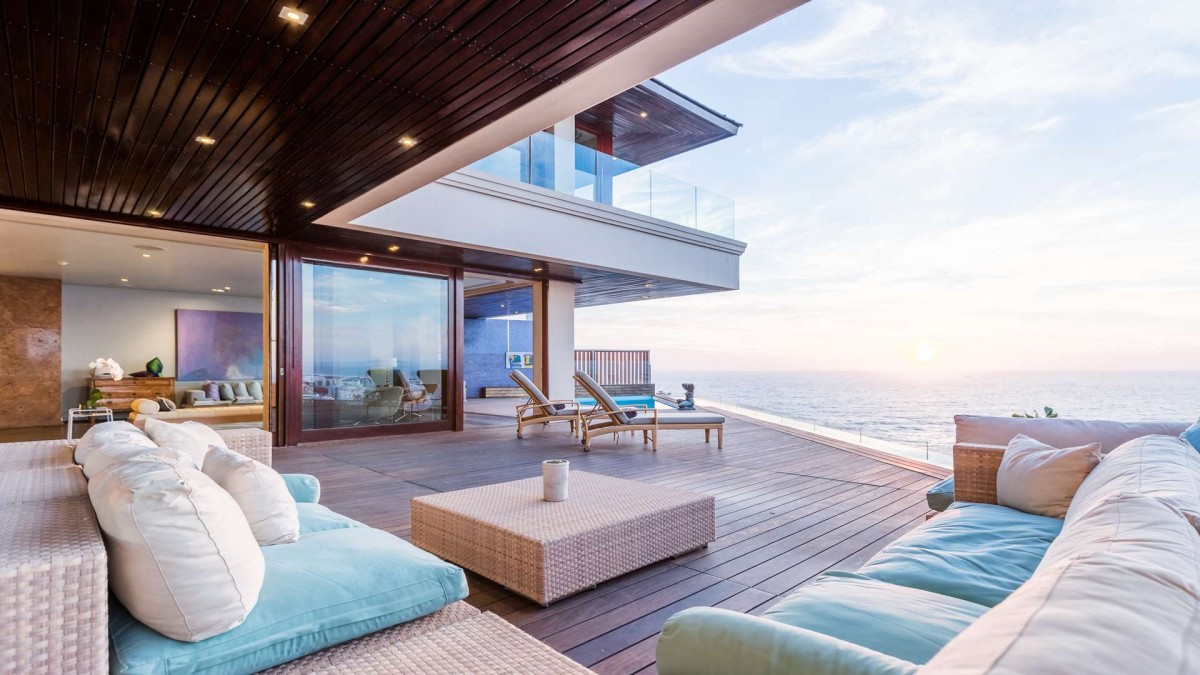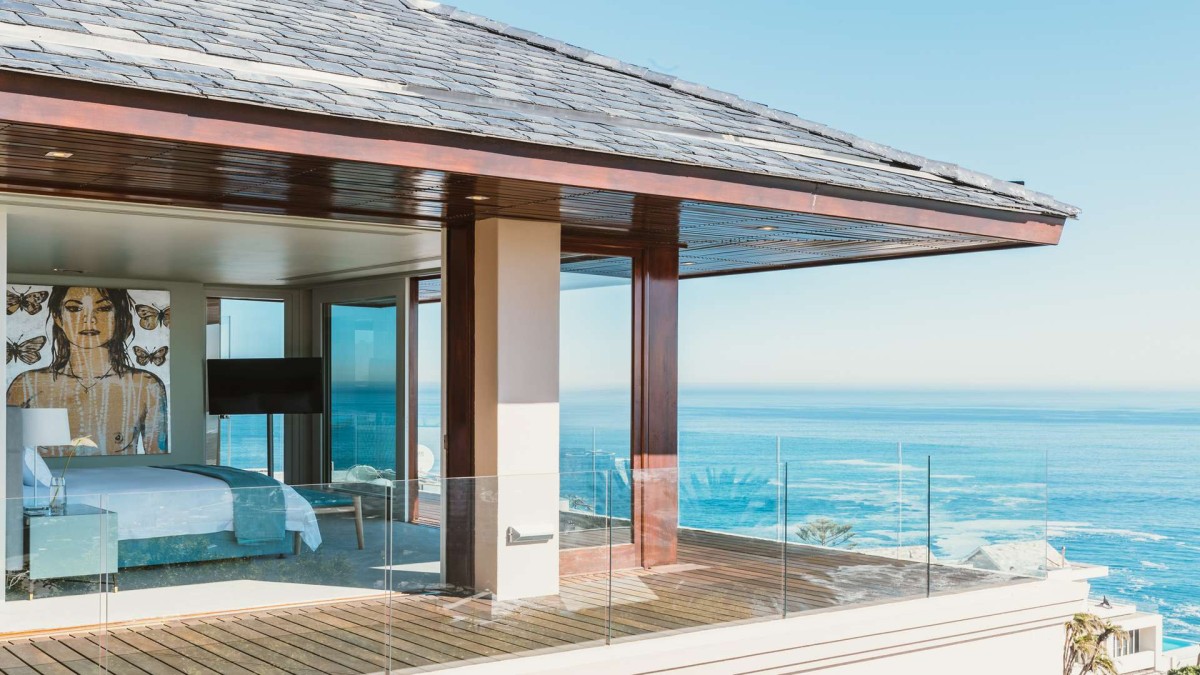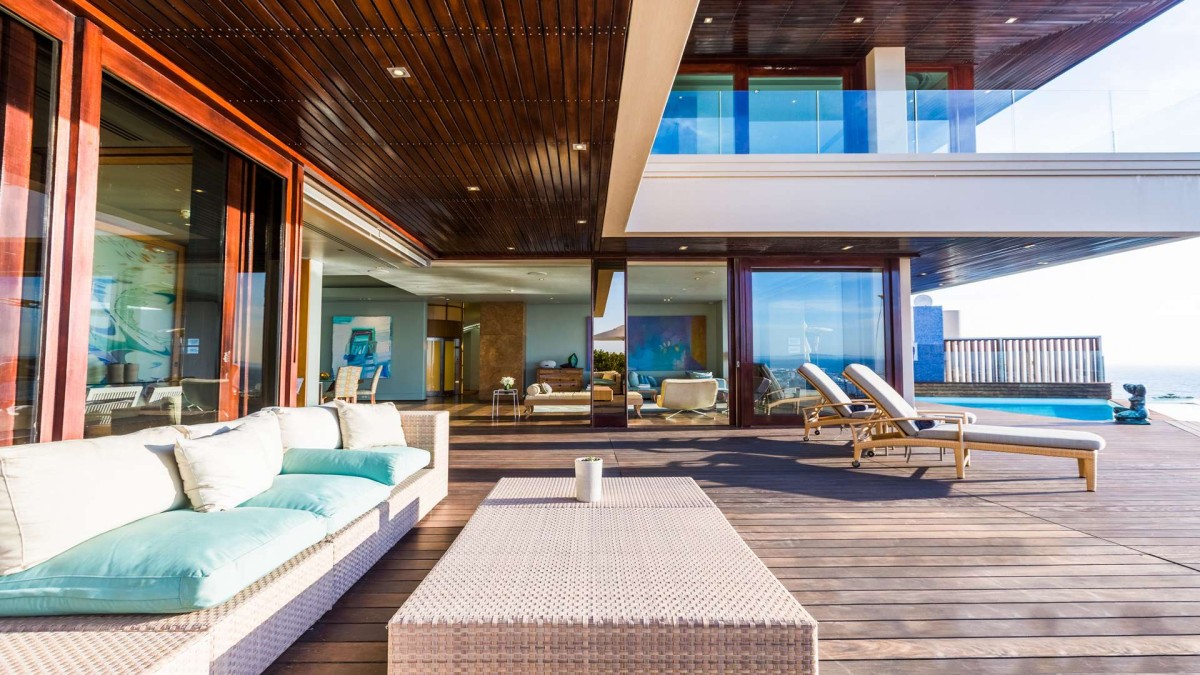 Ellerman Villa One
/
Bantry Bay
Bedrooms:
5
Bathrooms:
5
Sleeps:
10
Pool:
1
Living Area:
696 m2

Pool

Sauna

Spa
---
Description
THE ELLERMAN VILLA ONE AND SPA

Perched on a promontory in the gardens of Ellerman House from where it has 180 degree sea views, Ellerman Villa One takes full advantage of its breathtaking position with adventurous architectural proportions, minimalist décor and a stunning art collection. With high ceilings, massive windows and vast teak decks, it feels as if the ocean is part and parcel of the design.
With its own butler and chef, it has privacy and personal attention built-in exclusively for its guests who have sole use of all facilities while in residence. Purpose designed to pamper the world's most discerning guests with every comfort imaginable, including a butler and private chef.
The Ellerman Villa One and Spa offers two bedrooms on the ground floor, a living area on the second floor and three bedrooms on the third floor. A Beezy Bailey sculpture of a man holding a bird stands at the lower ground floor entrance and welcomes guests while at the same time emphasizing the drama of a black marble waterfall that plunges into a bed of weathered pebbles. The architecture of The Ellerman Villa is reminiscent of the work of Frank Lloyd Wright.

Its uncompromising angles, oblique outlooks and sheer glass allow maximum exposure to the sea below and beyond, almost inviting the ocean into the house. The living area is open plan and flows outdoors. The massive glass windows peel back completely, opening up the lounge, dining room and study to the magnificent views of the ocean.
A separate entertainment room, with flat screen plasma television, DVDs and CDs downloaded into the house's main server, leads into a hi tech stainless steel kitchen, fully stocked with delicacies from the best gourmet food shops in the city. At the top of the house, level with the tree tops, are three luxurious bedrooms each with a glamorous, Hollywood-style bathroom created with acres of Travertine marble, infinity mirrors,some of the etched with ethereal designs, and top of the range beauty products.

The main bedroom has a kind-size bed, and is decorated in aqua and cool creams. The bathroom opens out on to the sea like the deck of a boat.
The second bedroom, known as the lilac room, is also dominated by a king-size bed, and has a striking Bali-style bathroom. The third bedroom, on the side of the house, looks on to the Twelve Apostles Mountains, and has two single beds both draped in plush burgundy and pale gold.
The Ellerman Villa One also has a ladies study, stocked with a library of books and all the latest magazines, with a single divan on which to while away an afternoon reading or reflecting. The Spa on the ground floor is surrounded by teak decks and an infinity pool that has a separate icy plunge pool for residents taking advantage of the sauna. It comes with a resident therapist who pampers guests with the most luxurious treatments available.
Spa Pool Room, the Spa Pool room has a wooden deck overlooking the Atlantic Ocean. The décor is modern African with minimalist furniture in shades of tea. The en-suite bathroom is finished in granite and earthy mosaics.

Spa Deck Room, the spacious sea facing Spa Deck room is toned in earthy shades. Beautifully crafted beechwood vanity's complement the modern bathroom which is a fusion of glass and granite.
---
Features
Sleeps 10
5 Master bedrooms en-suite
Separate entertainment room
2 Spa rooms
Flatscreen plasma television
DVD's
CD's
High tech kitchen
Large pool
Sauna
Treatment rooms
---
Prices & Service
From 45,405 EUR/week
What's included
Exclusive use of the villa
Ellerman Villa's butler and his assistant
Meet and greet at airport by Ellerman House representative
Private,chauffeur-driven airport transfers in air-conditioned courtesy cars
Made-to-order breakfasts including fresh-pressed juices and home-baked breads and pastries served by your personal chef,24-hours butler service
Fully stocked fridge with luxury nibbles
Hand finished laundry packed in tissue paper
Complimentary teas, coffees, spirits and beer
Selected House Wines
Fully stocked bar with luxury brands
The use of the Ellerman Spa with a jet stream pool, steam room and sauna
Technologically advanced, electronic equipment .Private entrance with 24-hour monitored security
Private and secure parking
Individual attention from Senior Managers who personally supervise all Guest services

Additional at extra cost
Lunch and dinner
Invited guests' meals and drinks
Cellar Wines and Champagne
Telephone calls and fax transmissions
This service is based on a week-long stay and services may be tailored to your exact requirements during the booking process. Exact services included with each booking will be listed on the Booking Confirmation.
---
Location
Ellerman House and Ellerman Villa are situated on the most spectacular site on Kloof Road in the premier Cape Town suburb of Bantry Bay (An historical landmark).
Address
180 Kloof Road, Bantry Bay, 8005, Cape Town, South Africa
---
Infos/Activities
The Concierge Service is both exclusive and highly personalised with intimate knowledge of the best attractions in Cape Town. They can arrange specialized day visits to attractions in and around Cape Town.

Ellerman House & Villas are within walking distance of the famous Clifton Beach, ten minutes from the centre of Cape Town and the bustling V&A Waterfront - departure point to Robben Island - and a mere 45 minutes from the heart of the Cape Winelands.
It is the perfect springboard from which to discover the Cape's many and varied attractions - sun-drenched beaches, world-class restaurants, majestic Table Mountain, spectacular scenic drives to Cape Point, golf courses, the Kirstenbosch Botanical Gardens and some of the special places that only Capetonians know.