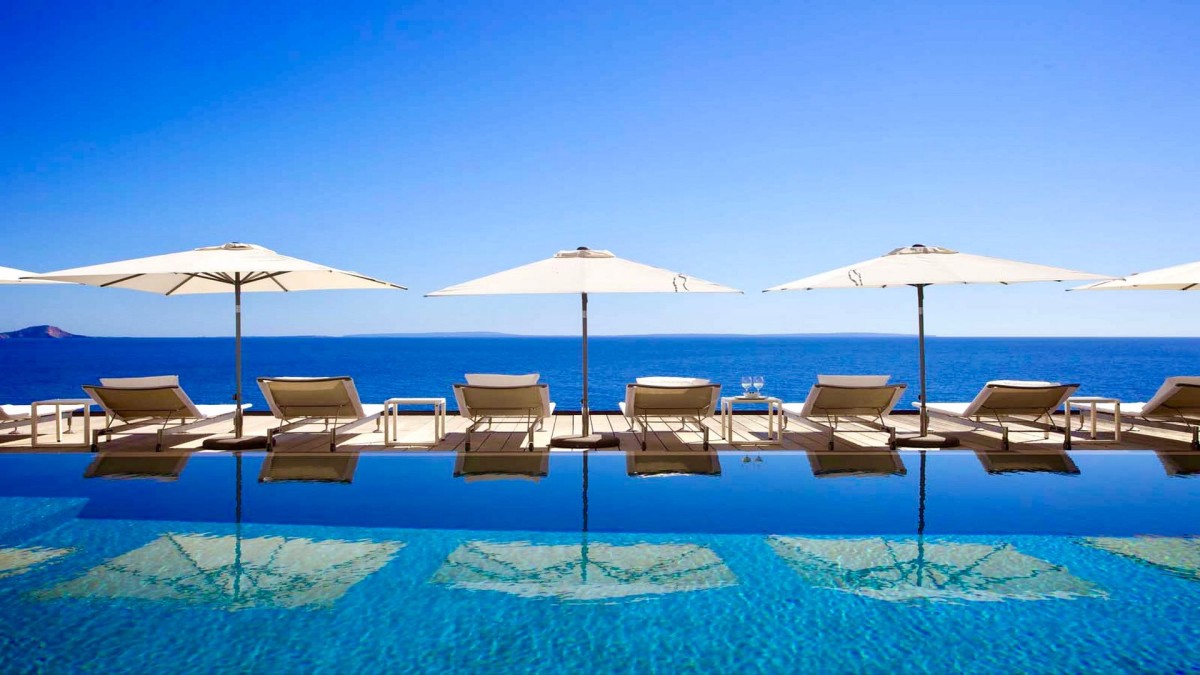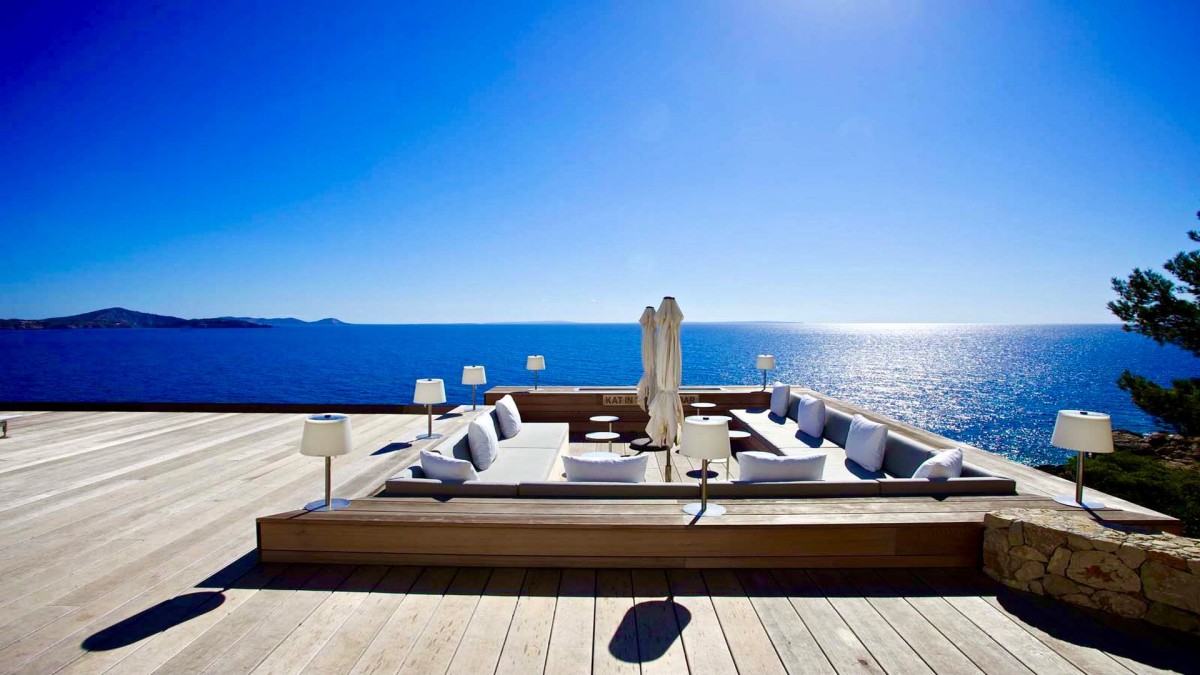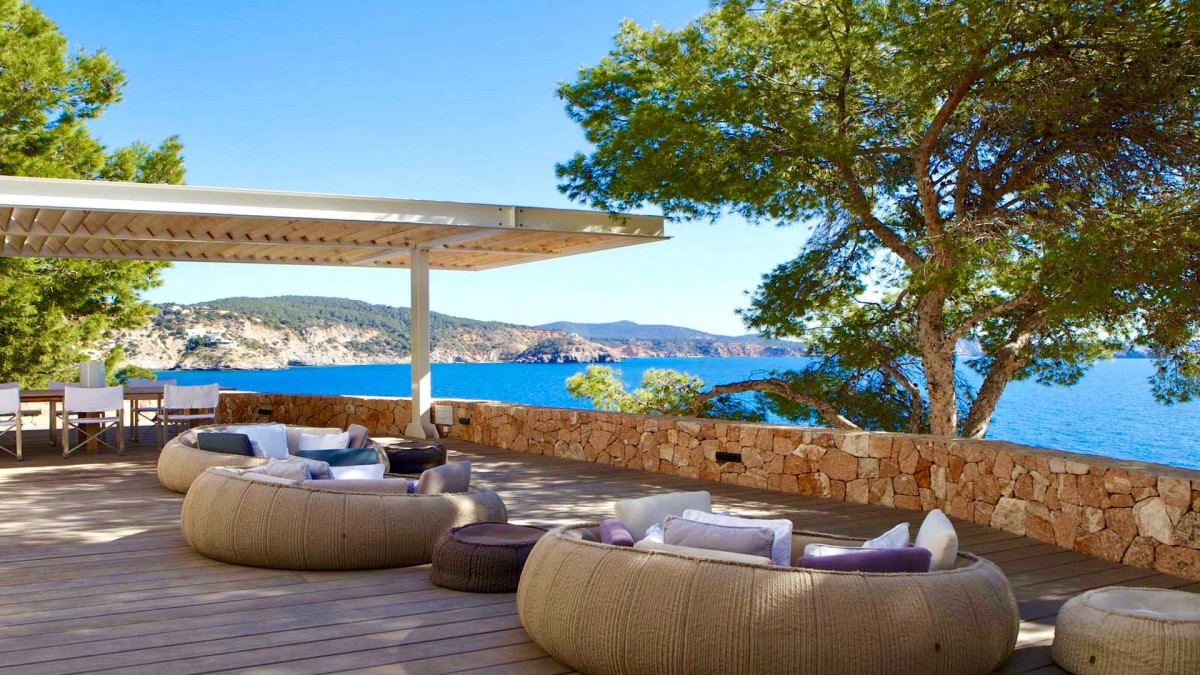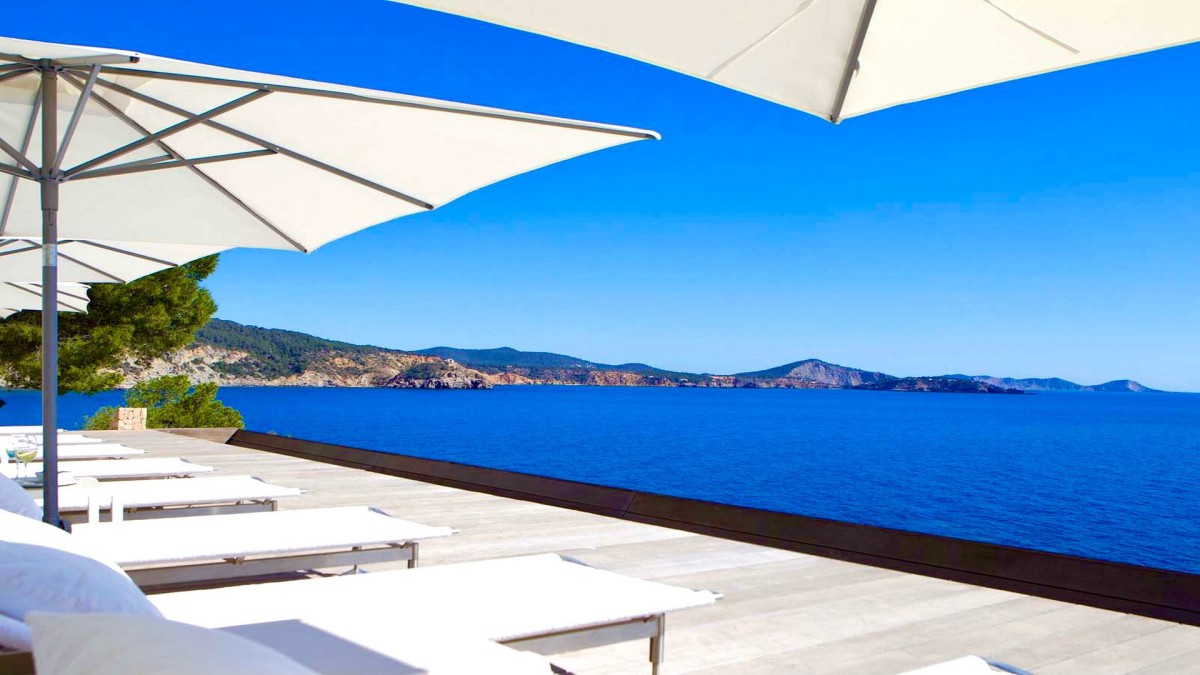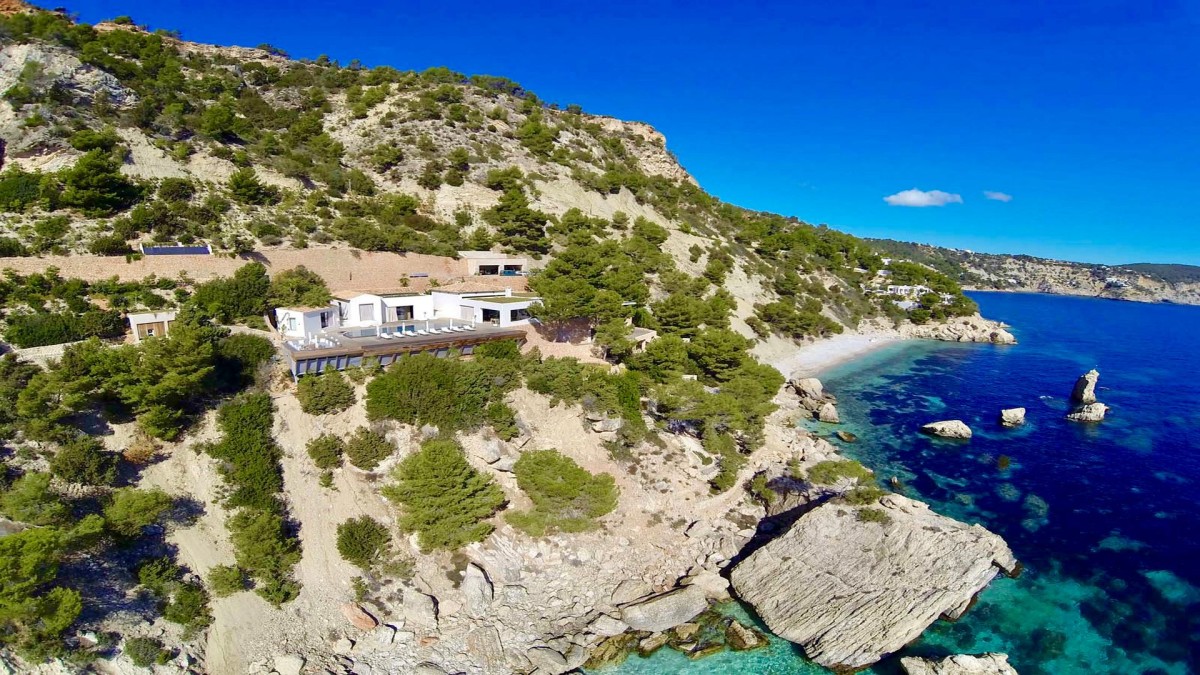 Casa Atlantis
/
Es Cubells
Bedrooms:
6
Bathrooms:
6
Sleeps:
12
Pool:
1
Living Area:
575 m2
/
Plot size:
17000 m2

Pool

Gym
---
Description
Fully staffed luxury villa
Casa Atlantis in Ibiza is a stunning holiday villa right by the sea with sweeping views over the sea and a private beach. The villa also offers a private mooring and use of the boat. This modern, minimalist villa is located in the quiet urbanisation of Es Cubells and is furnished to the highest standard.
The communal area consists of a fully equipped kitchen and dining area with a higher level living area that has a large sofa and pioneer plasma screen with small office area. The kitchen is fully equipped and even has two gas cookers with electric ovens, two dishwashers and two wine fridges. After dinner, you can open the centre table to play casino games. If you don't feel like playing casino games, you will find several leather board games in the living area.
For outdoor dining, there is a covered terrace at the side of the villa with sea views. All rooms are double with private entrance for privacy and are fully equipped with private marble bathroom with shower, 2 sinks and marble stone toilet. There are branded bathrobes and fine body products in the bathrooms. All bedrooms have a fridge for nightly refreshments. All rooms have a touch screen to control air conditioning, television and I-pod music with built-in speakers, and some have an Apple computer.
Two rooms have a connecting door and one room also offers a double bed on a mezzanine suitable for teenage children. After breakfast on the upper terrace, where you can enjoy the sea view, and a dip in the pool, you can walk down to the private beach area for a refreshing swim or just relax and listen to the sound of the waves on the shore.
The pool has a built in children's area and also a games room at the side of the villa which has a pinball machine and an electronic game machine for children. Outside you can use the table tennis table, play table football or a game of pool.
The price includes the use of the spiders (motorbikes), several cars and a yacht once a week (petrol is charged extra).
---
Features
Sleeps 12
Stunning sea view
6 bedrooms, 6 bathrooms
Fully equipped kitchen
Swimming pool
Children' pool
Smart Tv
Fitness room
Terraces
Playroom
Pinball machine
Casino table
Board games
Private beach
Private moorings for boats and yachts
Touchscreen to control air-conditioning, TV and I-pod music with built-in speakers
Apple computer
---
Prices & Service
Price upon request
The Ecotax/Touristic Tax must be applied to all rentals. 2,20 EUR per person, children under 16 are free. We will inform you about the exact amount at the time of booking.
What's included
Exclusive use of the villa and its facilities
Concierge service
Staff including chef and waiters
Housekeeping
Luxury bath & body products
Use of a yacht once per week (petrol extra)
Use of motorbikes and several cars
This service is based on a week-long stay and services may be tailored to your exact requirements during the booking process. Exact services included with each booking will be listed on the Booking Confirmation.
---
Location
Airport 18 min
Ibiza town approx. 20 minutes
---
Infos/Activities
Ibiza a town is a fantastic holiday destination for its Old Town world heritage status, fantastic bars, nightlife and easy access to the beautiful island of Formentera by ferry. At night-time in the summer Ibiza's port is a hive activity, with hundreds of bars and restaurants coming to life, filled with people from all over the world.
D'alt Villa which overlooks the port is filled with a maze of narrow streets which are lined with tiny houses, Boutique shops bars and restaurants. Most of the streets will take you to the top of D'alt Villa where you'll find the cathedral and a cannon lined square which looks over the whole of Ibiza. The views at night from here are spectacular.
Formentera: Ibiza's port is also the gateway to Formentera which is the small island just to the south. Ferries leave every half an hour and the journey takes about 35 minutes.
Another one of the great features of many beaches in Ibiza are the "chiringuitos" or beach bars, where you can buy cool drink or eat "bocadillos" which are perfect for a lunch time snack. These chiringuitos will often play chilled music which is great while lying and enjoying the sun.
Talamanca Beach: Talamanca beach is situated about 2,5 kilometres north of Ibiza Town. It is very sheltered and shallow sloping with fine sand, making it very safe for families. This beach is the largest in the municipality of Ibiza and lies in a sea inlet which protects it from most winds. San Antonio, Cala Gració is situated at 1,5 kilometres from San Antonio, and sits between Cap Negret and Cap Blanc. It is right next to Cala Gracioneta which shares this small sea inlet. Cala des Moró: Calo des Moro is a crowded beach mainly filled with the British and German youth that stay at the hotels and apartments surrounding the beach. San Juan, Benirras Beach: Famous for its full moons and hippy parties which accompany them, this beach is often alive with drums and an away-from-it-all holiday feeling. San Miguel Port: San Miguel Port although a long way from the more visited areas of Ibiza is very well set up for the holiday tourist. The port is well protected from wind and offers many different activities, restaurants, hotels and bars. Cala San Vicente: Like other beaches in the surrounding area, Cala de Sant Vicent lives in the shadow of the small island of Tagomago which Iies just off the coast. The wood covering the area surrounding the beach is itself surrounded by tourist complexes.
Caló d'en Serra beach: Caló d'en Serra is three kilometers from Portinatx, located between Portintx's Port and Punta d'en Gat, and below the hill, Puig de sa Caperulla (308 meters high). San José, Salinas Beach: Located in a natural reserve, Salinas Beach is one of the most popular on the island. It offers privileged surroundings of white sands bordered by dunes and savinas, crystalline waters and rich marine life, thanks to the prairies of posidonia which adorn the sea bed. Cala Codolar: Cala Codolar is no more than 50m long and 20m wide. It is mostly sandy (although its name suggests the contrary, remember that "cudols" means pebbles in the native language of Ibiza) and has a very gentle slope, barely more than 150cm deep, 40m from the water's edge.
Playa den Bossa: Playa den Bossa is well known for its rather noisy beach bars and party people but being a long beach you can find tranquility at both the most southern and northern ends. Cala Vadella: Although Cala Vadella has been built up, it has been tastefully done, managing to integrate the residences (the majority being low buildings) into such a singular landscape. Cala Tarida: Although Cala Tarida is now a bit over developed from tourism, it is still one of the most beautiful beaches on the western coast of Ibiza, and is still well worth a visit. Cala Jondal: In this enchanting natural setting, Cala Jondal simply paradise for relaxing and enjoying the sun. There are only a few houses dotted around the pine tree hills and being hidden from most tourist centers, makes it an exclusive favourite for the rich and famous. Cala Bassa Beach: Cala Bassa is a very popular beach with tourists but also with locals who come to enjoy the perfect place for a weekend picnic in spring or autumn.
Cala Conta Beach: A truly spectacular Mediterranean beach on the Island of Ibiza, Spain. Cala Conta boasts crystal clear aqua waters, some great restaurants and a hidden cove for those who enjoy nudism. Port des Torrent Beach: This is a mainly tourist beach due to the amount of surrounding accommodation such as hotels and villa complexes. Cala Conteta Beach: This small cove just 200 meters to the south of Cala Conta is mostly nudist an a great spot for a more laid back day at the beach. Santa Eulalia Beach: Santa Eulalia beach is located right next to the town center promenade just before the marina when heading north. Cala Llenya: Situated 12 Km from Santa Eulalia and 3km from San Carlos, between Cala Nova and Punta d'en Ribes, this is a quiet cove has a very peacful atmosphere and is idea for small sailing boats due to predominant easterly sea breezes. S'Estanyol Beach: Hidden away from most tourists, S'Estanyol beach is a quiet cove with protected waters and a cool beach bar run by the owners of PK2 in Ibiza. Cala Llonga: Cala Llonga is situated about 10km from Ibiza Town and 5km south of Santa Eulalia. Cala Mastella: Cala Mastella sits in the back of a small inlet. It is very small, measuring barely 50m long and less than 15m wide. Aguas Blancas Beach: One of the few designated nudist beaches in Ibiza where being naked seems to be very natural. Es Cana Beach: Es Cana is located about 4.5KM North of Santa Eulalia, located next to the Punta Arabi Club, where every Wednesday the Ibiza hippy market takes place. Niu Blau Beach: Niu Blau or s'Estanyol is two Kms from Santa Eulària des Riu, located between Punta de Sa Caleta, Sa Caleta and Cala Pada, and very close to urbanization Can Sansó.
Most of Ibiza's sporting activities are all available all year round so you can enjoy them when you want, in summer or winter. Walking, cycling, scuba diving, yoga, boat charter, luxury yacht charter, boat excursion, go karting, parasailing, surfing and horse riding are some of the popular ones.