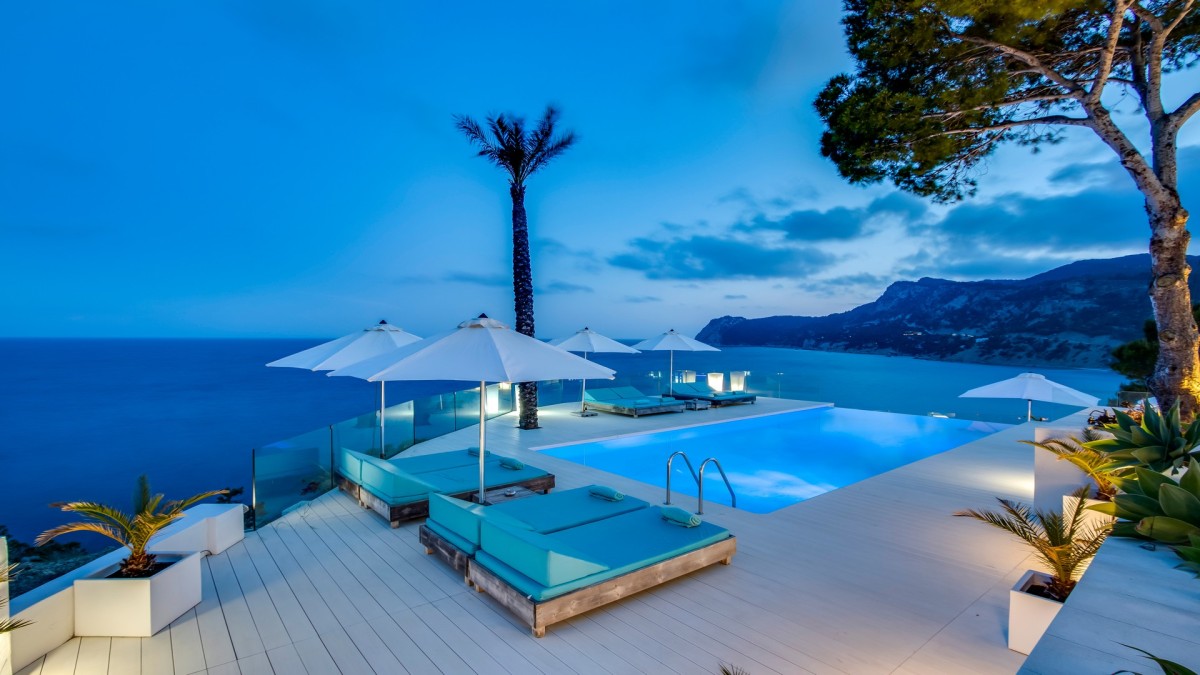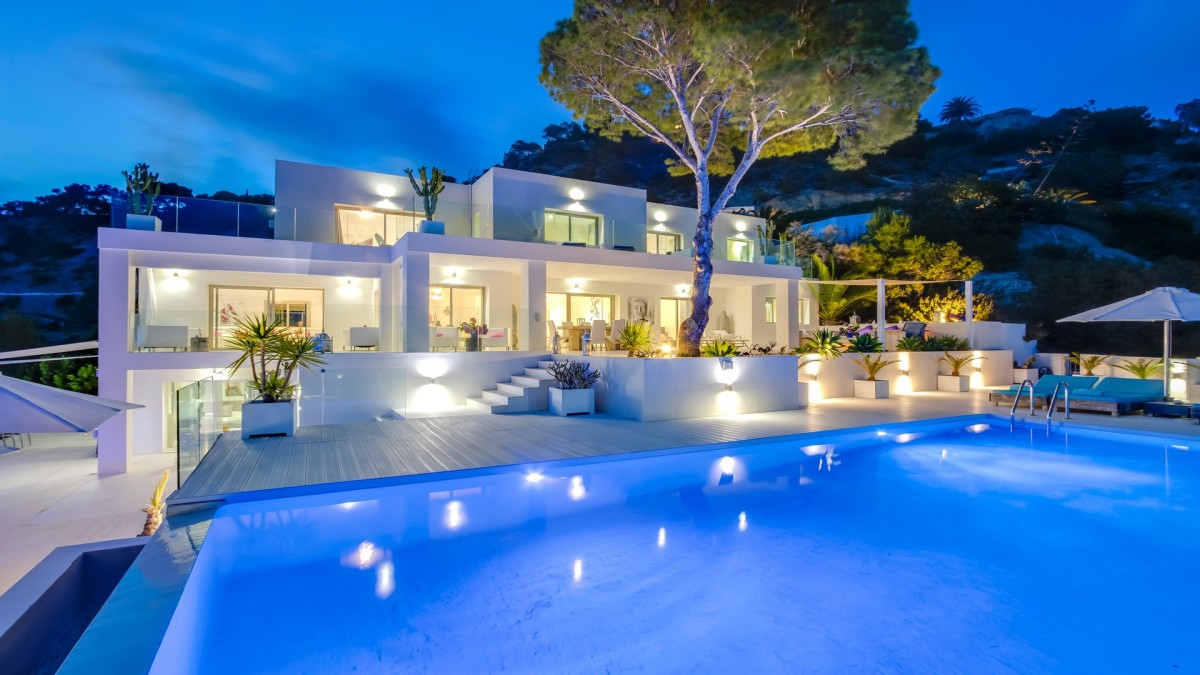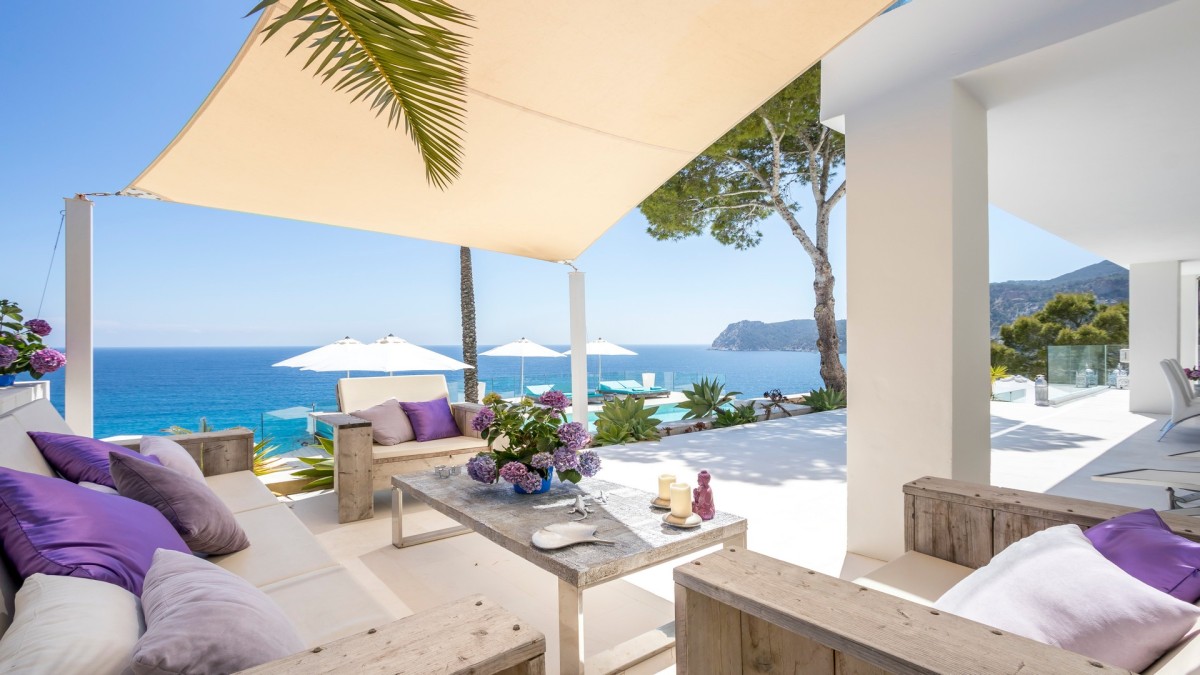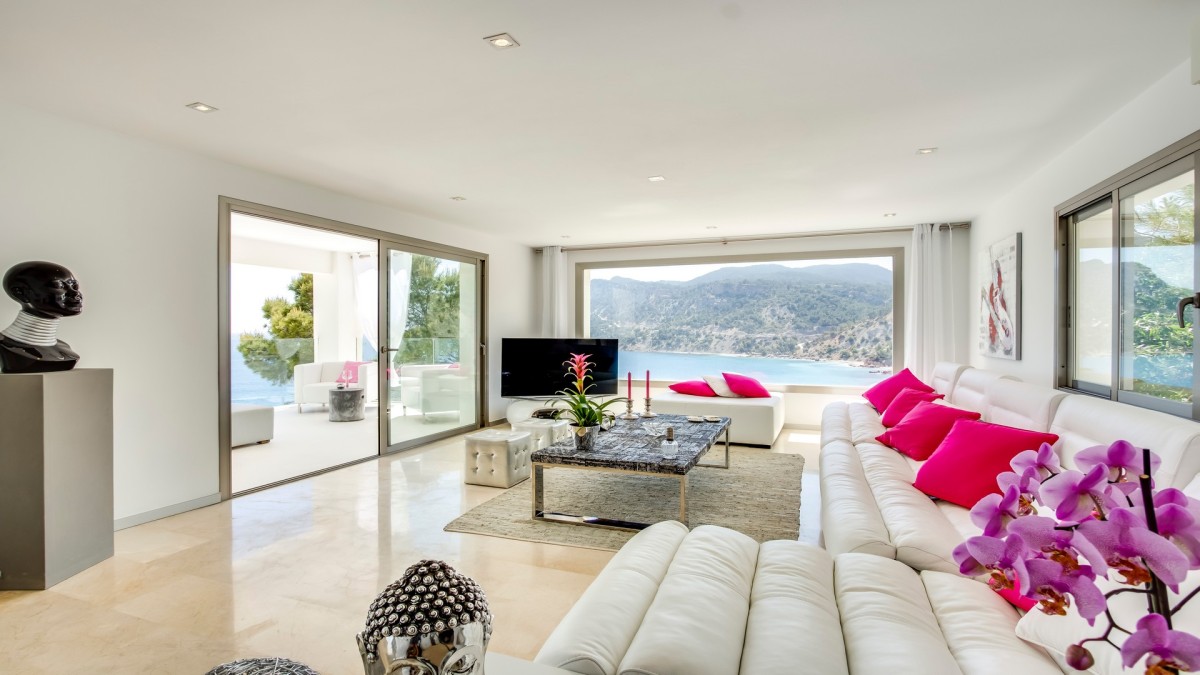 Villa The White Pearl
/
Es Cubells
From 16,000 EUR to 37,500 EUR/week
Bedrooms:
6
Bathrooms:
6
Sleeps:
12
Pool:
1
Living Area:
500 m2
/
Plot size:
7000 m2

Pool
---
Description
With its storied history of playing host to some of Hollywood's elite in recent years, luxury Villa The White Pearl is a heaven for those seeking both seclusion and entertainment during the most beautiful time of the year - summer holidays in the Mediterranean. Located a stone's throw from the small village Es Cubells in the southwest of Spain's famous "White Island" Ibiza, The White Pearl is a sea front lux villa par excellence. The holiday villa, which stands on a plot of 7000sqm, has a living area of 500sqm. It can easily accommodate up to 12 people, who have six en-suite bedrooms, of which two are masters, at their disposal.
The interior design of both the open-plan living spaces and bedrooms is streamlined. The island's namesake white is everywhere, with well-placed splashes of pink, lilac, fuchsia and orange on cushions, blankets and duvets, whereas turquoise is the dominating colour outdoors, matching the 10x5 metres swimming pool and the sea.
The extremely modern kitchen on the ground floor is equipped with all the necessary appliances to enable the private chef (on request) to prepare even the most exquisite meals. Meanwhile, as the sun sets spectacularly, holidayers, cocktails in hand, recline on the varied outdoor seating options considering whether to have dinner at the dining table, decked out with the finest china and cutlery, in the dining room or on the patio outside.
The bedrooms, designed in typical Balearic style, are distributed over three levels and are all en-suite. The bed linen is of exquisite quality and the bathroom facilities, either bathtubs or walk-in showers, are made of marble. One bedroom has its own terrace, the largest bedroom, one of two master bedrooms, even two. The remaining bedrooms all have direct access to the main terrace. All bedrooms have dressing rooms, TV's, DVD players and, most importantly, they all boast these incomparable views across the sea and all the way to Formentera.
In keeping with the Ibiza way of life, according to which sleeping is for inside and living is for outside, the impressive, formidable terrace is the undisputed star. 350sqm are home to two alfresco shaded dining areas, BBQ, bar, chill out seating area with lounge chairs, 12 sunbeds around the swimming pool and unbeatable 180-degree views overlooking the Mediterranean Sea.
Last but not least, let's talk partying - guests in Villa White Pearl who wish to get a taste of Ibiza's legendary nightlife are close by - Lío and Pacha, the islands most exclusive nightclubs, are a 25-minute drive, and it takes just 20 minutes to reach the Blue Marlin and Cotton beach clubs.
Bedrooms
First Floor
1 Master bedroom (42sqm) with double bed 180 x 200, double dressing room, marble bathroom en-suite (Jacuzzi bath, walk-in shower, double sink, toilet & bidet), safe, satellite TV, DVD player, WiFi, sea view on Formentera with double exposure South and West, 2 large private terraces
1 Double bedroom (26sqm) with bed 160 x 190, dressing room, marble bathroom en-suite (bath, sink, toilet & bidet), satellite TV, DVD player, WiFi, sea view on Formentera with double exposure South and East, private terrace
Ground Floor
1 Master bedroom (36sqm) with double bed 180 x 200, separate double dressing room, marble bathroom en-suite (bath, walk-in shower, double sink, separate toilet & bidet), safe, satellite TV, DVD player, WiFi, sea view on Formentera with South exposure, access to the main terrace
Basement
1 Double bedroom (25sqm) with bed 160 x 190, dressing room, bathroom en-suite (bath, walk-in shower, separate toilet), satellite TV, DVD player, WiFi, sea view with West exposure, leading onto a big terrace
1 Double bedroom (28sqm) with double bed 180 x 200, dressing room, bathroom en-suite (bath, walk-in shower, toilet & bidet), safe, satellite TV, DVD player, WiFi, sea view with South and West exposure, leading onto a big terrace
1 Double bedroom (18sqm) with bed 160 x 190, dressing room, en-suite shower room (walk-in shower, marble washbasin, toilet), satellite TV, DVD player, WiFi, sea view with East and West exposure
---
Features
Sleeps 12
500 Square metres
6 Bedrooms en-suite
TV and air condition in all bedrooms
Open-plan living areas
Lounge with TV
Dining room
Fully equipped kitchen
Wine cellar
Flatscreen TV's, DVD players, WiFi
2 Outdoor shaded dining areas for 12
Portable BBQ
Outdoor bar
Infinity pool (10mx5m) with solarium & sunbeds all around
350sqm terraces with astounding 180-degree view of Porroig, Formentera and Es Cubells bay
Patio with lounge chairs
Private access to the sea with mooring possibility for big boats
5 Minutes to the nearest sand beach
Automatic pool & garden lighting
Laundry facilities
Garage parking (5 cars)
Security system
---
Prices & Service
From 16,000 EUR to 37,500 EUR/week
The Ecotax/Touristic Tax must be applied to all rentals. 2,20 EUR per person, children under 16 are free. We will inform you about the exact amount at the time of booking.
What's included
Exclusive use of the villa and its facilities
7 Nights luxury accommodation on your chosen dates
Welcome hamper
Daily housekeeping (8h/day)
Bed linen & towels
Linen & towel change every 3 days
Pool towels
Bathrobes & slippers
Luxury bath & beauty toiletries
Use of WiFi
Electricity, water, gas
Additional service (extra charges apply)
Concierge services
Private transfers
Private chef for breakfast & lunch or dinner
Private butler
Car rental with or without private driver
Boat & yacht charter
Massages/Body treatments
Grocery delivery
Babysitting/Childcare
Bodyguard
This service is based on a week-long stay and services may be tailored to your exact requirements during the booking process. Exact services included with each booking will be listed on the Booking Confirmation.
---
Location
Nearest sand beach - 100m. Nearest restaurant - 500m. Nearest shop - 2km. Cala Jondal - 10 min. by car. Ibiza Old Town - 20 min. by car. Blue Marlin Beach Club - 10km. Cotton Beach Club - 15km. Pacha night club - 19km. Airport - 15 min. by car
---
Infos/Activities
Ibiza a town is a fantastic holiday destination for its Old Town world heritage status, fantastic bars, nightlife and easy access to the beautiful island of Formentera by ferry. At night-time in the summer Ibiza's port is a hive activity, with hundreds of bars and restaurants coming to life, filled with people from all over the world.
D'alt Villa which overlooks the port is filled with a maze of narrow streets which are lined with tiny houses, Boutique shops bars and restaurants. Most of the streets will take you to the top of D'alt Villa where you'll find the cathedral and a cannon lined square which looks over the whole of Ibiza. The views at night from here are spectacular.
Formentera: Ibiza's port is also the gateway to Formentera which is the small island just to the south. Ferries leave every half an hour and the journey takes about 35 minutes.
Another one of the great features of many beaches in Ibiza are the "chiringuitos" or beach bars, where you can buy cool drink or eat "bocadillos" which are perfect for a lunch time snack. These chiringuitos will often play chilled music which is great while lying and enjoying the sun.
Talamanca Beach: Talamanca beach is situated about 2,5 kilometres north of Ibiza Town. It is very sheltered and shallow sloping with fine sand, making it very safe for families. This beach is the largest in the municipality of Ibiza and lies in a sea inlet which protects it from most winds. San Antonio, Cala Gració is situated at 1,5 kilometres from San Antonio, and sits between Cap Negret and Cap Blanc. It is right next to Cala Gracioneta which shares this small sea inlet. Cala des Moró: Calo des Moro is a crowded beach mainly filled with the British and German youth that stay at the hotels and apartments surrounding the beach. San Juan, Benirras Beach: Famous for its full moons and hippy parties which accompany them, this beach is often alive with drums and an away-from-it-all holiday feeling. San Miguel Port: San Miguel Port although a long way from the more visited areas of Ibiza is very well set up for the holiday tourist. The port is well protected from wind and offers many different activities, restaurants, hotels and bars. Cala San Vicente: Like other beaches in the surrounding area, Cala de Sant Vicent lives in the shadow of the small island of Tagomago which Iies just off the coast. The wood covering the area surrounding the beach is itself surrounded by tourist complexes.
Caló d'en Serra beach: Caló d'en Serra is three kilometers from Portinatx, located between Portintx's Port and Punta d'en Gat, and below the hill, Puig de sa Caperulla (308 meters high). San José, Salinas Beach: Located in a natural reserve, Salinas Beach is one of the most popular on the island. It offers privileged surroundings of white sands bordered by dunes and savinas, crystalline waters and rich marine life, thanks to the prairies of posidonia which adorn the sea bed. Cala Codolar: Cala Codolar is no more than 50m long and 20m wide. It is mostly sandy (although its name suggests the contrary, remember that "cudols" means pebbles in the native language of Ibiza) and has a very gentle slope, barely more than 150cm deep, 40m from the water's edge.
Playa den Bossa: Playa den Bossa is well known for its rather noisy beach bars and party people but being a long beach you can find tranquility at both the most southern and northern ends. Cala Vadella: Although Cala Vadella has been built up, it has been tastefully done, managing to integrate the residences (the majority being low buildings) into such a singular landscape. Cala Tarida: Although Cala Tarida is now a bit over developed from tourism, it is still one of the most beautiful beaches on the western coast of Ibiza, and is still well worth a visit. Cala Jondal: In this enchanting natural setting, Cala Jondal simply paradise for relaxing and enjoying the sun. There are only a few houses dotted around the pine tree hills and being hidden from most tourist centers, makes it an exclusive favourite for the rich and famous. Cala Bassa Beach: Cala Bassa is a very popular beach with tourists but also with locals who come to enjoy the perfect place for a weekend picnic in spring or autumn.
Cala Conta Beach: A truly spectacular Mediterranean beach on the Island of Ibiza, Spain. Cala Conta boasts crystal clear aqua waters, some great restaurants and a hidden cove for those who enjoy nudism. Port des Torrent Beach: This is a mainly tourist beach due to the amount of surrounding accommodation such as hotels and villa complexes. Cala Conteta Beach: This small cove just 200 meters to the south of Cala Conta is mostly nudist an a great spot for a more laid back day at the beach. Santa Eulalia Beach: Santa Eulalia beach is located right next to the town center promenade just before the marina when heading north. Cala Llenya: Situated 12 Km from Santa Eulalia and 3km from San Carlos, between Cala Nova and Punta d'en Ribes, this is a quiet cove has a very peacful atmosphere and is idea for small sailing boats due to predominant easterly sea breezes. S'Estanyol Beach: Hidden away from most tourists, S'Estanyol beach is a quiet cove with protected waters and a cool beach bar run by the owners of PK2 in Ibiza. Cala Llonga: Cala Llonga is situated about 10km from Ibiza Town and 5km south of Santa Eulalia. Cala Mastella: Cala Mastella sits in the back of a small inlet. It is very small, measuring barely 50m long and less than 15m wide. Aguas Blancas Beach: One of the few designated nudist beaches in Ibiza where being naked seems to be very natural. Es Cana Beach: Es Cana is located about 4.5KM North of Santa Eulalia, located next to the Punta Arabi Club, where every Wednesday the Ibiza hippy market takes place. Niu Blau Beach: Niu Blau or s'Estanyol is two Kms from Santa Eulària des Riu, located between Punta de Sa Caleta, Sa Caleta and Cala Pada, and very close to urbanization Can Sansó.
Most of Ibiza's sporting activities are all available all year round so you can enjoy them when you want, in summer or winter. Walking, cycling, scuba diving, yoga, boat charter, luxury yacht charter, boat excursion, go karting, parasailing, surfing and horse riding are some of the popular ones.