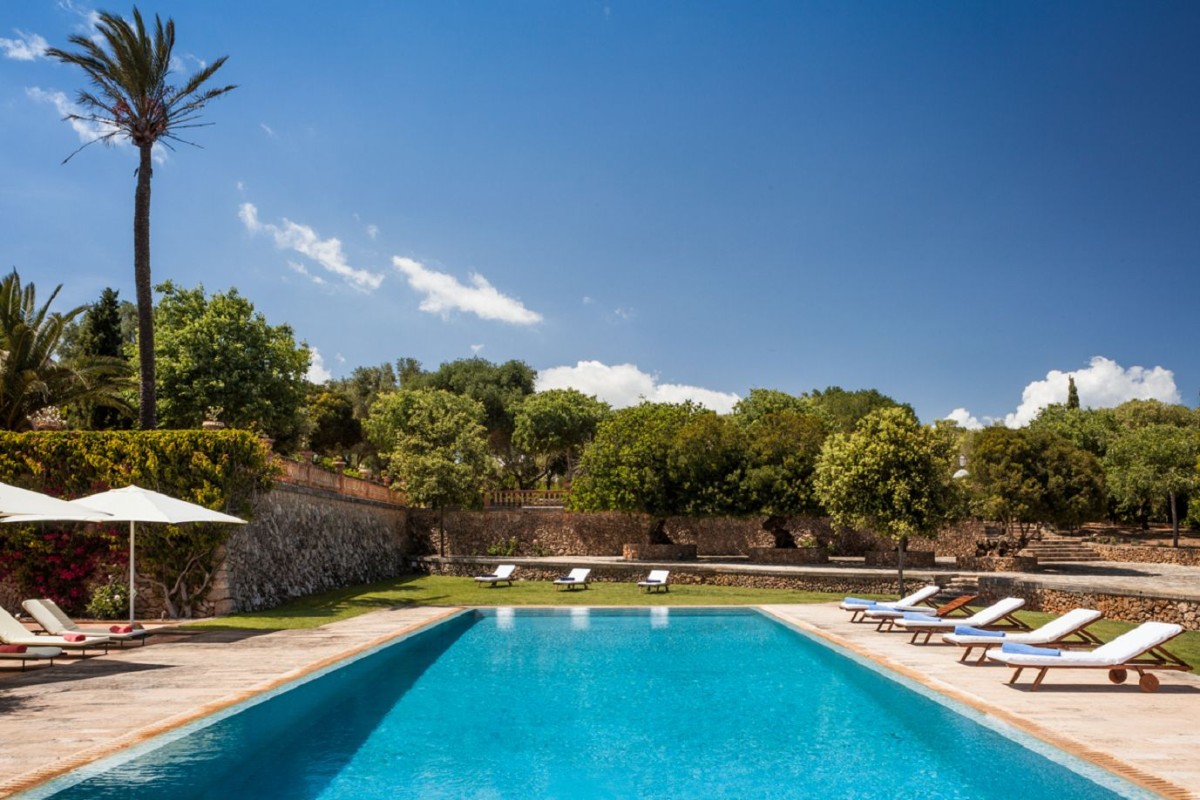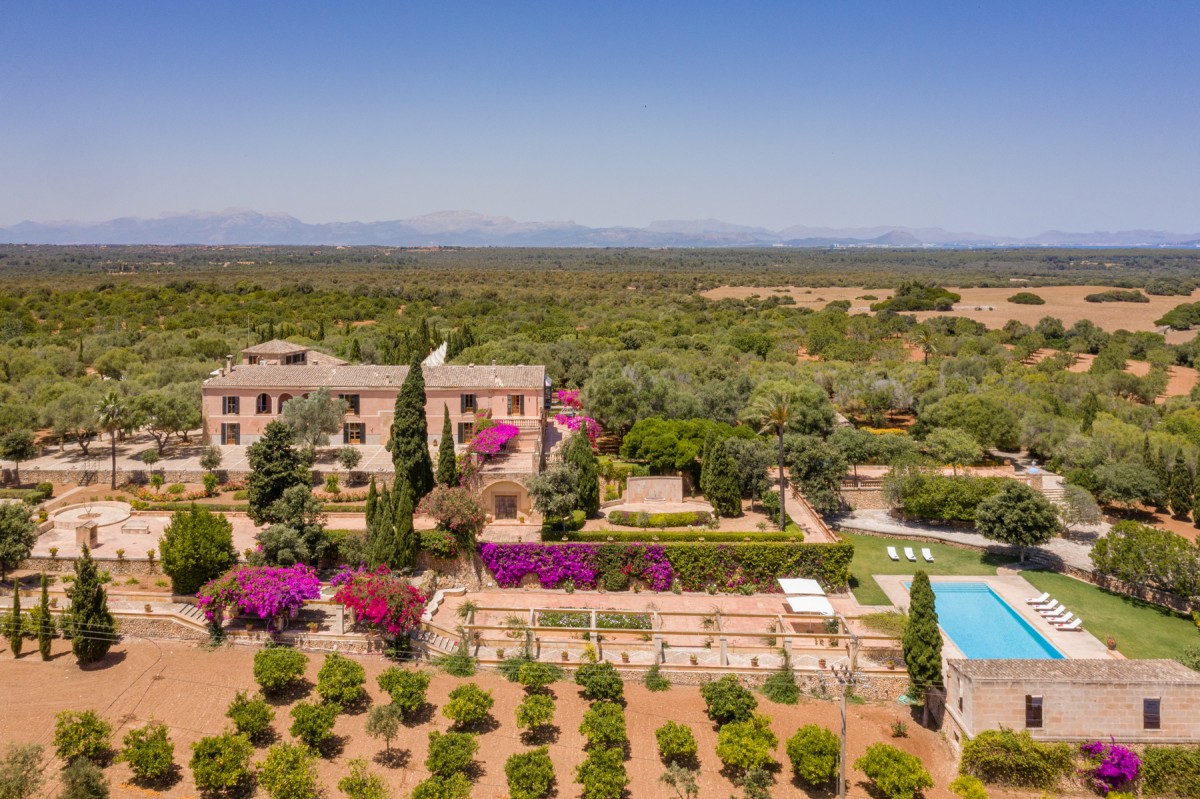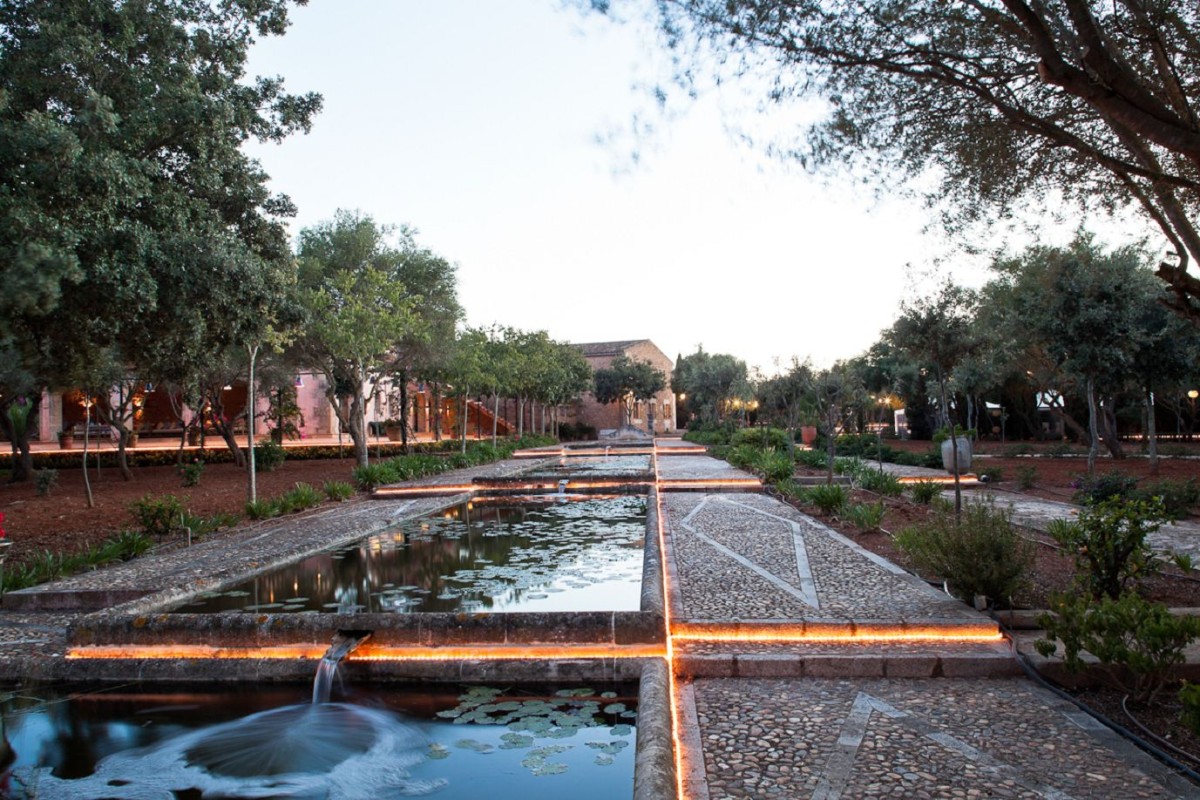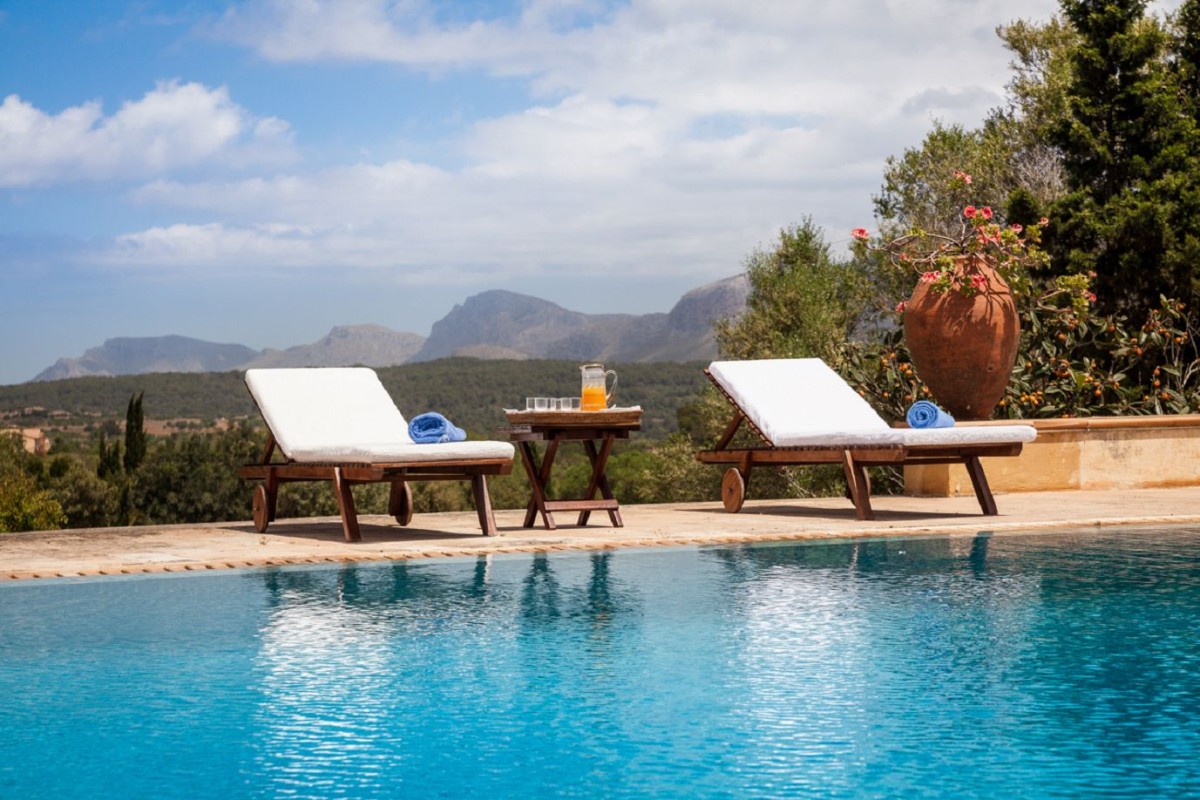 Bedrooms:
8
Bathrooms:
8
Sleeps:
16 + 2
Pool:
1
Living Area:
2000 m2
/
Plot size:
130000 m2

Pool
---
Description
The manor mansion Son Doblons could be described as a harmonious union between nature, art and architecture. Its construction began in the sixteenth century and was for centuries the residence of the owners of the extensive farmlands and pastures which were integral part of the property.

It has been recently refurbished with an absolute and uncompromising aesthetic and architectural rigor. The mention possesses all modern amenities, yet at the same time, exudes a strong respect for traditional elements of insular architecture and exquisite neo-romantic Italian taste. Its 2,000 square meters are organized in two levels from which the tower protrudes, offering unobstructed views of the whole island of Mallorca. On the ground floor a solemn entrance with two arches gives access to salons that connect both winter dining room, summer dining room, kitchen, courtyard with fountain, glazed porch, which serves also as the access to the family chapel, and a suite with bedroom.
On the upper floor are the bedrooms and the library. The library receives a great amount of natural light through a greenhouse, in art-nouveau style, which also provides extensive views over the bay and Cape Formentor. The room is coated with hardwood floors and ceiling and features a central fireplace. These elements provide warmth and comfort to the environment ideally suited for reading and listening to music. A spacious living room with grand piano, in which private chamber music concerts are performed, gives access to the bedrooms, which have their own living room with fireplace and exit to the exterior through different terraces.
There is a constant communication between the outdoor gardens and the elements of the house. The sea breeze, the sound of water from fountains or the scent of Mediterranean vegetation sneak into the rooms creating a magical atmosphere that characterizes Doblons Son.
New Tennis court and soccer pitch.
The maximum capacity is 16 people, i.e. 8 bedrooms, though additional beds can be provided to reach the capacity of 18 people at additional costs
---
Features
Sleeps 16 + 2
Pool 8x15
Tennis court
Soccer pitch
Event Location
Air-con
Heating
BBQ
Fully equipped kitchen
Internet
SAT TV
CD/DVD player
Office, library
Chapel
Table tennis
2-hectare garden with various fountains
---
Prices & Service
From 13,500 EUR/week
The Ecotax/Touristic Tax must be applied to all rentals. 2,20 EUR per person, children under 16 are free. We will inform you about the exact amount at the time of booking.
What's included
Concierge Servive
Cleaning service 6 hours / day, 6 days / week (except kitchen)
Linens and towels
Gardener
Maintenance of the pool
Internet
TV
Tennis court
Football field
Ping pong table

Additional service (extra charges apply)
Private Chef
Possibility of holding events on the property
Extra cleaning
Childcare
Massages
Boat trips
Leisure activities (Horse Riding, Gastronomic Routes …)
This service is based on a week-long stay and services may be tailored to your exact requirements during the booking process. Exact services included with each booking will be listed on the Booking Confirmation.
---
Location
The villages of great beauty, Arta, Petra, Capdepera and Son Servera are the closest ones to Son Doblons. In Son Servera, a renowned art gallery, Sa Pleta Freda, can be seen, where major Spanish contemporary painters and sculptors exhibited their works.
A mere 20 minute drive leads to the golf courses of Pula, Canyamel or Capdepera. The yacht clubs of the Colonia de San Pere, Can Picafort and Port d'Alcúdia are also within a short distance of Son Doblons.
---
Infos/Activities
Activities
Boating is an excellent way of seeing the Mallorcan coast, seaside towns and beautiful beaches. You can go boating on a glass bottom boat, on a large sailing catamaran, on a speed boat or on a luxury yacht.
Mallorca offers wonderful diving opportunities for snorkeling and scuba diving. Snorkeling is fun throughout the resorts, but especially the coves with rocky shorelines offer fun places to explore.
Mallorca by Air: Ballooning & Helicopter Rides and enjoy a bird's eye view of the island.
Walking and bicycling are great ways of exploring the island of Mallorca as you really get to take in the atmosphere, places do not go by too quickly and it is easy to stop wherever you feel like stop. Windsurfing and kitesurfing are available in the Bay of Alcúdia, Bay of Pollença and Playa de Palma region and various other locations around the island depending on weather conditions.
Golf Courses: Son Antem East & West, Maioris Golf near Llucmajor, Vall D'Or Golf close to Cala D'Or, Pula Golf, Golf Capdepera, Golf Canyamel, Golf Santa Ponça I & II, Golf Park Puntiro Mallorca, Real Club Bendinat, Golf de Poniente, Golf de Andratx, Golf Son Termens, Golfclub Alcanada, Son Vida Golf, Son Muntaner Golf, Golf Son Gual, Golf Son Quint. There are also four 9 whole courses.
Gourmet experience: The best holiday memories are often of fabulous meals – and Mallorca is a gourmet's paradise, where you can eat amazing food and discover the superb quality wines produced here. Several restaurants have the coveted Michelin star and there are plenty of others offering delicious cuisine and friendly service.
More to do: Attend an outdoor concert, enjoy the nightlife in bars and night clubs, discover Palma and the rich culture or go designer shopping. Palma's main shopping streets are the stylish Passeig des Born with designer stores and Jaume II with its numerous boutiques. The marinas in the South West, North, West and South East are luxurious with top class restaurants and boutiques, and of course with stunning yachts.
Mallorca's Beach Clubs: take a day of sunbathing and relaxing to a new level. Expect stylish surroundings, comfy loungers, cool restaurants and bars, and other facilities. Some offer a pool, massages and other treatments, chill-out music, partys and more. Check out Assaona Gastrobeach Club Palma, 2 Puro Beach Clubs, Nikki Beach, Anima Beach, Cala Llamp's Gran Folies Beach Club, to name only a few.