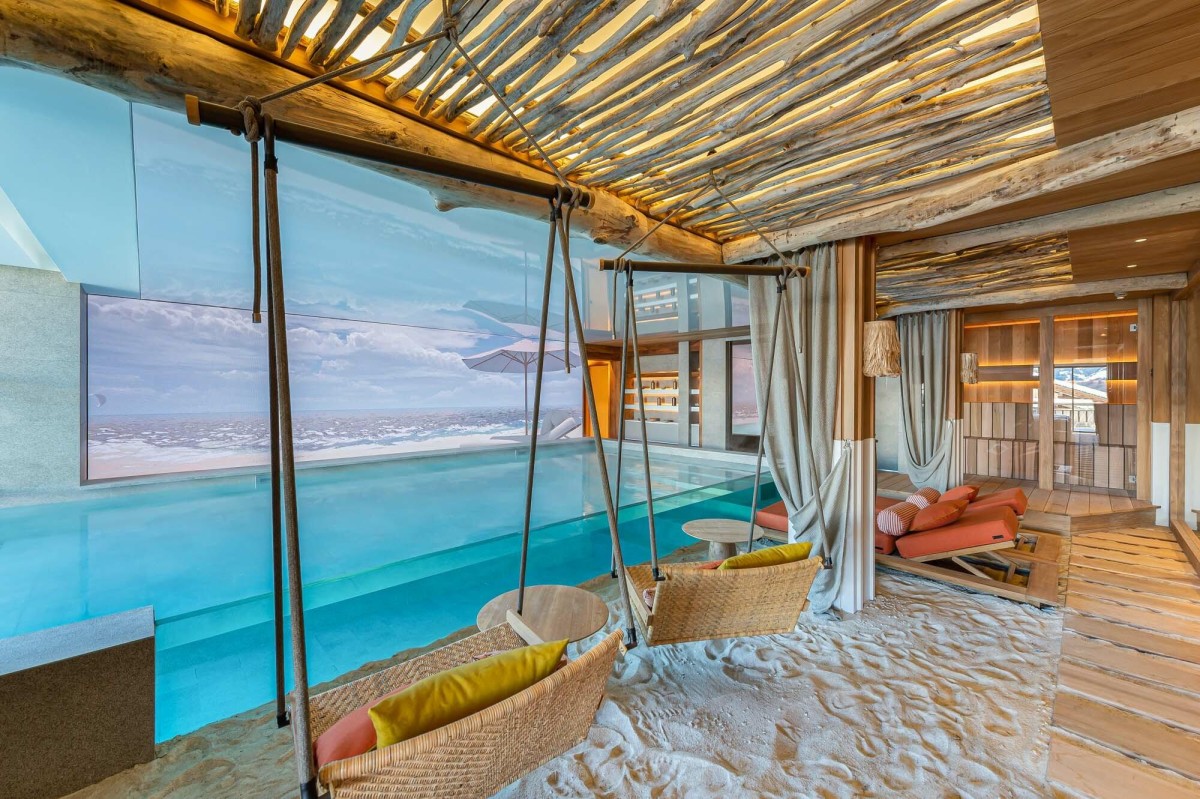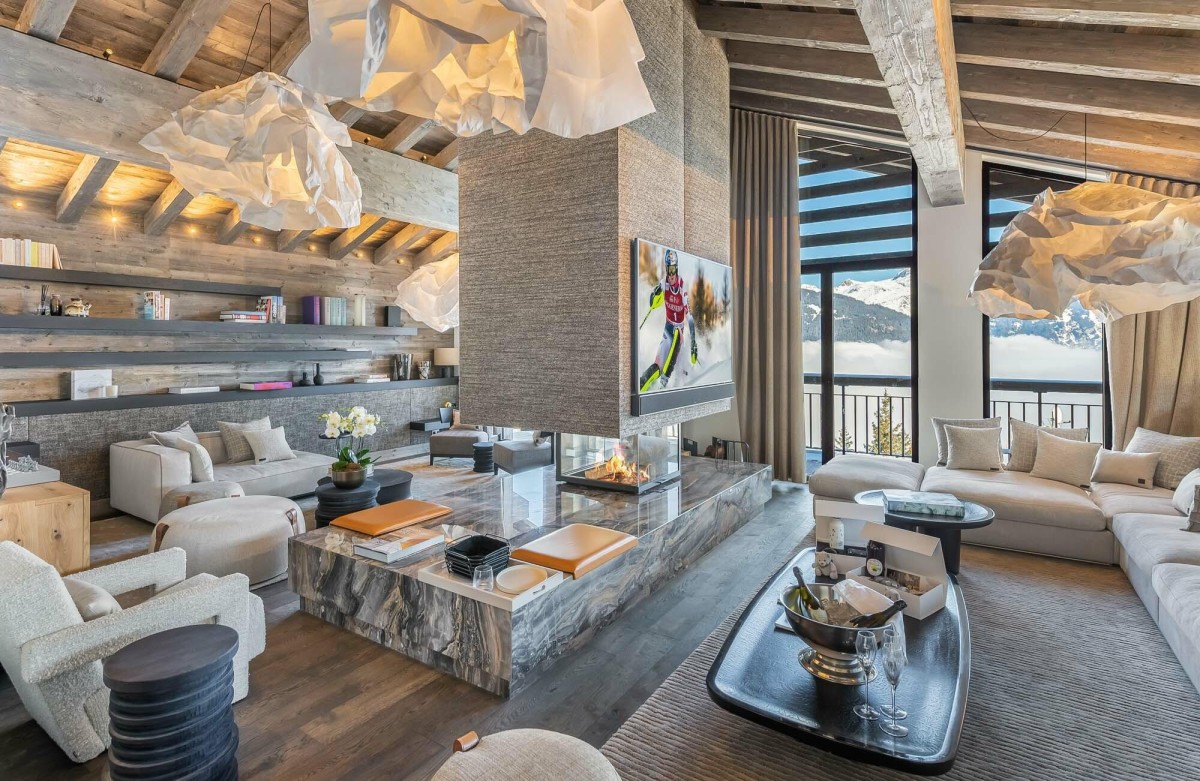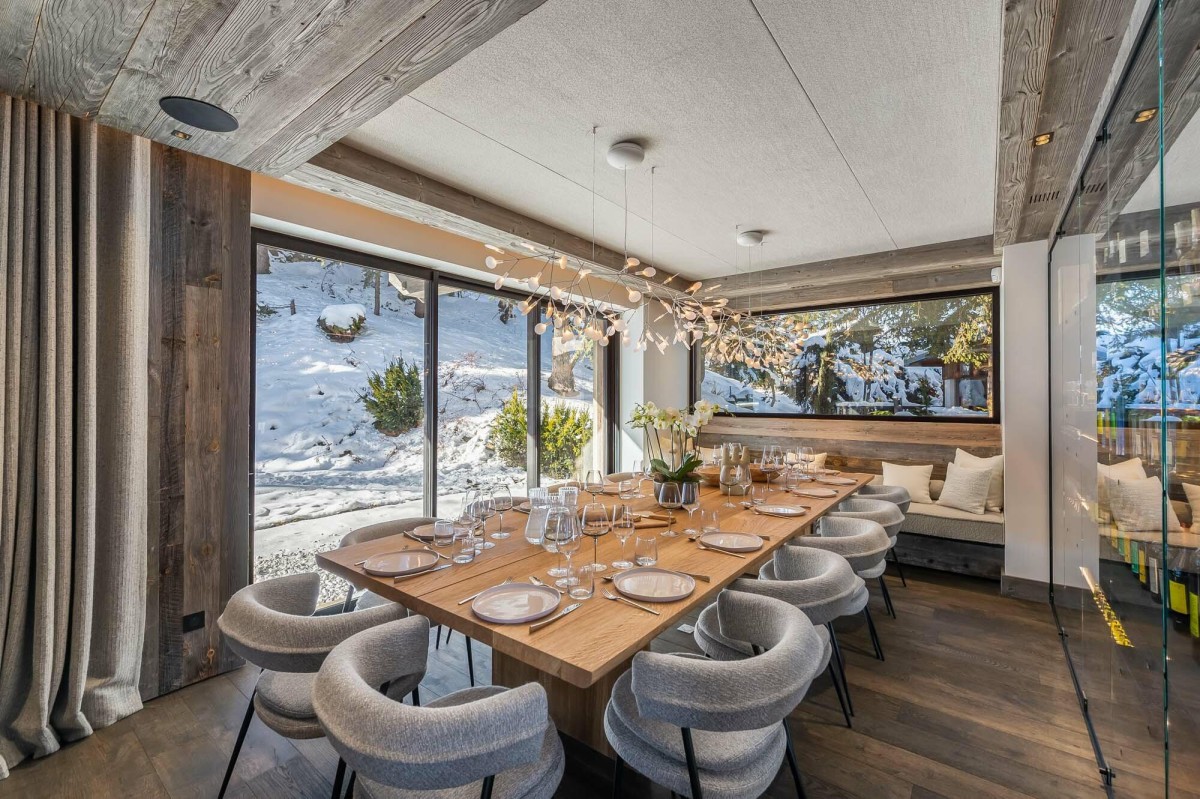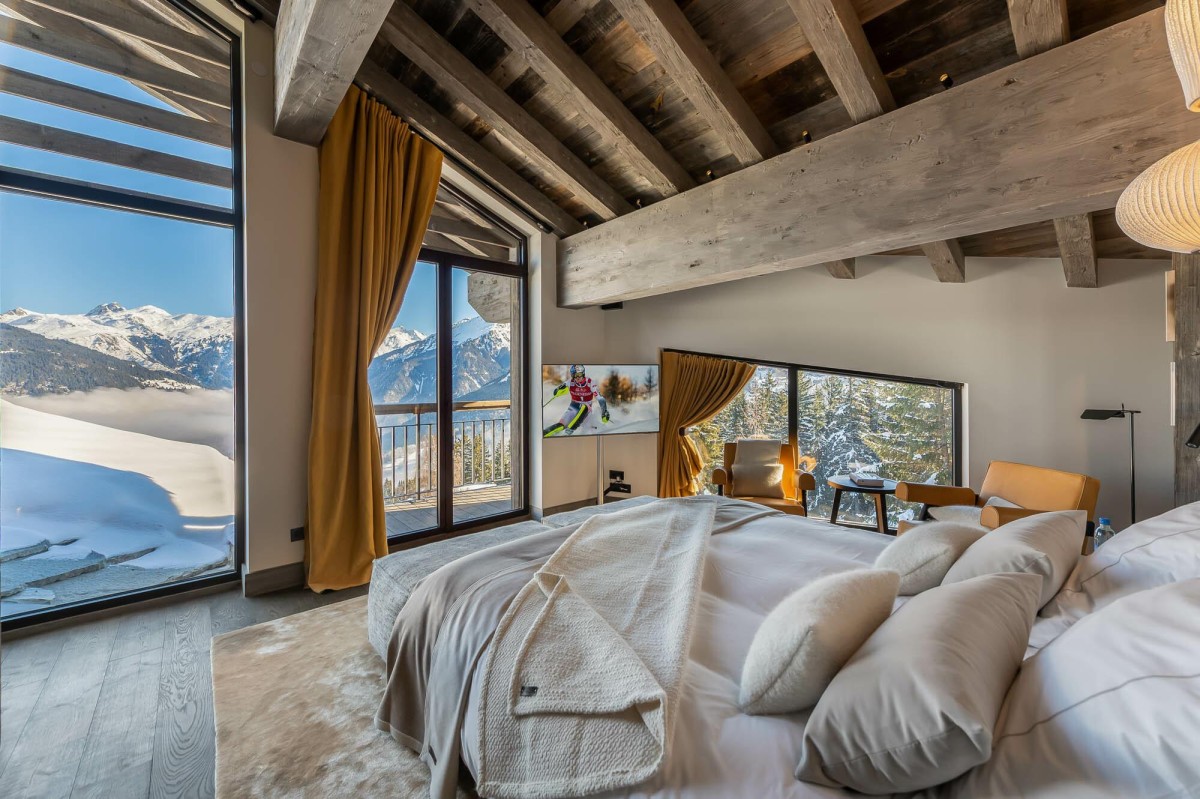 Chalet White Sand
/
Courchevel 1550
From 55,050 EUR to 160,050 EUR/week
Bedrooms:
6
Bathrooms:
7
Sleeps:
14 + 1
Pool:
1
Living Area:
880 m2

Pool

Sauna

Spa

Hammam

Gym

Cinema

Fireplace
Catered
---
Description
Catered Chalet
Luxury Chalet White Sand is without doubt an extraordinary ski vacation home in the French Alps. In fact, White Sand ski chalet is Courchevel Village's, aka Courchevel 1550, latest gem. It appeals as much for its luxurious style as for its relaxation areas, that exude a touch of southern warmth. If you have ever dreamt of going from snowy slopes to French Riviera beaches, this is the place to be!
Positioned on the hillside within the charming and exclusive Les Brigues quarter in Courchevel 1550 while still in easy reach of the village, Chalet White Sand enjoys a slopeside location, the Tovets ski lift is 750m away, and benefits of a peaceful surrounding and great views. Across no less than 880sqm this one-of-a-kind ski chalet sleeps a maximum of 15 guests in 7 fantastic bedrooms with one double bedroom and adjoining children's dormitory for three youngsters making for a beautiful family suite. The en-suite bedrooms are arranged over four levels, the bathrooms, either bath or double shower, are laid out elegantly with wood and marble. The master suite on the top floor comes with fireplace and private balcony.
This brand new, exceptional mountain home in the Three Valleys is so much more than just a luxury ski chalet - White Sand is a true lifestyle experience. Spanning six floors, all accessible by lift, the interior was designed by Rémi Giffon, the man behind Chalet Bruxellois, another top-class ski chalet in Courchevel 1850, and can only be described as unique. The materials chosen for the décor, amongst them old weathered wood, natural wool wall coverings and furniture with soft lines, ensure a contemporary and modern atmosphere while at the same time paying homage to Alpine style. Combined with armchairs by Capitol Cassina and Fantini taps in Pop Art style, introduced at the 1978 Milan Furniture Fair, White Sand solidly places itself in the high-end category of uber luxurious chalets.
White Sand chalet's third floor is completely dedicated to the social spaces where the double living rooms large bay windows offer beautiful views of Courchevel Moriond while the central open fireplace, dividing the sitting areas, provides warmth and comfort, so soothing after a day out and about in Courchevel's winter wonderland. The floor's focal point is a spacious kitchen, fitted with everything the private chef could possibly need. The third floor is rounded off by a dining area, adjacent to which is a well-stocked bar reminiscent of French bistros, a TV lounge plus a reading area. Large balconies allow for outdoor seating and stylish al fresco dining with enchanting vistas of the towering peaks looming in the distance.
The undeniable highlight of Chalet White Sand, however, is the remarkably unrivalled spa on the first floor. Set around an impressive indoor/outdoor swimming pool, the wellness area takes guests on to a trip to the South of France. Real white sand, timber planks and driftwood give the feeling of strolling along the Mediterranean Sea. Adding to this mood are huge photographs of Pampelonne beach, taken at different times of day, which grace the walls all along the pool. Swings dangle from the ceiling and there are sun loungers with rust-coloured cushions and striped neck pillows next to the pool. Semi-circular armchairs made of basket weave with comfortable, beige-coloured back and seat pillows offer further seating options. Among other spa facilities are a sauna, steam room/hammam and a massage room. A gym is also on hand.
Chalet White Sand's final attraction on the basement level is second to none. A tribute to Place de Lices in St Tropez, which comes in the unusual appearance of a 100sqm pétanque pitch, covered by a ceiling which resembles a pergola. After a game of boules, guests can head straight to the adjacent bar, where wooden benches, wicker chairs and round bistro tables in front of the counter instantly take skiers to a Provençal café terrace. This floor offers a plethora of other entertainment facilities such as the games room with snooker table, arcade machines and table tennis as well as a roomy cinema lounge with gigantic TV screen and broad, comfy daybeds.
Last but not least guests will find a ski room with boot warmers on the second floor, while the ground floor houses both laundry facilities and a large garage. At Chalet White Sand, everything has been thought of down to the smallest detail.
Bedrooms
Ground Floor
1 Double bedroom with en-suite bathroom with shower
First Floor
1 Double nedroom with en-suite shower room and balcony access
Second Floor
1 Double bedroom with balcony and en-suite shower room
1 Double bedroom with dressing area, shared bathroom with shower and shared balcony
1 Children's triple bedroom with 2 single beds, 1 overhead bunk, dressing room, shared bathroom with shower and shared balcony
The double bedroom and adjoining children's triple room work well as a family suite, as the dressing area separates the two rooms to the rest of the property, creating an ideal private space for a couple or nanny caring for little ones.
Fourth Floor
1 Master bedroom with fireplace, en-suite bathroom with shower and balcony
1 Double bedroom with en-suite shower room
Please note: Prices are based on exclusive use of the chalet for up to 15 guests and includes full staff services (chef, butler, housekeeping and in-resort chauffeur). Food and drinks are charged as an extra.
---
Features
Sleeps 14 + 1
Ski in
880 Square metres
7 Bedrooms
6 Bathrooms
Wood-burning fireplace
2 Living rooms
Fully equipped kitchen
Dining area
2 Bars
TV lounge
Reading lounge
Cinema room
Games room
WiFi
White Sand indoor beach
Indoor/Outdoor swimming pool
Indoor Pétanque pitch
Sauna
Steam room
Massage room
Relaxation area
Gym
Elevator
Ski room with boot heaters
Laundry facilities
Garage
---
Prices & Service
| Dates | Nights | Catered |
| --- | --- | --- |
| 02 Dec 23 | 7 | EUR 55,050 |
| 09 Dec 23 | 7 | Booked |
| 16 Dec 23 | 7 | EUR 70,050 |
| 23 Dec 23 | 7 | Booked |
| 30 Dec 23 | 7 | Booked |
| 06 Jan 24 | 7 | Booked |
| 13 Jan 24 | 7 | EUR 70,050 |
| 20 Jan 24 | 7 | Booked |
| 27 Jan 24 | 7 | Booked |
| 03 Feb 24 | 7 | EUR 70,050 |
| 10 Feb 24 | 7 | Booked |
| 17 Feb 24 | 7 | Booked |
| 24 Feb 24 | 7 | Booked |
| 02 Mar 24 | 7 | Booked |
| 09 Mar 24 | 7 | Booked |
| 16 Mar 24 | 7 | EUR 70,050 |
| 23 Mar 24 | 7 | EUR 70,050 |
| 30 Mar 24 | 7 | Booked |
| 06 Apr 24 | 7 | EUR 55,050 |
| 13 Apr 24 | 7 | EUR 55,050 |
N/A = Not available
|
POA = Price on application
All prices are subject to change and will be confirmed at time of the booking.
What's included
Catered
Exclusive use of the chalet and its facilities
7 Nights luxury accommodation on your chosen dates
Pre-arrival & in-resort concierge service
Champagne on arrival
Welcome basket
Chef service (8h/day) for daily breakfast, afternoon tea and lunch or dinner (Food and drinks at extra cost)
Butler service for meal times (8h/day)
In-resort driver service (10h/day)
Daily housekeeping (10h/day)
Bed linen & towels
Linen & towel change(s) during the stay
Bathrobes & slippers
Toiletries
Wood for the fireplace
Fresh flowers
End of stay cleaning
Additional service (extra charges apply)
Airport transfers
Ski passes
Ski equipment hire
Ski school
Babysitting/Childcare
Spa treatments
Please enquire about any other specific service requests.
This service is based on a week-long stay and services may be tailored to your exact requirements during the booking process. Exact services included with each booking will be listed on the Booking Confirmation.
N/A = Not available
|
POA = Price on application
All prices are subject to change and will be confirmed at time of the booking.
---
Location
Nearest slope Déviation 1550. Tovets ski lift 750m. Ski school 800m. Courchevel Village centre 2 min. by car. Courchevel 1850 15 min. drive
Distances to airport
Chambéry (CMF): 110km
Grenoble (GNB): 130km
Geneva (GVA): 190km
Lyon (LYS): 190km
---
Infos/Activities
Courchevel Village is situated at 1550m and is one of the four Courchevel ski resorts. It is a peaceful village, perfect for families.
Skiers can access the upper slopes of the resort by taking the 6 person high-speed gondola up to the hub of La Croisette (Courchevel 1850), or choose to take one of two other lifts leading up to the ridge separating the resort from Méribel.
All the villages in the Courchevel Valley are linked by a free shuttle bus and those staying in Courchevel 1550 have the added bonus of the gondola up to 1850, which stays open until 7.30pm in the evening.
Courchevel Village is home to friendly bars and restaurants, with a peaceful the atmosphere and good value for money. The ski resort in Les Trois Vallees is also a popular destination for various outdoor activities on offer throughout the valley in summer.
There are several walking routes. In the main part of Courchevel 1850 there are a few lifts open giving mountain bikers and walkers a-like access to several different trails on the mountain. There is a 9-hole golf course too, Other activities - to name but a few - are horse riding, canyoning excursions and kayaking. In winter activities to try include snow-shoeing, snowmobiling, ice-climbing, swimming and ice-skating.
Après-ski
Le Caterail with Live music, DJ Parties, Guiness & cocktails.
Skiing:
Courchevel alone has 65 lifts and 102 runs, with a top vertical descent of more than 4,700 feet. Highest ski pistes: 3250m
Kilometres of Pistes: 600km
Slopes:
17% Beginner, 73% Intermediate, 12% Advanced