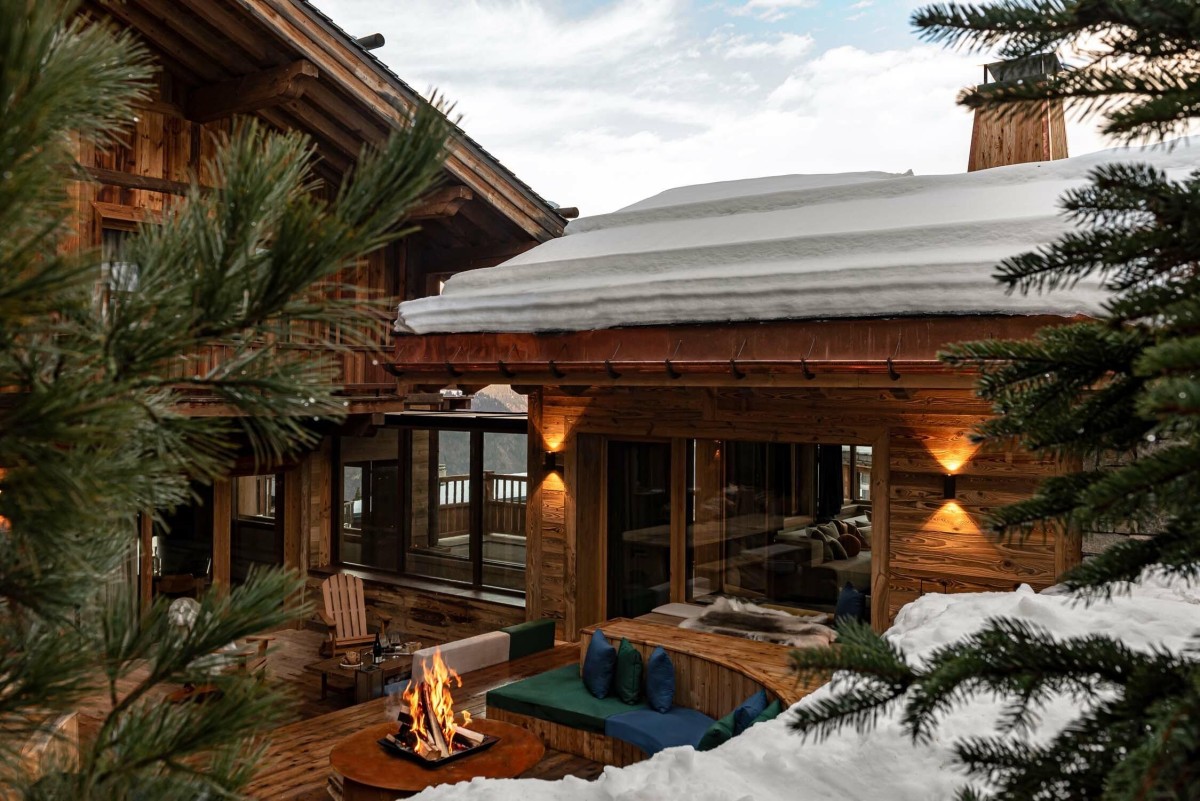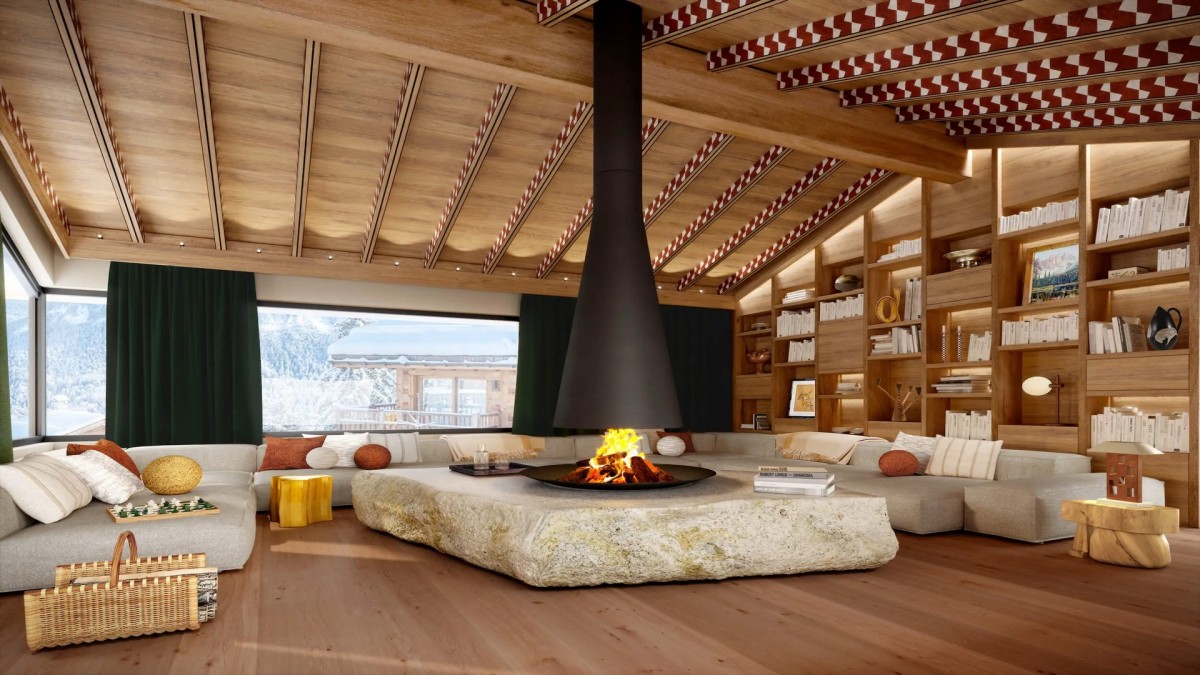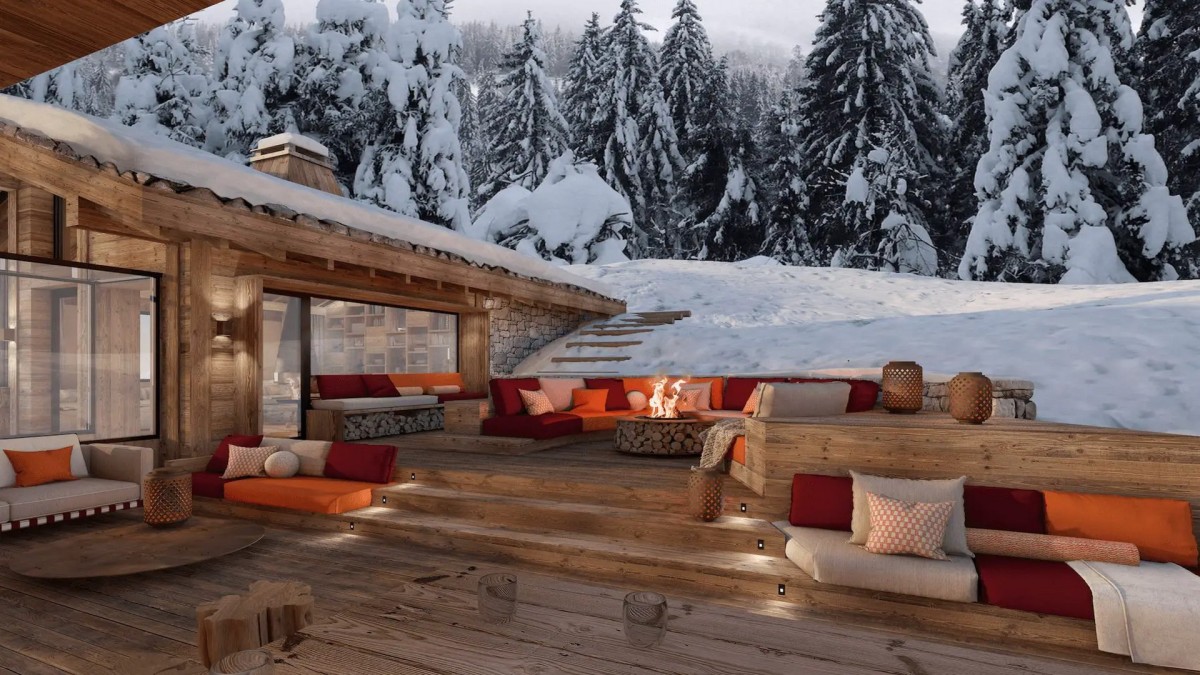 Chalet Le 1550
/
Courchevel 1550
From 70,000 EUR to 110,000 EUR/week
Bedrooms:
8
Bathrooms:
8
Sleeps:
16 + 4
Pool:
1
Living Area:
680 m2

Pool

Sauna

Hot tub

Spa

Hammam

Gym

Cinema

Fireplace
Catered
---
Description
Catered Chalet
Chalet Le 1550 is located in Les Brigues, a quiet area far from crowds, in the centre of Courchevel Village. A perfect starting point to reach Courchevel 1550's ski lifts with direct connection to Courchevel 1850 ski resort and the vast Three Valleys ski area further afield. The ski slopes are within 100 metres of the chalet's doorstep and it takes just a 10 minutes walk to Courchevel 1550 centre with restaurants and bars. Due to its stunning location and superb facilities, this luxury winter boltholt has everything you can expect from a dream holiday home in the French Alps.
The mountain retreat can accommodate 16 adults and 4 children in 8 bedrooms en-suite. A spacious open-plan living area with glass-fronted fireplace and large windows offering fantastic views invite guests to come together after a day on the slopes, taking a glass of blubby, before your private chef serves dinner, or step out on the south-facing terrace and admire the surroundings.
The luxury chalet is equipped throughout with high-end Bowers & Wilkins speakers allowing guests access to Netflix and Disney+. Fitness and yoga fans will love the chalet's wellness area with gym and yoga studio. For absolute perfect relaxation, the chalet comes with heated indoor pool, treatment room, hammam and two saunas. Guests also can watch a movie after dinner in a lovely and cozy TV lounge, or play video games. To entertain children, there are plenty of games, surprises and activities.
For those who have to work during their stay, he chalet's workspace has all the needed high-tech equipment, high-speed internet and amazing views. When booking this luxurious vacation chalet right in the heart of Les 3 Vallées, the world's largest skiing domain, joy, comfort, quietness and complete freedom are guaranteed - in short, Le 1550 is a stunning private chalet.
Bedrooms
Level 1
1 Master Double/Twin bedroom with en-suite bath and shower room and balcony access (36sqm)
1 Double/Twin bedroom with en-suite shower room and balcony access (22sqm)
1 Double/Twin bedroom with en-suite shower room (22sqm)
Level 2
1 Family suite with double/twin bedroom with adjoining children's bedroom with 2 sets of bunk beds (sleeps 4) and en-suite bath/shower room (38sqm)
1 Double bedroom with en-suite shower room (14sqm)
2 Double/Twin bedrooms with en-suite shower rooms (17sqm each)
1 Double/Twin bedroom with en-suite shower room (18sqm)

Please note: Prices are based on exclusive use of the chalet for up to 20 guests including the services of a chalet manager, head chef, sous chef and driver (8am-6.30pm)
---
Features
Sleeps 16 + 4
680 Square metres
8 Bedrooms en-suite
Spacious living area
2 Wodd-burning fireplaces
Fully equipped professional kitchen
Breakfast bar
Cinema room
Library
Games room with gaming console
Bowers & Wilkins speakers
Surround sound system
Apple TV, Netflix, Disney+
Spa
Indoor swimming pool
Outdoor cedar panoramic hot tub
2 Saunas (indoor & outdoor)
Hammam
Massage room
State-of-the-art gym
Yoga studio
Ski room with boot warmers
South-facing terrace
Barbecue
Wine cellar (100 bottles) & Épicerie
Garage parking (2-3 cars)
---
Prices & Service
| Dates | Nights | Catered |
| --- | --- | --- |
| 03 Dec 23 | 7 | Booked |
| 10 Dec 23 | 4 | Booked |
| 14 Dec 23 | 3 | EUR 52,500 |
| 17 Dec 23 | 7 | EUR 70,000 |
| 24 Dec 23 | 7 | Booked |
| 31 Dec 23 | 7 | Booked |
| 07 Jan 24 | 7 | EUR 110,000 |
| 14 Jan 24 | 7 | Booked |
| 21 Jan 24 | 7 | EUR 80,000 |
| 28 Jan 24 | 7 | Booked |
| 04 Feb 24 | 7 | EUR 80,000 |
| 11 Feb 24 | 7 | Booked |
| 18 Feb 24 | 7 | EUR 110,000 |
| 25 Feb 24 | 7 | EUR 110,000 |
| 03 Mar 24 | 7 | EUR 110,000 |
| 10 Mar 24 | 7 | Booked |
| 17 Mar 24 | 7 | EUR 80,000 |
| 24 Mar 24 | 6 | EUR 80,000 |
| 30 Mar 24 | 6 | Booked |
| 06 Apr 24 | 7 | EUR 70,000 |
| 13 Apr 24 | 7 | EUR 70,000 |
N/A = Not available
|
POA = Price on application
All prices are subject to change and will be confirmed at time of the booking.
What's included
Catered
Exclusive use of the chalet and its facilities
7 nights luxury accommodation on your chosen dates
Welcome package upon arrival
Chalet Manager
Private concierge service
Head chef and sous chef (6 days/week - additional days on request)
Daily fresh breakfast service
Afternoon tea on 6 days
Dinner & lunch service on 6 days, 10h/day (Food and drinks at extra cost)
Daily housekeeping
Bed linen & towels
Mid-stay towels change
Bathrobes & slippers
L:A Bruket toiletries
End of stay cleaning
Private driver (8am-6.30pm with 1-hour break, additional hours at extra cost)
Guest use of the Can-Am HD10 mini 4X4
In-chalet ski fitting
Wood for the fireplace
Additional service (extra charges apply)
VIP transfers
Car rentals
Ski passes, ski equipment rental, ski instructors, dog sledding, ski touring, tobogganing, cross-country skiing, heli-skiing, mountain guides
Babysitting/Childcare
Yoga and pilates instructors
Sports trainers
Massage therapists
Grocery shopping
Please enquire about any other specific service requests.
This service is based on a week-long stay and services may be tailored to your exact requirements during the booking process. Exact services included with each booking will be listed on the Booking Confirmation.
N/A = Not available
|
POA = Price on application
All prices are subject to change and will be confirmed at time of the booking.
---
Location
Les Brigues area of Courchevel 1550. 100m from the slopes. Closest ski slope - Déviation 1550. Tovets ski lift - 750m. Ski school - 800m. Courchevel Village centre - 1min. drive. Courchevel 1850 - 15min. by car
Distances to airport
Chambéry (CMF): 110km
Grenoble (GNB): 130km
Geneva (GVA): 190km
Lyon (LYS): 190km
---
Infos/Activities
Courchevel Village is situated at 1550m and is one of the four Courchevel ski resorts. It is a peaceful village, perfect for families.
Skiers can access the upper slopes of the resort by taking the 6 person high-speed gondola up to the hub of La Croisette (Courchevel 1850), or choose to take one of two other lifts leading up to the ridge separating the resort from Méribel.
All the villages in the Courchevel Valley are linked by a free shuttle bus and those staying in Courchevel 1550 have the added bonus of the gondola up to 1850, which stays open until 7.30pm in the evening.
Courchevel Village is home to friendly bars and restaurants, with a peaceful the atmosphere and good value for money. The ski resort in Les Trois Vallees is also a popular destination for various outdoor activities on offer throughout the valley in summer.
There are several walking routes. In the main part of Courchevel 1850 there are a few lifts open giving mountain bikers and walkers a-like access to several different trails on the mountain. There is a 9-hole golf course too, Other activities - to name but a few - are horse riding, canyoning excursions and kayaking. In winter activities to try include snow-shoeing, snowmobiling, ice-climbing, swimming and ice-skating.
Après-ski
Le Caterail with Live music, DJ Parties, Guiness & cocktails.
Skiing:
Courchevel alone has 65 lifts and 102 runs, with a top vertical descent of more than 4,700 feet. Highest ski pistes: 3250m
Kilometres of Pistes: 600km
Slopes:
17% Beginner, 73% Intermediate, 12% Advanced