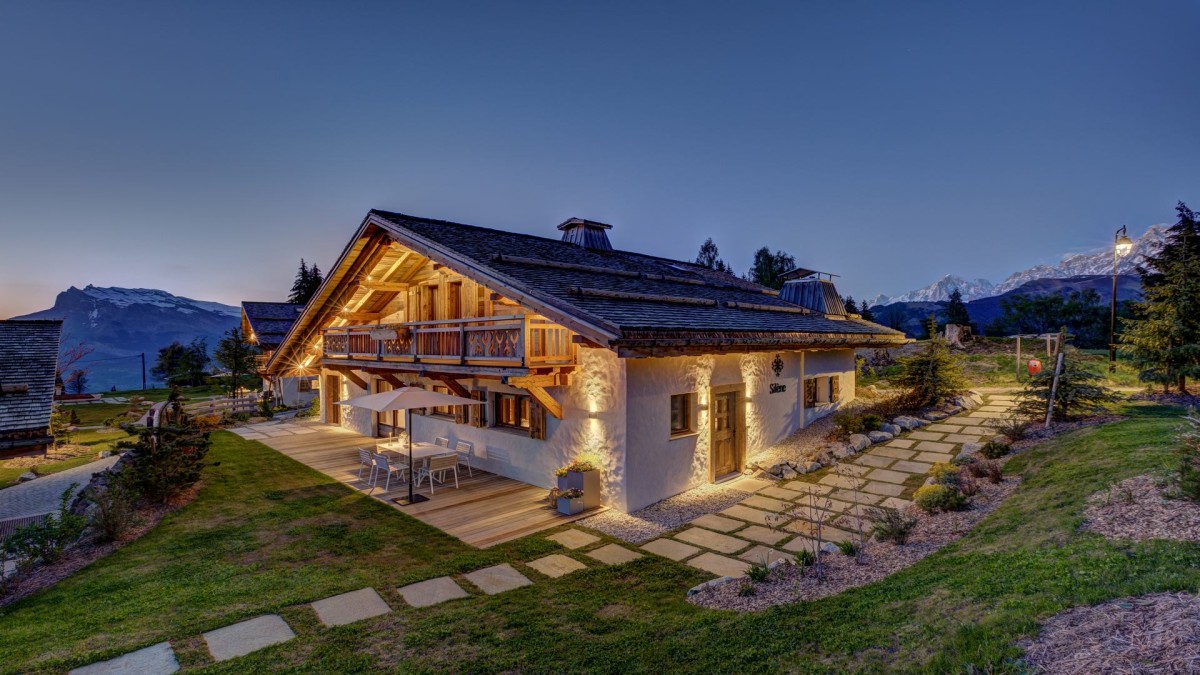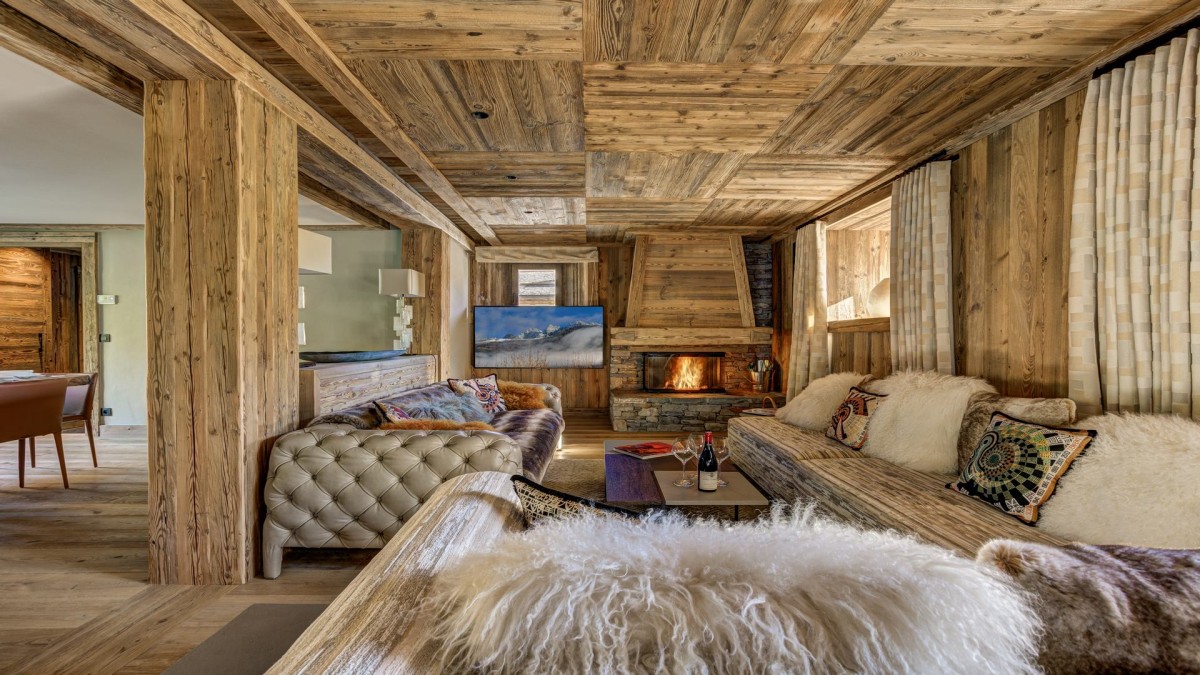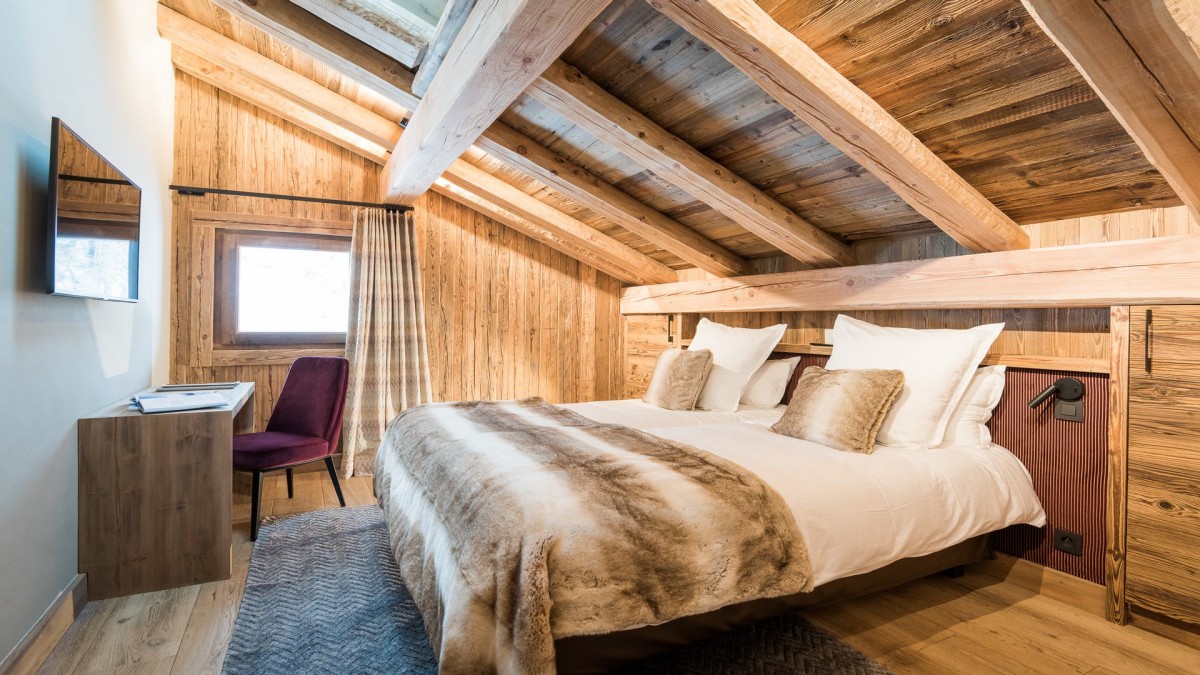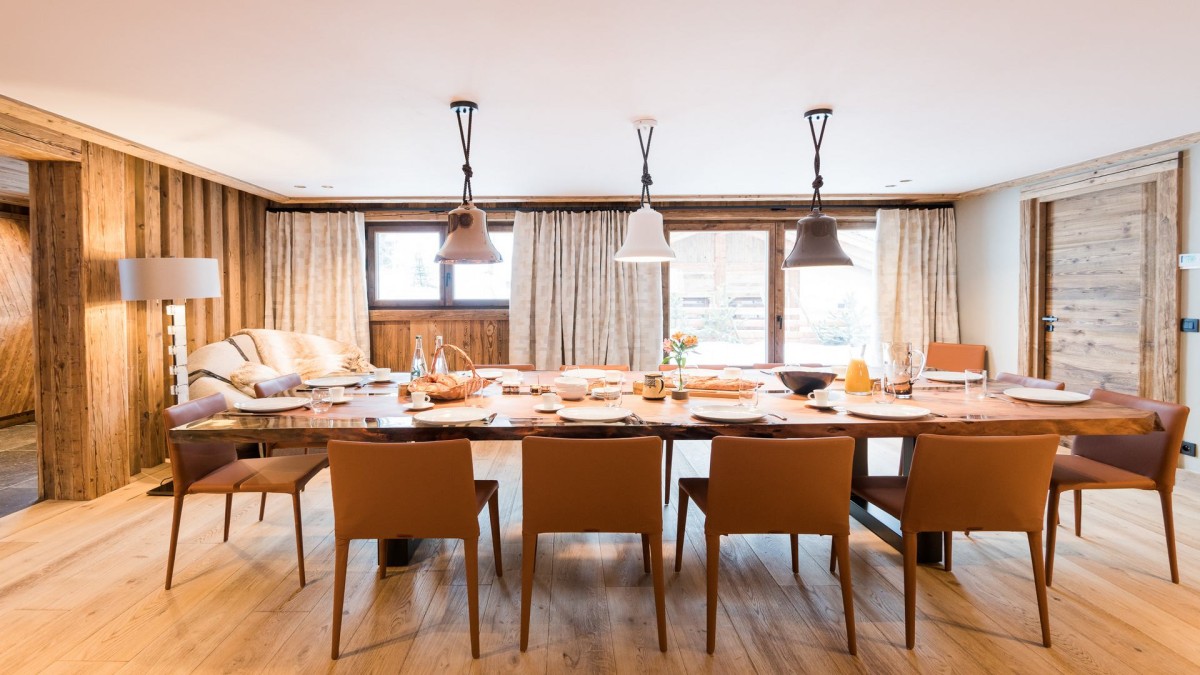 Chalet Silène
/
St Gervais
From 9,035 EUR to 18,200 EUR/week
Bedrooms:
3
Bathrooms:
3
Sleeps:
4 + 4
Pool:
1
Living Area:
155 m2

Pool

Ski in/out

Sauna

Hot tub

Spa

Hammam

Cinema

Fireplace
Self-Catered
---
Description
Self-Catered Chalet with complimentary hotel service
Located in the French Alps on the heights of the pleasant spa resort Saint-Gervais-les-Bains, Chalet Silène is situated above the village of Saint-Nicolas de Véroce. Holiday chalet Silène offers a peaceful stay in a privileged hamlet of 4 chalets in the Plateau de la Croix with fantastic ski in/ski out access to the slopes at only a few steps. The Chattrix ski slope runs directly in front of the chalet down to the village and lift stations.
Chalet Silène has a traditional Alpine chalet exterior with wooden shutters and balconies. Set against the backdrop of the Mont Blanc massif, it is truly a charming sight. Entering the two-story chalet, guests are greeted by a cosy home away from home feeling. The combination of different materials such as old wood, granite and soft fabrics creates a real charm to the chalet. The decoration is a subtle mix of styles: contemporary, design and authentic, making it an exceptional spot for winter holidays in the Évasion Mont-Blanc ski domain.
The large living room with inviting fireplace, cosy couches and fluffy fur cushions makes this space ideal for socialising. You will enjoy sitting by the roaring fire after returning from the slopes. The fully equipped kitchen with adjoining dining room allows to share wonderful memories around a beautiful rectangular wooden table, offering enough space for up to 14 guests to dine at one time. Through sliding patio doors a terrace with outdoor seating can be accessed from the dining room.
Sleeping up to 8 people, Chalet Silène consists of two double bedrooms and one bedroom with four single beds on the first floor. All of the bedrooms have flat screen TVs and en-suite shower rooms and one of the double rooms has a private balcony. Ski chalet Silène also has a small annex chalet designed for wellness and relaxation where guests can unwind in the indoor Jacuzzi or the sauna. The well-being chalet also has a massage treatment room. Here, aching muscles can be healed to get back in shape for the next exciting day of skiing.
As Chalet Silène sits next door to sister luxury chalets Aster & Spa and Carline these three winter skiholiday chalets can be taken together to easily cater for up to 36 guests in the rural and quiet atmosphere of Saint-Nicolas-de-Véroce. A great opportunity for extended families or groups of friends who want to enjoy the serenity and seclusion of the countryside, but do not want to miss out on fast access to the vast Évasion Mont-Blanc skiing area due to the chalets great ski in/ski out position.
Guests staying in ski chalet Silène have free access to the Spa - with indoor/outdoor swimming pool, sauna, hammam, indoor Jacuzzi, two outdoor hot tubs, massages, beauty treatments - gym, kids club, two restaurants and bar of the nearby luxurious 5- star l'hôtel Armancette.
Bedrooms
First Floor
1 Double bedroom with en-suite bathroom (Walk-in shower, single sink, toilet), TV, balcony
1 Double bedroom with en-suite bathroom (Walk-in shower, single sink, toilet), TV
1 Bedroom (4 single beds) with bathroom (Walk-in shower, double sink, toilet), TV
Please note: Prices are based on exclusive use of the chalet for up to 8 guests and is offered on a self-catered basis with daily housekeeping and access to the well-being chalet next door.
---
Features
Sleeps 4 + 4
Ski in/Ski out
155 Square metres
3 Bedrooms en-suite
TV in each bedroom
Open-plan living area
Open Fireplace
Dining room
Fully equipped kitchen
Access to the Well-being Chalet Facilities with indoor Jacuzzi, sauna, massage- and relaxation room (shared)
Balcony
Furnished Terrace
Wine Cellar
Children's Games
WiFi & Bluetooth Speakers
Ski Room with Boot Warmers
Laundry Facilities
Garage Parking (2 Cars)
Access to the l'Armancette Hotel shared facilities
---
Prices & Service
| Dates | Nights | Self-Catered |
| --- | --- | --- |
| 12 Dec 23 | 4 | EUR 4,550 |
| 16 Dec 23 | 7 | Booked |
| 23 Dec 23 | 7 | EUR 18,200 |
| 30 Dec 23 | 7 | Booked |
| 06 Jan 24 | 7 | EUR 9,945 |
| 13 Jan 24 | 7 | EUR 9,035 |
| 20 Jan 24 | 11 | Booked |
| 31 Jan 24 | 3 | EUR 3,900 |
| 03 Feb 24 | 7 | EUR 10,010 |
| 10 Feb 24 | 7 | Booked |
| 17 Feb 24 | 7 | Booked |
| 24 Feb 24 | 7 | EUR 18,200 |
| 02 Mar 24 | 3 | EUR 6,825 |
| 05 Mar 24 | 4 | Booked |
| 09 Mar 24 | 7 | Booked |
| 16 Mar 24 | 7 | Booked |
| 23 Mar 24 | 7 | Booked |
| 30 Mar 24 | 7 | Booked |
N/A = Not available
|
POA = Price on application
All prices are subject to change and will be confirmed at time of the booking.
What's included
Self-Catered
Exclusive use of the chalet and its facilities
7 Nights luxury accommodation on your chosen dates
Complimentary access to the well-being relax chalet next door with Jacuzzi, sauna, massage & relaxation space
Pre-arrival & comprehensive in-resort concierge service
Shuttle service to/from the hotel on arrival and departure day
Welcome reception at the L'Armancette hotel
Daily housekeeping service (2 hours)
Complimentary soft drinks, teas and coffee
Wine cellar with a selection of 6 white & red wines
Bed linen & towels
Linen & towels change during the stay
Toiletries
Children's toys, library, snowbob sledge
Films on demand
Baby bed on demand
Baby kit
Free access to the Spa (heated indoor/outdoor swimming pool with sunbeds, overflow indoor Jacuzzi, two outdoor hot tubs, sauna, hammam), gym, childrens club, bar and two restaurants of the nearby 5-star l'hôtel L'Armancette
One complimentary return trip per day to the hotel (subject to availability)
Additional services (extra charges apply)
Airport/train station/altiport transfers
Private chef for breakfast and dinner
Food service for meals at the chalet
Meal and picnic basket delivery
Availability of a vehicle with chauffeur
Ski, hiking and mountain biking equipment delivery
Ski pass delivery
Booking of ski courses and private ski instructors
Spa treatments and massages
Babysitting/Childcare
Restaurant bookings
Please enquire about any other specific service requests.
This service is based on a week-long stay and services may be tailored to your exact requirements during the booking process. Exact services included with each booking will be listed on the Booking Confirmation.
N/A = Not available
|
POA = Price on application
All prices are subject to change and will be confirmed at time of the booking.
---
Location
Ski in/Ski out position within the St Gervais Mont-Blanc skiing domain; direct access to the Évasion Mont-Blanc ski area. Chattrix ski slope - 5m. Chattrix ski lift - 500m. St Nicolas de Véroce - 8 min. drive. St Gervais village centre - 15 min. drive. To Megève - 20 min. by car
Distances to airports
Annecy (NCY): 85km
Geneva (GVA): 90km
Chambéry (CMF): 125km
Lyon (LYS): 205km


---
Infos/Activities
More than a ski resort, Saint-Gervais-les-Bains in France, embodies the art of Alpine living. Finest Holidays has a selection of luxury ski chalets to rent in Saint-Gervais-les-Bains - available are luxury catered chalets and self-catered chalets.
The territory to explore is vast. Also known as Saint-Gervais Mont-Blanc the holiday ski resort is the heart of four villages: Le Fayet at 590m altitude, Saint Gervais at 850m, Saint-Nicolas de Véroce at 1,150m and Le Bettex, which lies at an altitude of 1,400m above sea level. The difference in altitude in the district of Saint Gervais, from 590m (Le Fayet) to 4,807m (summit of Mont-Blanc) is unique among the communities within France.
The quaint 19th century spa town of St Gervais is linked by gondola to the 110-lift skiing terrain of its better known neighbour Megève, sharing 325km of pistes. In addition, when changing mountainsides, St Gervais is directly connected to the ski area of Les Houches in the Vallée de Chamonix via the legendary Tramway du Mont-Blanc (TMB). France's highest cog railway - located on the historical mountaineering route to the summit of Mont-Blanc - takes holidaymakers up to the Nid d'Aigle (Eagle's Nest) at 2,372m.
All of the four villages benefit of access to two ski areas: the huge ski area of Évasion Mont-Blanc, the third largest skiing area in France with around 445km of slopes and a variety of ski touring routes, snowshoeing paths and cross-country ski trails. The second is the Les Houches/Saint-Gervais skiing terrain, accessible via the Bellevue cable car or the Prarion cable car from the village of Les Houches or the TMB from Saint-Gervais, offering 55km of pistes. Highly popular due to its well-oriented ski area and extremely good quality snow, the pleasant slopes of Les Houches-Saint Gervais are appreciated by skiers of every level of skill - the area is a true paradise for family skiing surrounded by nature.
LES HOUCHES-SAINT-GERVAIS INFO
Altitude: 950-1,900m | Vertical Drop: 950m | Ski Runs: 55km | Pistes: 27 | Green: 2 | Blue: 8 | Red: 13 | Black: 4 | Lifts: 17 | Drag lifts: 5 | Chair lifts: 8 | Cable cars: 2 | Carpet lifts: 1 | Tow ropes: 1 | Snowparks: 1 | Snowtubing tracks: 2 | Toboggan runs: 1 | Ice Rink: 1 (at 1,007m)
ÉVASION MONT-BLANC INFO
Altitude: 850-2,353m | Height difference: 1,503m | Ski runs: 445km | Pistes: 235 | Green: 45 | Blue: 65 | Red: 91 | Black: 34 | Lifts: 135 | Drag lifts: 62 | Chair lifts: 45 | Gondolas: 12 | Cable cars: 2 | Carpet lifts: 8 | Tow ropes: 6 | Cross-country skiing: 75km | Snowshoe trails: 37km | Ski touring trails: 12,5km | Halfpipes: 2 | Snowparks: 7 | Toboggan runs: 2 | Culminating point: Mont-Blanc summit at 4,807m | Mountain restaurants: 28