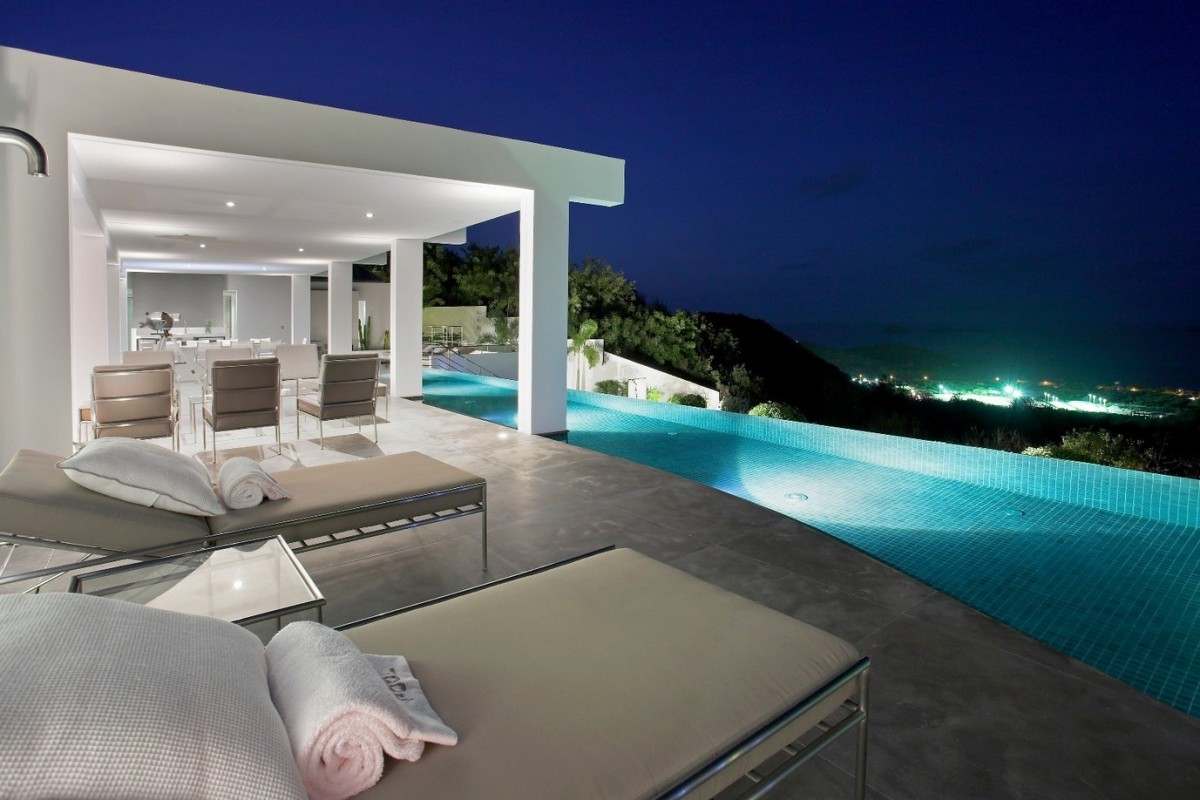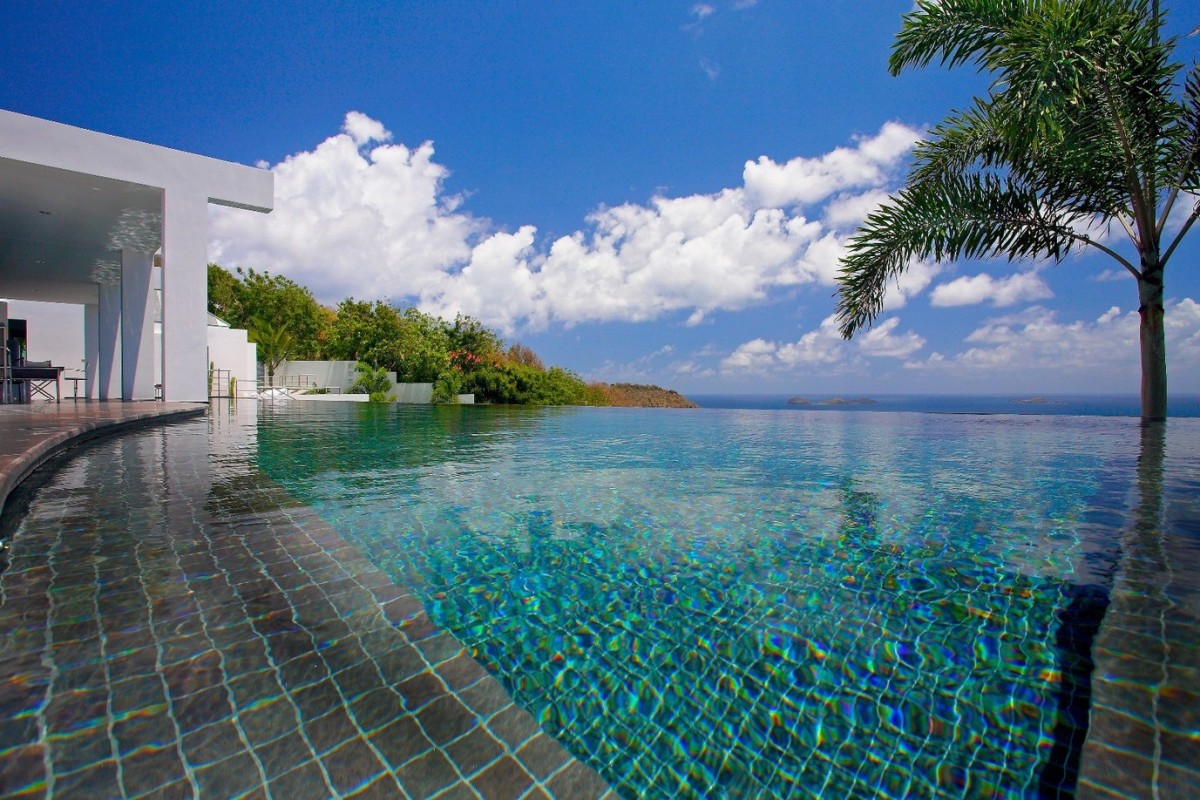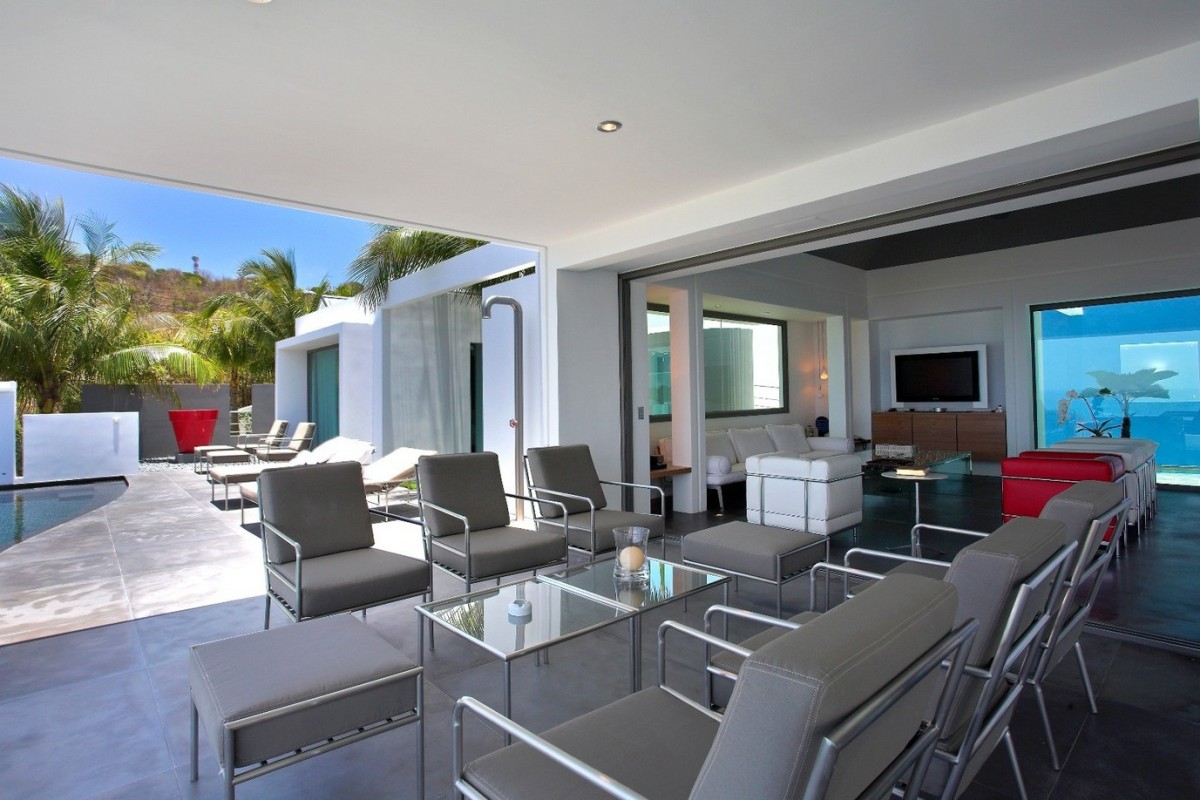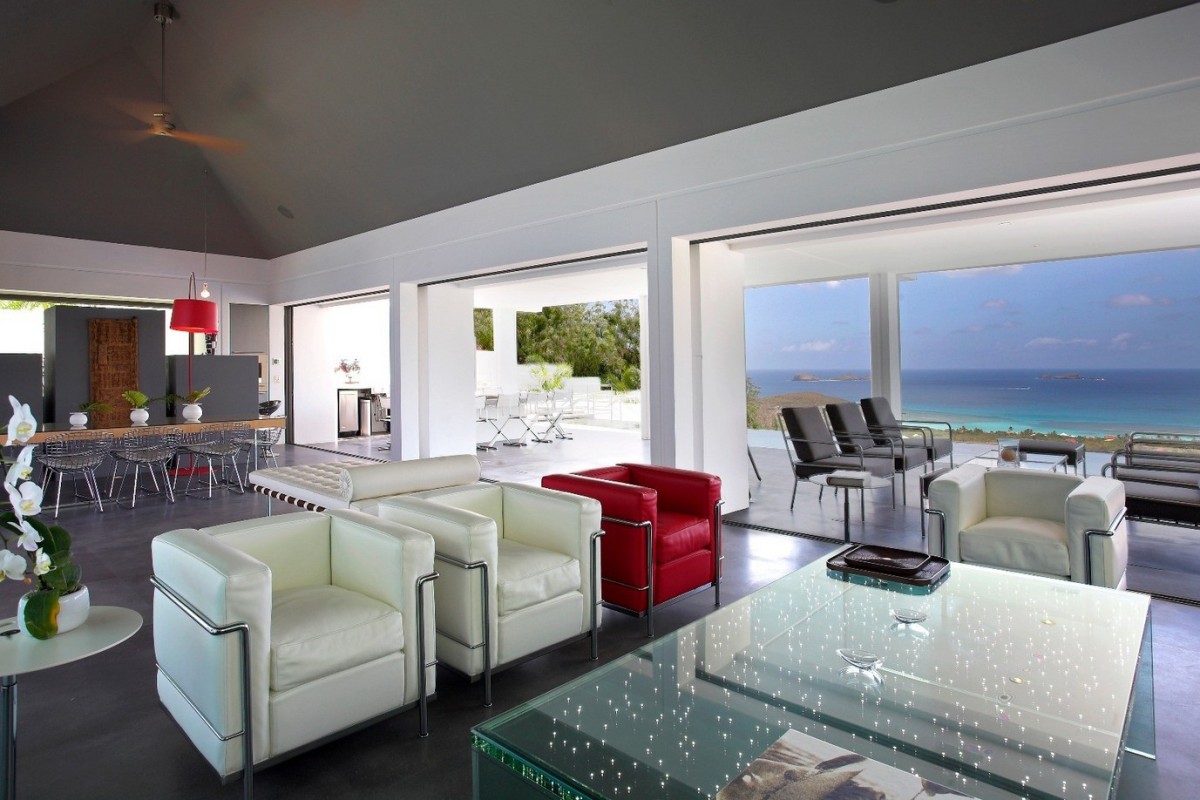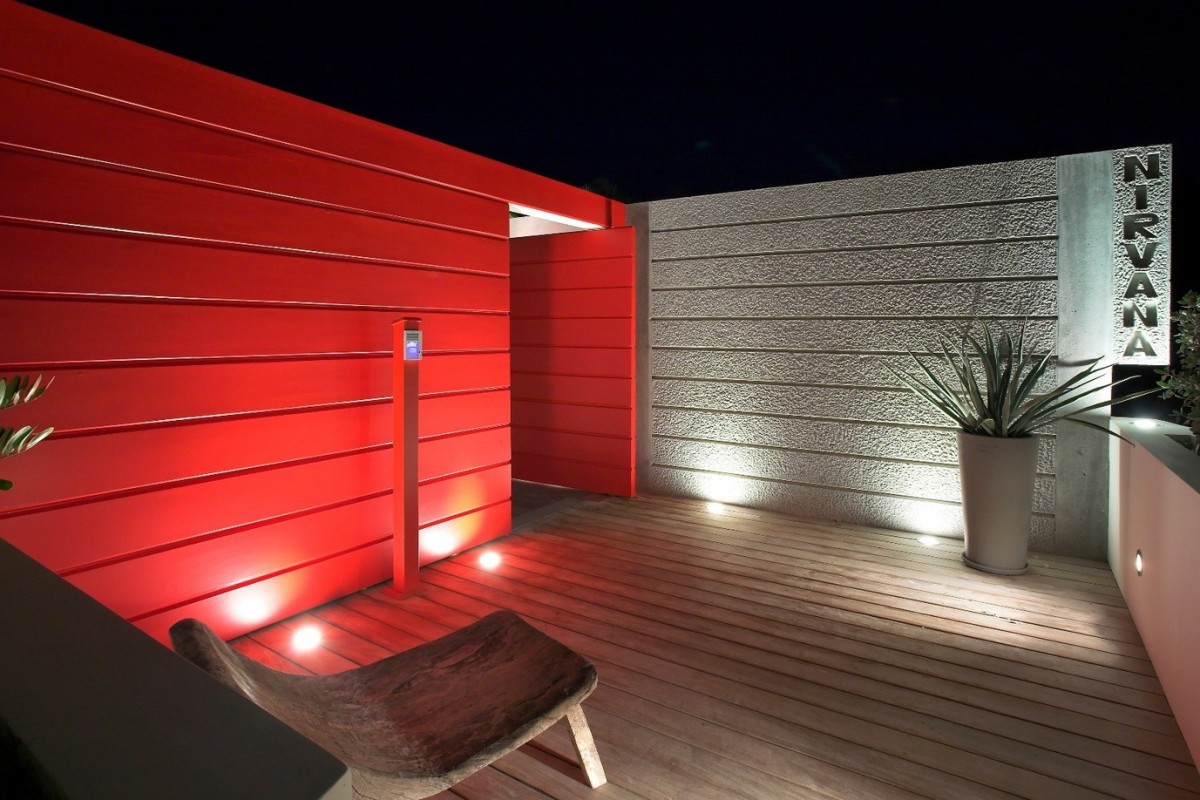 Bedrooms:
5
Bathrooms:
5
Sleeps:
10
Pool:
1

Pool
---
Description
We all seek "nirvana" or some sort of paradise, and so any holiday villa with a name like Villa Nirvana is bound to catch the eye. However, the amazing design and amenities of this heavenly villa really will induce a sense of bliss. A visual and textural feast, it offers an endless array of colorful and appealing spaces from which to enjoy the popular and picturesque scenery of the Lurin area of St. Barths.
Described as a chic contemporary museum standard space, the Villa Nirvana on St Barts does not present guests with a "don't touch" atmosphere. Instead, it encourages guest to partake of the beauty surrounding them at every turn, as well as enjoying the outdoor spaces that put the amazing scenery on display in the most flattering ways possible.
Like many villas, the Villa Nirvana has positioned the pool and terrace along the front of the building to allow full engagement with the views and setting. However, even the indoor spaces are a destination and scenic wonder. Bold splashes of color, a long and expansive footprint, open floor plans and truly innovative design are the hallmarks of the property.
The five bedrooms are housed in separate bungalow structures and feature en suite baths, scenic views and natural paths that connect them to the main villa. The main villa is where the gourmet kitchen, al fresco dining spaces, and many lounge areas are found. The open floor plan, enormous glass doors and modern furnishings only serve to enhance the sense of airiness and lightness that pervades the entire villa. Gardens and grounds dotted with sculpture and mature plantings also provide another level of living space.
When you want to be entirely "wowed" by your accommodation and enjoy the ultimate in luxury, the Villa Nirvana will deliver something unexpected and entirely welcome to groups of discerning travelers.
BEDROOM DESCRIPTION
Bedroom 1: Queen sized bed, air conditioning, fan, safe, TV, French satellite, US satellite, DVD, bathroom with shower
Bedroom 2: Queen sized bed, air conditioning, fan, safe, TV, French satellite, US satellite, DVD, bathroom with shower
Bedroom 3: Queen sized bed, air conditioning, fan, safe, TV, French satellite, US satellite, DVD, bathroom with shower
Bedroom 4: Queen sized bed, air conditioning, bathroom with shower
Bedroom 5: Queen sized bed, air conditioning, bathroom with shower
---
Features
Sleeps 10
Pool
Air Conditioning
CD Player
Dishwasher
DVD Player
Flat Screen TV
Gas BBQ
High Speed Internet
Pool
Pool - Heated
Safe
Satellite TV
Satellite TV- French
Satellite TV- United States
View: Ocean
WiFi
---
Prices & Service
From 22,500 USD/week
What's included
STAFF
Housekeeper(s)
Gardener
Pool Person
Housekeeping: Daily maid service except Sundays & holidays
This service is based on a week-long stay and services may be tailored to your exact requirements during the booking process. Exact services included with each booking will be listed on the Booking Confirmation.
---
Infos/Activities
One of the most beautiful islands on the planet! St. Barths Island (Saint-Barthélemy or St Barts) is located in the French Caribbean near St Martin and Anguilla.
A relatively unspoiled tropical island with an abundance of beautiful beaches, breathtaking vistas, a quaint capital city - Gustavia - wrapped around a picturesque harbor. St Barths Island is renown for hosting many of the Caribbean's best restaurants and cafes. Dining out in St Barths is one life's great pleasures, and the island is considered by many to be the culinary capital of the Caribbean.
Ideal climate, crystal clear Caribbean water, friendly people and Caribbean charm. This arid, volcanic rock of just eight square miles is home to an eclectic mix of iguanas, night-blooming cactus, and fabulous beaches as well as luxury yachts, designer boutiques, and celebrities.
The atmosphere reminds of the Côte d'Azur. St Barths became a top destination in The 1960s with some famous people like David Rockefeller, the Rothschilds, Ford's, fashion designer Donna Karan and other American celebrities. Liz Taylor, Caroline of Hannover, Catherine Deneuve and other stars also spent their holidays on St Barths. Meanwhile, the rich and famous from all over the world use to travel to this beautiful island.
The charm of the island's capital Gustavia lies in its architecture, from the vestiges of the Swedish era with a pretty little Anglican church topped with a cupola in wood to various colonial-style houses, some painted in bright Caribbean colors and others cool behind their white clapboard facades and slatted shutters.
Dining on St. Barth compares favorably to almost anywhere in the world. Varied and exquisite, a French flair in the décor, sensational wine, and attentive service make for a wonderful epicurean experience in almost any of the restaurants.

Dining
The island is famous for its sophisticated yet casual restaurant scene. Some call it the culinary capital of the Caribbean. Whatever experience you want, trust us, you can find it in St Barths. From four star Relais&Châteaux rated dining at Le Gaiac, The Rock, and Victoria's, to harborside bistros and cafés like Boucanniers, Baz Bar and the Wall House, to "feet in the sand" casual dining at La Plage and Do Brazil.
La Plage Restaurant: Feet in the sand is the way it is at La Plage Restaurant, a hip place with a romantic appeal. Fine cuisine based on Caribbean and French style.
The Sand Restaurant: Gourmet dining in style overseen by chef Jean-Georges Vongerichten.
Ti Corail: Grand Cul de Sac
The Bar Restaurant
Spa & Massage
Ligne St Barth In-Villa Spa Services. While staying in St Barts you can enjoy full service spa treatments in the privacy of your villa.
Cleo Massage St. Barths: This is a deeply relaxing massage applying only the finest pure natural and essential oils.
The Guanahani Spa: A shaded relaxation area around the pond has a huge Indonesian-style daybed for lounging on pillows.
Beaches
St Barths has over twenty magnificent Caribbean white sand beaches around the different parts of the island. The beaches are uncrowded.
St. Jean Beach: One of the more popular beaches on St Barths with beautiful sand and very clear water.
Saline Beach: Probably the best known St Barths beach, beautiful and highly photographed. The famous entry dunes.
Gouverneur Beach: This is a definite visit while on your vacation. Fantastic scenery, with surrounding cliffs and islands in the distance.
Lorient Beach: A nice family oriented beach, reef-protected, with calm to moderate surf.

Snorkeling and Scuba Diving
Some of the best places to snorkel on St Barths (SBH)
Lorient Beach: The best place to see sea turtles.
Colombier Beach: About a 15 minutes hike from Flamands. Snorkel to the far right (when you are facing the ocean).
Petit de Anse: There are stone steps leading to the water. A good place for turtles and parrotfish. Near Flamands.
Forchue Island: The best snorkeling is actually not on the island - take a half day boat trip with one of the island's dive companies to an underwater nature preserve to experience the best snorkeling.
Fishing: Surfcasting and shorefishing is a wonderful way to relax and catch or you can charter a fishing boat and guide and head out past the reefs to go after larger sportfish. May through September are the premier months for Marlin fishing and this area produces some very large fish.

Sailing: Everything from crewed mega-yachts, to humble dinghies that you have to sail yourself.

Tennis: At last count, there were eight tennis courts.