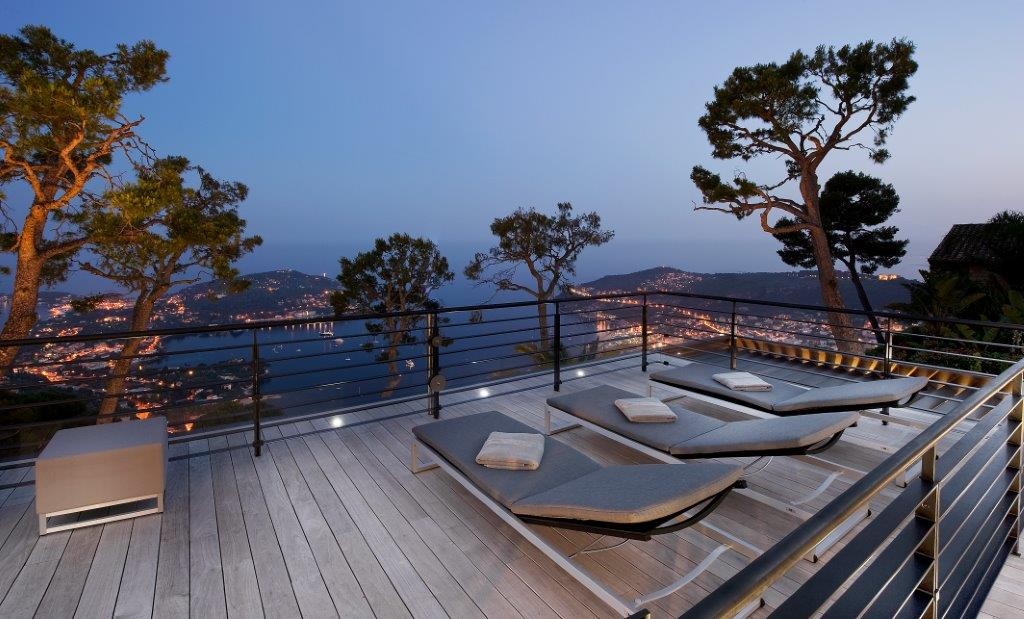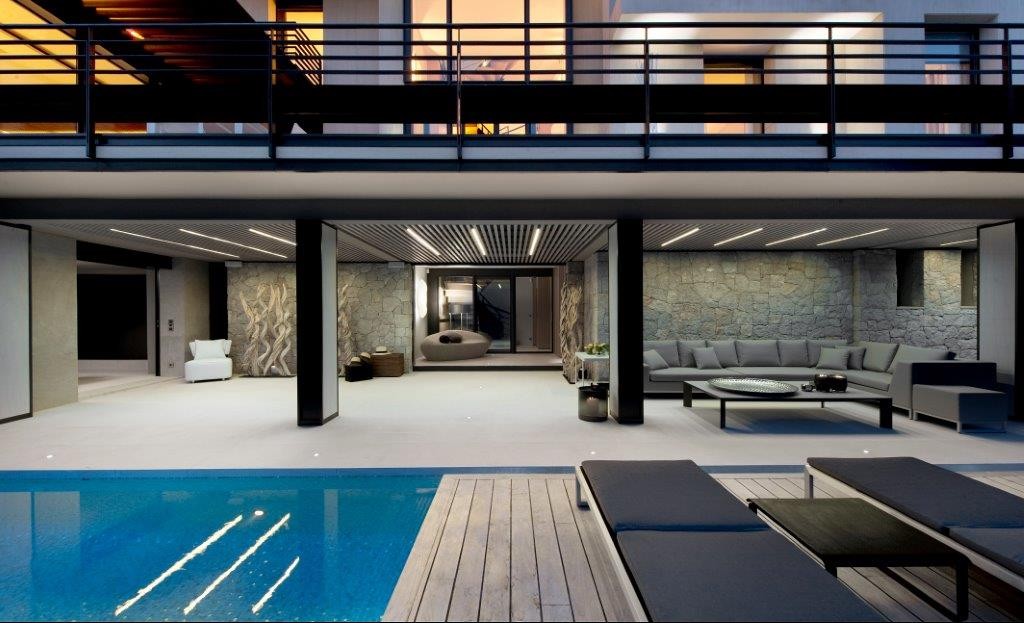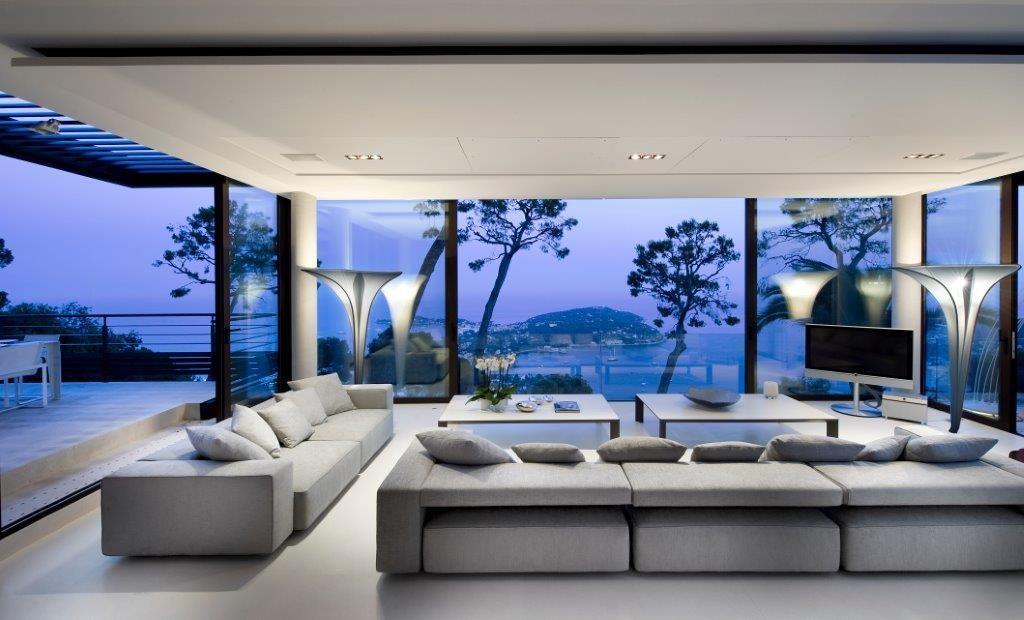 Villa Bayview
/
Villefranche sur Mer
From 40,000 EUR to 70,000 EUR/week
The property is no longer available with Finest Holidays.
Bedrooms:
5
Bathrooms:
5
Sleeps:
10
Pool:
1
Living Area:
300 m2
/
Plot size:
2800 m2

Pool
---
Description
Villa Bayview is one of the most luxurious villas on the Côte d'Azur. An eagle's nest built against a hillside, this architecturally designed holiday villa appears sculpted from the rock itself – a marriage of rough stone and polished glass unmatched in its class. Bayview's magnificent terraces – some intimate and shaded, others sweeping and extravagant – give a breathtaking panorama of the Bay of Villefranche, Saint Jean Cap Ferrat and beyond. At its heart, a sculpted staircase leads to a lush roof-garden; within the villa, the spaces are light-filled and extravagant, designed for calm contemplation or, equally, for impressive entertaining.
And, always, everywhere, those spectacular views. Spacious living room with floor to ceiling windows looking out over the bay and a separate raised seating area around the TV. 12m x 4m swimming pool, a pool house and a number of terraces and balconies on different levels, all overlooking the bay and below. The five bedrooms are divided between the ground and garden floors with a master bedroom, and two double bedrooms on one level and two additional double bedrooms at the garden level. All feature en suite bathrooms, high-end electronics and air conditioning. Most of the bedrooms have views and access to terraces.
Looking down over the bay from its secluded hillside setting, this stunning Côte d'Azur villa lies in the exclusive Domaine du Castellet area, just moments from the centre of Villefranche and Beaulieu.

Bedrooms
5 Bedrooms, each with en-suite bathroom and access to the sun terrace
---
Features
Sleeps 10
5 Bedrooms / 5 Bathrooms
2 Kitchen
Salon
Dining Room
Utility Room
Lift
Swimming Pool (12m x 4m)
Pool House
Audio Visual System
WiFi
Air Conditioning
Security System
Parking
---
Prices & Service
From 40,000 EUR to 70,000 EUR/week
What's included
Catered booking price includes:
Exclusive use of the property and its facilities
7 nights luxury accommodation on your chosen dates
Champagne reception
Fresh flowers on arrival
All linen and utilities
Bathrobes and slippers
Luxury toiletries
Hairdryers
Daily cleaning
Daily towel change on request
Twice weekly linen change
Turn down service
End of stay cleaning
Private chef for breakfast, lunch & dinner (12hrs/day)
Butler service for breakfast, lunch & dinner (12hrs/day)
All food and beverage will be charged at local cost
All local taxes
This service is based on a week-long stay and services may be tailored to your exact requirements during the booking process. Exact services included with each booking will be listed on the Booking Confirmation.
---
Location
Just a 5-minutes' drive to Beaulieu, Villefranche sur Mer or St Jean Cap Ferrat
15-minutes' drive to Monaco
Distances to airports:
Nice (NCE): 15km
St. Tropez/La Môle (LTT): 123km - La Môle airfield has regular flights to Geneva, Bale-Mulhouse, Munich and Nice
Toulon-Hyères (TLN): 158km
Marseille (MRS): 206km
---
Infos/Activities
The Côte d'Azur is one of the most glamorous summer holiday destinations in Europe. It winds and turns for more than 160 kilometres and is peppered with glittering legends such as St Tropez and Cannes - and idyllic towns above the coast, including Vence and Èze.

Our luxury holiday homes and exclusive villas for rent are staffed and located in the most desirable locations on the Côte d'Azur - in St Tropez and Nice, Cap Ferrat and Cannes, Vence and Ramatuelle and other well-known holiday destinations on France's Blue Coast.
The Côte d'Azur polarises people and opinions like few other holiday destinations in France - the glamour queen of the coasts, synonymous with chic and elegance. The cities that cross it bubble over day and night: luxury shopping, culture, lavish festivities, exhibitions and events, everything is there. Authenticity and the art of living characterise this multi-faceted area.
Countless books and coffee tables celebrated and still celebrate France's Mediterranean coast - the fascination never ends.